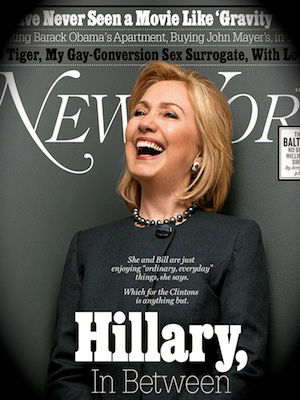 "She's going to run for president. It's a foregone conclusion."
Another week, another Arkansas luminary on the cover of a national magazine. This week, it's former first lady and former secretary of state Hillary Clinton, sitting down with New York magazine as speculation continues that she'll run for president in 2016.
And on that point:
Some of her close confidants, including many people with whom her own staff put me in touch, are far less circumspect than she is. "She's running, but she doesn't know it yet," one such person put it to me. "It's just like a force of history. It's inexorable, it's gravitational. I think she actually believes she has more say in it than she actually does."

And a longtime friend concurs. "She's doing a very Clintonian thing. In her mind, she's running for it, and she's also convinced herself she hasn't made up her mind. She's going to run for president. It's a foregone conclusion."
Here's what Hillary herself has to say about 2016:
I'm not in any hurry. I think it's a serious decision, not to be made lightly, but it's also not one that has to be made soon. This election is more than three years away, and I just don't think it's good for the country. It's like when you meet somebody at a party and they look over your shoulder to see who else is there, and you want to talk to them about something that's really important; in fact, maybe you came to the party to talk to that particular person, and they just want to know what's next. I feel like that's our political process right now. I just don't think it is good.
Also in the article: Chelsea Clinton has the new Bill Clinton gatekeeper, the dangers of being another frontrunner, Hillary's greatest hits at the State Department and the Huma situation.
More: Speaking of Clintonland, the liberal New Republic takes a long look at Doug Band, a reportedly important, but divisive, behind-the-scenes figure in Clinton's post-presidency:
Bill Clinton now leads a sprawling philanthropic empire like no other. The good it achieves is undeniable. It has formed partnerships with multinationals and wealthy individuals to distribute billions of dollars all over the globe. Its many innovative projects include efforts to lower the costs of medicines in developing nations and reduce greenhouse-gas emissions in major cities. And yet it's hard to shake the sense that it's not all about saving the world. There's an undertow of transactionalism in the glittering annual dinners, the fixation on celebrity, and a certain contingent of donors whose charitable contributions and business interests occupy an uncomfortable proximity. More than anyone else except Clinton himself, Band is responsible for creating this culture. And not only did he create it; he has thrived in it.
The full story here.

Latest Arkansas Business Poll
Do you approve of Gov. Hutchinson's plan to deal with health care?