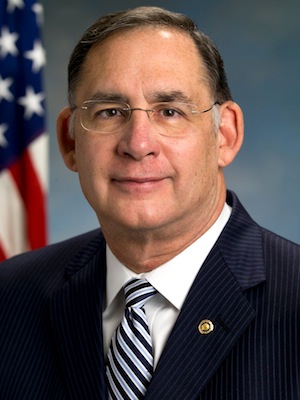 John Boozman, henceforth and forever known as the "Sleeping Bear."
According to Politico, U.S. Sen. Ted Cruz, the freshman Republican from Texas who's currently who just finished yammering away on the Senate floor against Obamacare, has awoken a "sleeping bear" in U.S. Sen. John Boozman of Arkansas, who blasted the Texas Senator for his hardball tactics against Obamacare in a closed-door meeting this week.
Boozman, a famously soft-spoken and even-tempered Republican, is one of many in the GOP who've been critical of Cruz's hard-line stance against the president's health reform, which includes playing chicken with the White House over Obamacare and a possible government shutdown.
According to a just-posted Politico article that's lighting up Twitter, Boozman "lit into" Cruz in a closed meeting, no longer able to "keep his anger reserved."
Boozman, an Arkansas Republican elected in 2010, stood up and yelled at Cruz, expressing frustration that his staff was deluged with belligerent phone calls mostly from out-of-state activists attacking the senator over the issue of defunding Obamacare, according to several sources familiar with the exchange. Boozman also slammed Cruz for suggesting Republicans were in favor of the three-year-old law even though all of them opposed it and have repeatedly voted to repeal it.

Staring at Cruz, Boozman said he hasn't been bullied since the seventh grade and he wouldn't be bullied now.
Politico cites four people who witnessed the exchange. Boozman told the website he doesn't comment on closed door meeting.
Cruz is still going done, ending more than 21 hours of speaking at noon eastern time.
Noted: Boozman's statement, released today, that he will vote "in support of the House-passed Continuing Resolution (CR) that strips funding for Obamacare while maintaining government services and paychecks to our troops."

Latest Arkansas Business Poll
Do you approve of Gov. Hutchinson's plan to deal with health care?