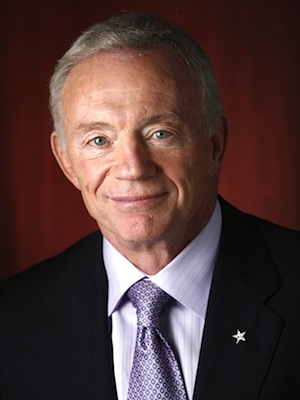 Jerry Jones, the owner of the Dallas Cowboys.
Jerry Jones, who grew up in Arkansas and is now the owner of the Dallas Cowboys, will be inducted into the National Football Foundation Leadership Hall of Fame at an event Oct. 3 at the Omni Dallas.
Jones will be the hall's charter member.
From the announcement:
The NFF announced the creation of the NFF Leadership Hall of Fame in May. The new platform provides the organization with a powerful vehicle for recognizing the country's most influential individuals who have ascended to the highest levels of success and exhibited the critical leadership qualities that transcend ordinary enterprises. Each inductee's accomplishments will be enshrined in an exhibit at the new College Football Hall of Fame in Atlanta, scheduled to open its doors in late 2014.
It's a star-studded event. CBS News' Scott Pelley will host. The program also features appearances by T. Boone Pickens, Roger Staubach, Troy Aikman, Archie Manning, Peter King and Al Michaels.

Latest Arkansas Business Poll
Do you approve of the president taking executive action on immigration?