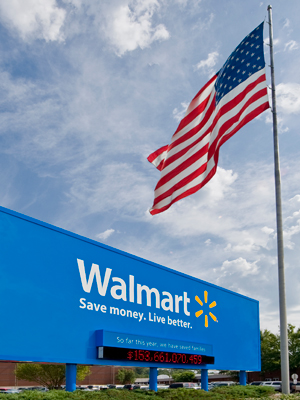 Is Wal-Mart ready to disrupt itself?
Slate's Matthew Yglesius today considers Wal-Mart Stores Inc.'s plans to compete head-to-head with Amazon in online retail and thinks the brick-and-mortar powerhouse will almost certainly fail.
Yglesius' column comes on the heels of a New York Times story we linked to yesterday. The story looked at how Wal-Mart has opened offices in the heart of Silicon Valley to compete with other valley giants in attracting young tech talent.
But the broader story is how Wal-Mart is trying to leverage its physical presence to battle Amazon in the online space, particularly where Amazon is attempting to ramp up faster product delivery. The holy grail here, of course, is reliable same-day delivery of items purchased online. Wal-Mart, with its thousands of stores across the country, would seem well-positioned in this new battle.
Not so, says Yglesius.
Take the idea of same-day grocery delivery. Amazon wants to get in this business. Existing grocers have, obviously, considered this idea, butnobody has figured out how to do it profitably. For Amazon, though, lack of profit isn't necessarily a problem. Since Amazon basically isn't in the grocery business right now, adding a zero-margin grocery delivery business wouldn't hurt anything the company is currently doing. And even without profits, adding such a business would help the company in many ways. ...

Now imagine the same scheme at Walmart. Why would you want to launch a zero-margin grocery delivery service that will poach customers from the existing profit-making business? Won't Wall Street kill you if your margins fall? Even if you patiently explain on the earnings call that the falling profits are part of a deliberate strategy to take on Amazon, the headline is still going to read: "Walmart Earnings Fall in the Face of Competition With Amazon." It takes a CEO and a board of directors with nerves of steel to deliberately undermine the existing product for the sake of the brand's long-term future.
The classic dilemma (and not one unfamiliar to folks in the publishing industry, I might add). The key question then, is Wal-Mart willing to disrupt its own business model for long-term goals? Or will it let Amazon innovate the world's largest retailer out of retail's new frontier?

Latest Arkansas Business Poll
Do you approve of Gov. Hutchinson's plan to deal with health care?