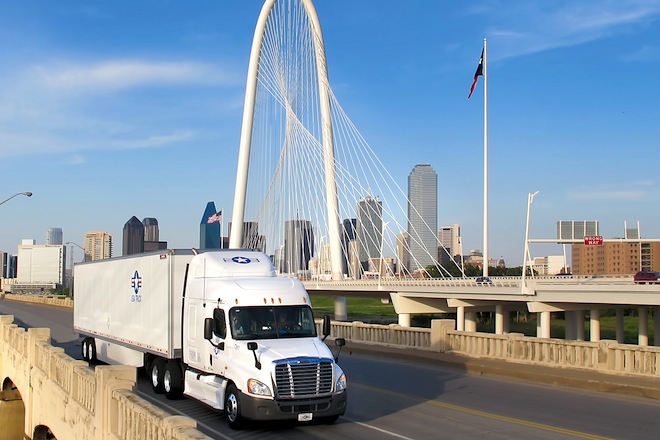 USA Truck: 150 2014 Navistar International ProStar model tractors are on the way.
USA Truck Inc. of Van Buren didn't offer comment Monday when Knight Transportation Inc. of Phoenix, Ariz., once again made its case for a takeover of the firm. But that doesn't mean USA Truck is letting criticism of his turnaround strategy go unanswered.
On Monday, Knight dropped a 17-page presentation detailing some of its key arguments for a $9 per share buyout of the USA Truck. Among Knight's criticisms: USA Truck's aging equipment, including its tractor fleet. Knight says USA Truck has "consistently" underinvested in its equipment.
Low and behold, there's this today from USA Truck: a news release touting "initial delivery of 150 2014 Navistar International ProStar model tractors."
They are slated for arrival throughout the fourth quarter of 2013 and into January 2014. This new order follows the 250 new tractors and 400 new trailers purchased and put into service earlier this year.

Through this continued investment of equipment, USA Truck is maintaining and reinvesting in a modern fleet of Class 8 trucks with an average age of 2.5 years, well below the industry average of 6.6 years for 2012 according to ACT Research.
USA Truck makes no mention of Knight or its Monday presentation in the news release. CEO John Simone says the order is part of USA Truck's "ongoing fleet reinvestment program," through which the firm will replace "almost one-fifth" of its company tractors in 2013.

Latest Arkansas Business Poll
Do you approve of the president taking executive action on immigration?