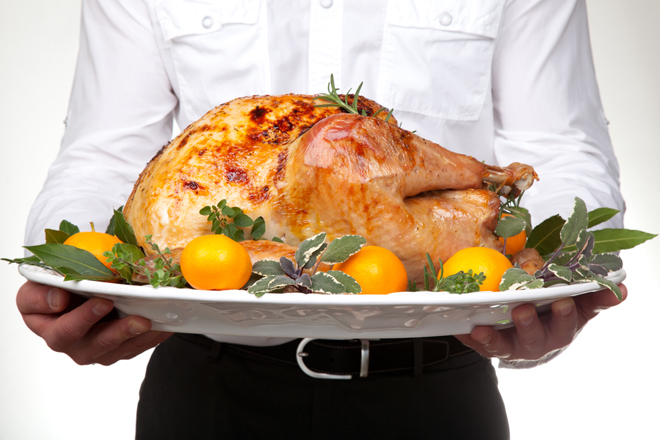 Wal-Mart workers who are scheduled for shifts on Thanksgiving day will receive a Thanksgiving meal provided by the company.
As noted here yesterday, Wal-Mart Stores Inc. of Bentonville is among U.S. retailers who will open even earlier on Thanksgiving Day, further eroding the holiday for folks who absolutely have to get in early on those Black Friday shopping deals.
We don't cry for the bargain hunters among us. But what of the Wal-Mart employees called in to work during Thanksgiving? They apparently won't miss out on a holiday feast, according to ABC News:
Though aisles filled with processed foods and discount clothes are a nontraditional place to spend Thanksgiving, Walmart employees who work the holiday will at least be treated to a traditional feast of turkey, mashed potatoes, rolls and pie.

Workers who are scheduled for overnight shifts, day shifts and evening shifts on turkey day will receive a Thanksgiving meal provided by the company, according to Kory Lundberg, a Walmart spokesman.
The story also notes that, Wal-Mart turkey dinners notwithstanding, some employees are unhappy about the encroachment of cold capitalism on their holiday day off with family. Wal-Mart EVP Duncan MacNaughton says such complaints are in the minority.
And really, throwing the doors open on Thanksgiving day is fast becoming the norm among all retailers. This year, stores including Macy's, J.C. Penney and Kohl's are all opening for the first time on Thanksgiving evening.
And retailers will likely continue to whittle away at the holiday, according to one marketing professor at Wake Forest University School of Business in North Carolina, who told the Associated Press that he thinks in five years, most retail chains will be open all day on Thanksgiving.

Latest Arkansas Business Poll
Do you approve of the president taking executive action on immigration?