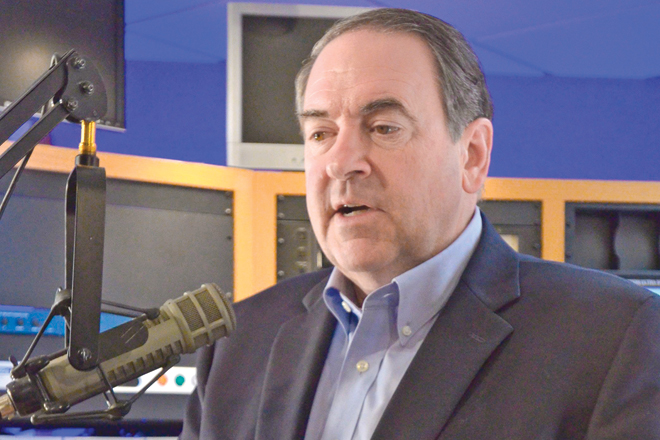 Mike Huckabee
Former Arkansas Gov. Mike Huckabee, who told Politico in August that he still hadn't ruled out a presidential bid, says in a Facebook post today that he's ending his daily syndicated radio show on Dec. 12.
I have loved doing the Mike Huckabee Show, and it's success of going from launch to over 200 stations in less than 2 years is significant, but the contract was at a decision point for both Cumulus Media and me, and we mutually agreed to conclude. I have opportunities in some other areas that cannot be accomplished given the 8-9 hours a day I was devoting to the daily long form show.
Huckabee said the move doesn't affect "The Huckabee Report," his three-times-daily radio commentary that airs on 500 radio stations throughout the country. Huckabee will also continue his weekly television talk show on the Fox News channel.
Arkansas Business reported in May that Huckabee was mulling his future in radio. He called producing the radio show "an incredibly intensive process." The three-hour "Mike Huckabee Show" is syndicated through Cumulus Media of Atlanta and airs nationally on about 225 stations, including 10 in Arkansas.
"I've got to always weigh how much time I'm putting in it and what the return is," he told Arkansas Business in May. "How long it will take to make it what I call hopefully disgustingly profitable. That's what one always hopes for in a deal like this."
After our interview with Huckabee in May, he told Politico in August that he hadn't ruled out another run for the Republican nomination for president. Huckabee ran for president in 2008, winning the Iowa caucuses but ultimately dropping out in March ahead of the Texas primary. John McCain won the nomination.
On Wednesday, Huckabee said he felt he'd created just the sort of radio show he'd set out to broadcast, one that included "civil discourse on complicated topics."
"I look forward to doing some Town Hall events in conjunction with Cumulus Media in 2014 as well as continuing with the Huckabee Report," he said on Facebook. "As for the new endeavors, at this time, it would best for me to say, 'Stay tuned!'"

Latest Arkansas Business Poll
Do you approve of Gov. Hutchinson's plan to deal with health care?