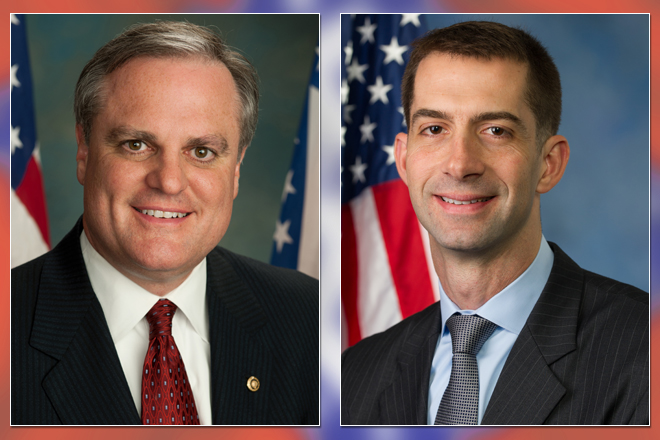 Sen. Mark Pryor, D-Ark. (left), and Rep. Tom Cotton, R-Ark.
The Wall Street Journal today takes a look at the Mark Pryor/Tom Cotton race, which the newspaper says is key if Democrats want to retain control of the Senate.
Janine Parry, director of the University of Arkansas' Arkansas Poll, says the question is this: "Does the rightward shift in Arkansas voters solidify, to continue beyond this particular president, who continues to be peculiarly unpopular here, or can the Democrats white-knuckle it to 2016 and win back at least some of the brand loyalty they enjoyed for more than 100 years?"
The story also notes the political shift in Arkansas' Legislature, now controlled by Republicans after a century of dominance by Democrats. Long-time Arkansas politico (and former Arkansas Business Editor) Rex Nelson, state Rep. David Meeks, R-Conway, and Dale Leatherman, a vice president and Williams Baptist College in Walnut Ridge, are among other Arkies quoted.
In addition to Pryor, other Senate Democrats on the hot season this cycle include Sens. Kay Hagan of North Carolina and Mary Landrieu of Louisiana, as well as others in Kentucky and Georgia.

Latest Arkansas Business Poll
Do you approve of Gov. Hutchinson's plan to deal with health care?