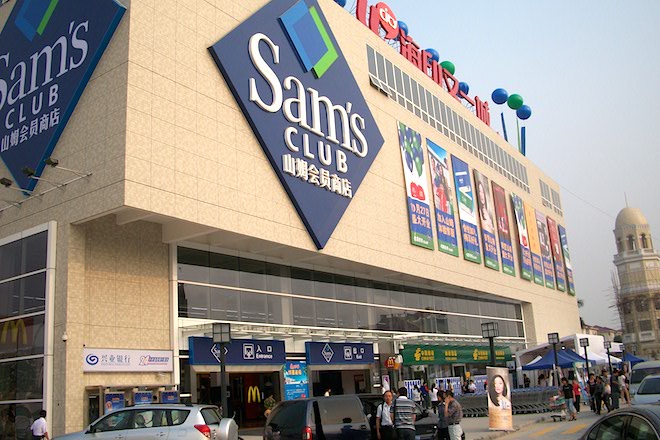 A Wal-Mart Sam's Club warehouse in China.
The Wall Street Journal checks in with the world's largest retailer's China operations and finds Wal-Mart Stores Inc. looking to add 10 Sam's Club warehouse stores per year over the next six to seven years.
When you look at the numbers, it's a no-brainer that the retailer thinks it has more growth opportunities there:
There are 550 Sam's Club stores in the U.S. and 300 million people, said Mr. Foran, speaking to reporters on Wednesday. "There are 10 Sam's Clubs here," he said, with 1.34 billion people and few rivals in the space. Wal-Mart will open two more Sam's outlets in China in 2014, but he hopes to boost the rate of growth each year after until it reaches 10 new stores per year in six to seven years.
Experts say Greg Foran, Wal-Mart's president CEO in China, is going to face a lot of pressure from other Chinese retailers and, of course, the Internet. Says one analyst, "Wal-Mart is here for the long haul, but in the short term there is a lot of pressure from other retailers, so executives need to make changes that will improve the company's bottom line."
News of the Sam's Club expansion comes as Wal-Mart (and pretty much every other multi-national company) focuses more and more on fast-growing China. Earlier this year, Wal-Mart announced plans to spend $80 million to upgrade its Chinese stores. And of course Wal-Mart now owns 51 percent of Chinese retailer Yihaodian.

Latest Arkansas Business Poll
Do you approve of the president taking executive action on immigration?