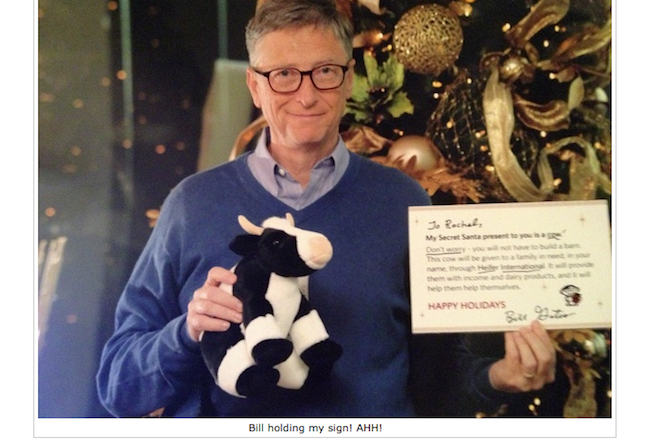 Rachel shared her photo of Bill Gates holding the Heifer International certificate on Reddit.
A Reddit user received a fun holiday surprise through the website's annual Secret Santa gift exchange: a cow from Heifer International of Little Rock donated in her name by Microsoft founder Bill Gates.
According to Geekwire, Gates:
... purchased a cow in her name for a family in need via the non-profit Heifer International. A spokesman for Gates explained to GeekWire that this was one of Gates' motivations for participating in the program, to help bring attention to this cause. Gates also had a great experience doing an Ask Me Anything Q&A with Reddit users earlier this year and wanted to continue to participate in the community.
The user, named Rachel, recaps the whole thing in a post on Reddit here. In addition to the donation, she received a travel book, "Journeys of a Lifetime," and, fittingly, a stuffed cow. Oh, and there was the photo above from Gates, proving the authenticity of the gift.
"I want to start by giving a HUGE THANK YOU to Mr. Bill Gates for an amazing gift and secret santa experience. Bill- you ROCK (can I call you Bill?! I feel like we're friends now!)," Rachel writes. "I am so very, very grateful for the amazing and thoughtful gift you have picked for me! Not only is the gift PERFECT from anyone, but I am sincerely very appreciative that you took the time to find something so fitting for me."
Gates' donation is great publicity for Heifer, a favorite charity among celebrities. The holiday season is a key time for the nonprofit to encourage donations, and it regularly publishes a holiday charitable gift guide for people who want to contribute the nonprofit's mission.

Latest Arkansas Business Poll
Do you approve of Gov. Hutchinson's plan to deal with health care?