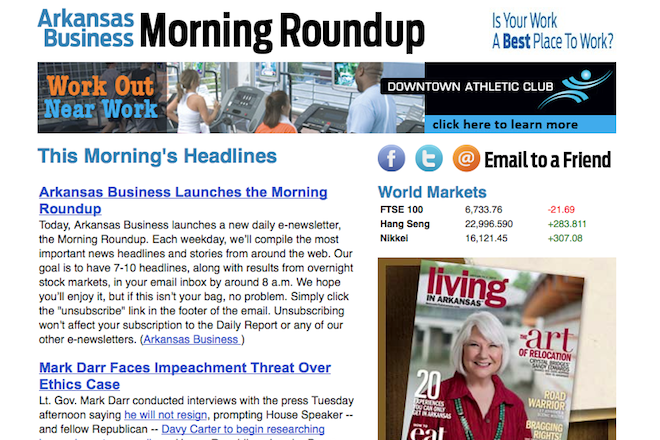 Monday-Friday, we'll share some of the best news stories you should read before your work day begins.
Arkansas Business this week launched a new daily e-newsletter, the Morning Roundup.
Each weekday, we'll compile the most important news headlines and stories from around the web that we think you need to see before beginning your day. Our goal is to have 7-10 headlines, along with results from overnight stock markets, in your email inbox by around 8 a.m.
We'll look to stories from Arkansas news sites; national publications like the Wall Street Journal, the New York Times and Bloomberg; and other places far and wide. And of course we'll also be looking for suggestions. If you see a story you think we should share, please send us an email here or message us on Twitter here.
We hope you'll enjoy the new Morning Roundup. But if this isn't your bag, no problem. Simply click the "unsubscribe" link in the footer of the email. (Unsubscribing won't affect your subscription to the Daily Report or any of our other e-newsletters.)
Thanks, and please let us know what you think!

Latest Arkansas Business Poll
Do you approve of Gov. Hutchinson's plan to deal with health care?