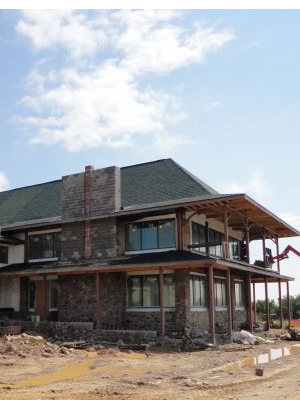 Work on Queen Wilhelmina Lodge atop Rich Mountain isn't where it should be, according to state officials.
You might recall that Arkansas Business has reported on delays in the $7.4 million renovation and expansion of the Queen Wilhelmina Lodge in Mena.
The renovation has kept the lodge closed to visitors since March 2012. In early September, we reported that the Arkansas Department of Parks & Tourism had put the project's contractor, Wade Abernathy Inc. of Mount Ida, on notice and even called the company's performance bond, provided by Travelers Casualty & Surety Co. of America in Hartford, Conn.
By the middle of the month, Parks & Tourism had canceled its contract with Abernathy and was seeking a new contractor. At that point, about 40 percent of the work on the project remained, and Parks & Tourism had pushed the completion deadline from December to spring 2014.
Now, the Polk County Pulse is reporting that legislators are getting involved:
Multiple delays, a terminated contract, and a deep concern on its economic impact to the local region has spurred State Representative Nate Bell to request a meeting of the State Agencies and Governmental Affairs Committee regarding the $6.7 million remodel of Queen Wilhelmina Lodge atop Rich Mountain.

The two-day meeting will be held in Mena January 30 and 31, tentatively at 1:30 p.m. at Rich Mountain Community College. In his capacity, Bell is in the process of requesting leaders of Arkansas State Parks to appear before the committee and he will also request representatives from W.A.I. (Wade Abernathy, Inc.), the contractor firm that was terminated in August 2013, and representatives for the surety on the bond, Travelers Insurance to all appear before the committee. Testimony before the committee is expected on the first day with an on-site visit tentatively scheduled for the second day.
Bell tells the Pulse that while he's no fan of holding committee meetings "all over the state," he thinks the project's delays justify the hearing.
"The project should have already had a positive economic impact to our region and to date has instead had a negative effect due to lost tourism revenue," he said. "There has to be some accountability and oversight."
Meanwhile, while Abernathy hasn't returned Arkansas Business calls for comment, the Pulse obtained a Travelers report on the delays. In short, Abernathy attributes construction delays to circumstances beyond its control, including an issue with mold that occurred before construction began.
You can read the full report here.

Latest Arkansas Business Poll
Do you approve of Gov. Hutchinson's plan to deal with health care?