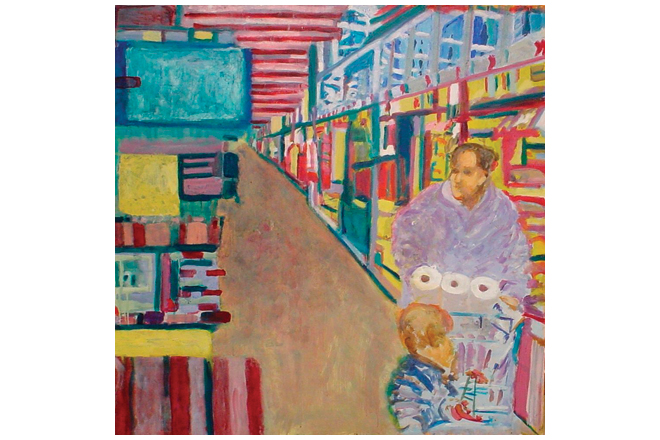 "Everyday Vegas" is one of artist Brendan O'Connell's series of works set in Wal-Mart.
Last week, Arkansas Business brought you the story of Connecticut artist Brendan O'Connell, whose paintings depicting Wal-Mart shoppers and products are attracting more attention, including from Wal-Mart itself:
O'Connell, born in New York City but raised in Tucker, Ga., paints the inner lives of Wal-Mart stores and their customers: shelves of Wonder Bread ("Wonderbread"), an Orthodox Jew contemplating the varieties of Utz potato chips ("Catskills 1"), a woman pondering hair care products ("Shampoo").

He's focused on Wal-Mart for a decade now, but publicity about his work has picked up in the last couple of years, particularly with a lengthy article by writer Susan Orlean in the Feb. 11, 2013, New Yorker and O'Connell's appearance last summer on "The Colbert Report."

Now O'Connell's work hangs in Wal-Mart's corporate headquarters in Bentonville. And he's finding success with his "brand" paintings, with Tyson Foods of Springdale spending up to $40,000 (O'Connell declined to share the exact price) for a piece depicting Tyson's products — chickens, Any'tizers — in their natural habitat, a supermarket freezer. Several other corporations are exploring commissioning O'Connell to create works for them.
Late last week, O'Connell got more press from Time magazine, which featured a gallery of his work here. More importantly, the article notes that O'Connell has launched a new website where fans can purchase his art.
So, if you're so inclined, you can snap up this small painting of a Cheerios box for the everyday low price of $1,250, or this large work of Mobil oil on the shelf for $15,000. Plus: there are prints ($500) and one poster ($50).

Latest Arkansas Business Poll
Do you approve of the president taking executive action on immigration?