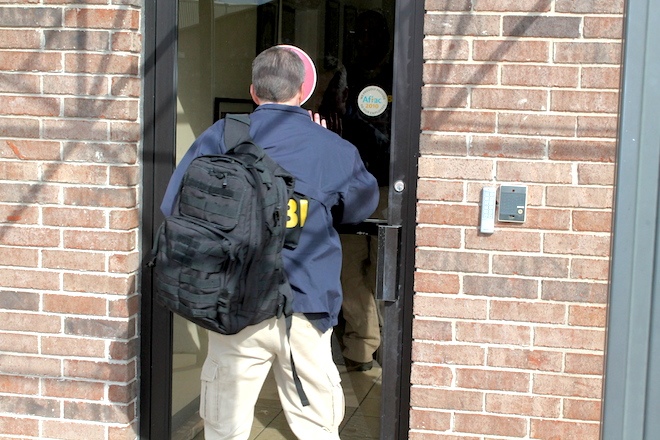 FBI agents conduct an investigation last week at the John Rogers Archive in North Little Rock. The FBI also visited Rogers' home in North Little Rock.
We're starting to learn a little more about what might be behind the FBI's search last week of John Rogers' archive business and home in North Little Rock last week.
Some of the information comes from this report last week in the New York Daily News. The Arkansas Times linked to it Monday afternoon, and it lends some support to what a source close to the Rogers Photo Archive told us last week: that the search was related to a side business in which Rogers is a minority stakeholder, and that two of his partners in that business had been indicted.
We couldn't confirm the information last week — we couldn't even get the names of the people who were said to be Rogers' partners.
But the Thursday New York Daily News story reported that Rogers "is an investor" in a Chicago-area company called Legendary Auctions. The men who started the company are Doug Allen and Mark Theotikos, and they were indicted on fraud charges in July 2012.
You can click here to read the FBI's news release on the indictment, the big target of which was William Mastro. The fed says Mastro, the owner of Mastro Auctions of suburban Chicago, "routinely defrauded customers" through "a series of deceptive practices," including schemes to inflate prices and misrepresent the authenticity of items to customers.
The FBI said Allen and Theotikos, both of Illinois, are "former executives" of Mastro Auctions. The two had entered not guilty pleas to charges of mail fraud and wire fraud and were awaiting trail, but documents filed Jan. 10 show that Theotikos wants to change his plea. A hearing on that is set for Feb. 19.
Mastro, meanwhile, pleaded guilty to fraud in October and is awaiting sentencing. Mastro Auctions was dissolved in 2009. That same year, according to the Illinois Secretary of State's office, Allen and Theotikos founded Legendary Auctions.
We should note that, best we can tell, Allen and Theotikos haven't been charged with anything relating to their Legendary Auctions business. And of course Rogers hasn't been charged with anything, either.
Meanwhile, Rogers' attorney, Blake Hendrix, told our Mark Friedman late yesterday that the FBI had returned some items from Tuesday's searches. He expected to get more back by the end of the week. Hendrix said that was all he could say on the matter.
Update: We sent Rogers a list of questions about Legendary Auctions, Allen and Theotikos, along with some other general questions about the sports memoribilia business. He declined comment.

Latest Arkansas Business Poll
Do you approve of the president taking executive action on immigration?