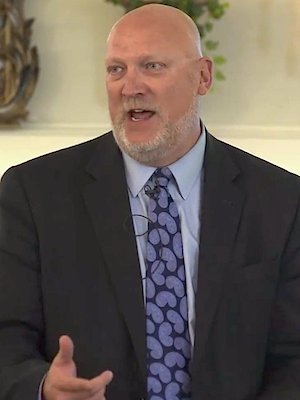 Acxiom Corp. CEO Scott Howe, speaking at the Delta Trust & Bank Investment Outlook Conference on March 19 in Little Rock.
Acxiom Corp. CEO Scott Howe is continuing to make the rounds, explaining Big Data, marketing and consumer privacy.
We've already noted his recent interview with AdWeek, and he gave another to Advertising Age here. And on March 19, he gave a 30-minute presentation at the Delta Trust & Bank Investment Outlook Conference in Little Rock on "the future of data."
The full presentation, embedded below, is worth your time if you're looking for a solid overview of what Acxiom does. At the heart of it is an explanation of so-called Big Data: what it is, the challenges it presents, and how the publicly traded data marketing firm aims to use it. Howe also gives some insight for investors on the various types of companies that are involved in Big Data.
But Howe also touches on some of the topics he's hit in recent interviews concerning the prospect of new regulations on the data collection and marketing industry.
"You might be surprised to know that Acxiom is in favor of much stronger privacy regulation and we are," he said. "Because this kind of data mining comes with a price."
Howe said Acxiom is pushing for a Consumer Bill Rights, legislation around these key points:
enforcement of stringent data collection methods
limiting data use to marketing only
restricting the use of sensitive data
enforcement of security and breach notification laws
Howe said need for the latter was particularly apparent in the case of the Target Co. data theft last fall. There's no laws that say when and how a company like Target should inform its customers of such a security breach.
"There are not strong data breach notification laws around — when do you need to notify consumers that their information has been stolen and in what time frame?" he said. "And we believe that much tighter legislation is required there because, you know, data shouldn't be a scary thing. Data should be a wonderful thing, because it can unlock such incredible experiences for us."
Howe also talked about the 2 percent opt-out rate Acxiom has seen on its AboutTheData.com website. He said studies show that most consumers are OK with data collection if they get something in return for it.
"The most common thing that visitors say is, 'How can I tell you more about myself so that I get more advertising from the companies I love?'" Howe said. "You know, Americans want to have a relationship with Apple. They want song downloads. They want to have a relationship with Nike, because they love that brand. They want to have a relationship with Google.
"So if you can help them make a better match, and exchange information and get better offers and better experiences, our peers in the world seem to be very enthusiastic about that," he said.
Howe's full presentation:
Plus: Arkansas Business recently explored how UALR is working with Big Data at its Virtual Data Lab in the new Emerging Analytics Center.

Latest Arkansas Business Poll
Do you approve of the president taking executive action on immigration?