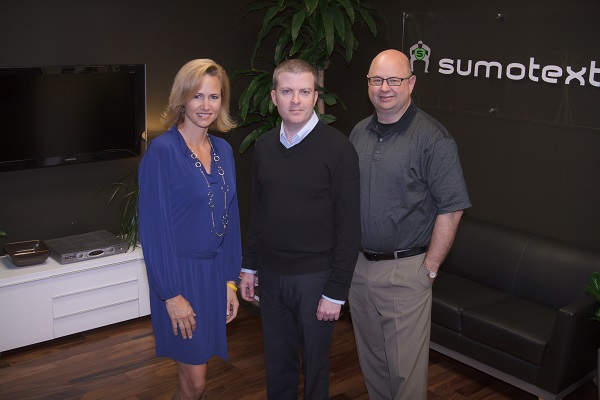 Sumotext's Elsbeth Cloninger, senior vice president of client services; CEO Tim Miller; and John Styers, executive vice president of strategy and industry relations.
Rumors have swirled recently that Little Rock mobile messaging giant Sumotext had struck a deal with Starbucks, that little coffee chain out of Seattle.
The Exact Target marketing blog recently highlighted Starbucks' new frappuccino campaign, and it turns out that Sumotext was behind it.
On Friday, Sumotext founder and CEO Tim Miller confirmed that a deal -- details of which he wouldn't/couldn't provide -- is in place.
"Yes. Starbucks has licensed the Sumotext mobile relationship management platform," he said. "We host their dedicated short codes and provide the tools and services to plan, execute, and measure their mobile messaging programs."
Sumotext's national client list is an impressive one. Now in addition to Starbucks, it includes Humana, Southwest Airlines, EA Sports, Firehouse Subs and L'Oreal.
Sumotext (an Innovate Arkansas client firm) is national, but has remained active locally where it tailors services for clients big and small. It provides the mobile messaging services for the Donald W. Reynolds Governor's Cup collegiate business-plan competition -- where attendees text in their preference for elevator pitch winner -- held annually in Little Rock, and even for small private schools such as Little Rock's Christ Lutheran School.

Latest Arkansas Business Poll
Do you approve of Gov. Hutchinson's plan to deal with health care?