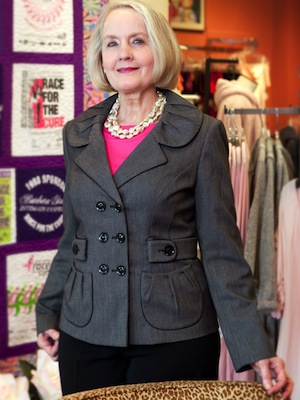 Barbara Graves (file photo).
Our sister publication Little Rock Soirée is passing along word that Barbara Graves Intimate Fashions in Breckenridge Village is closing after more than 40 years in business.
Graves announced the closing and a "retirement liquidation sale" in an email to customers and on the shop's Facebook page.
"Please know that it has been an absolute joy to have served you for forty-one years," Graves said in the email. "Thanks so much for your business and our friendship during this incredible journey."
The store was closed Tuesday to prepared for the sale.
Soirée has more on the closing sale here. Graves founded the shop in 1973. It sells lingerie, swimwear, loungewear and products for women who have had mastectomies.
Outside her role as a small-business owner, Graves been a key figure in nonprofits and local politics.
She is a past president of the Little Rock Chamber of Commerce and has served on the boards of a number of organizations, including the Central Arkansas Executives Association and Centennial Bank of Little Rock.
Graves also served on the the Little Rock Board of Directors, resigning in 2006 to run for mayor in race won by Mark Stodola. She unsuccessfully ran for Arkansas House in 2012.

Latest Arkansas Business Poll
Do you approve of Gov. Hutchinson's plan to deal with health care?