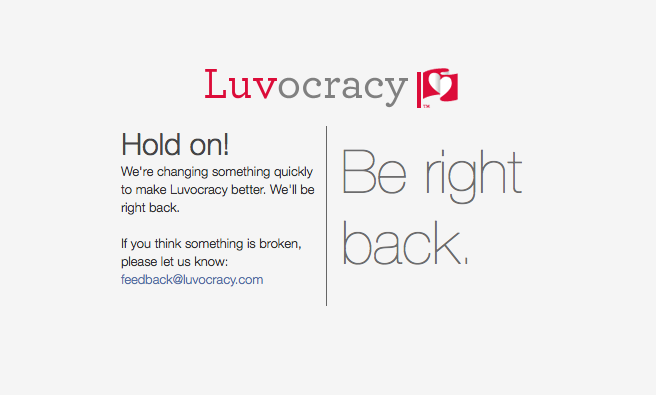 Luvocracy's website today. The firm is being purchased by @WalmartLabs.
@WalmartLabs, part of Wal-Mart Stores Inc.'s social media division, has acquired another shopping app, Luvocracy.
Re/Code reports that the 16 of the 20-person staff will join @WalmartLabs, which is shutting down the service:
Luvocracy was one of a host of startups attempting to make online shopping a more social experience. Prospective shoppers visited the app to browse through images of products uploaded by other individuals. Luvocracy's team scoured the web to find the best available price for each product, which shoppers could then order directly through the Luvocracy app.
Wal-Mart hasn't disclosed terms of the deal. Founded in 2011, Luvocracy has since been surpassed by Pinterest, another social shopping platform. Still, Luvocracy managed to raise about $11 million in investment from entities including Kleiner Perkins, Google Ventures and Yahoo! CEO Marissa Mayer, according to TechCrunch.
In February, Wal-Mart said it had acquired Yumprint of Seattle, planning to use the company's recipe technology for its grocery delivery efforts on Walmart.com and Walmart To Go.

Latest Arkansas Business Poll
Do you approve of Gov. Hutchinson's plan to deal with health care?