Posted 10/22/2012 11:34 am
Updated 2 years ago
Developers on Monday broke ground on the Arcade Building, a three-story, 60,000-SF office-retail building in the River Market District in downtown Little Rock.
The $17 million project, a joint venture between the Central Arkansas Library System and Moses Tucker Real Estate, will contain retail space, a 325-seat theater, a restaurant and office space.
Construction on the project, which is at the corner of Clinton and River Market avenues, is scheduled to be complete by November 2013.
"We are starting our third project downtown this year," Rett Tucker, of Moses Tucker Real Estate, said. "The company remains very committed to expanding the offerings in the urban core."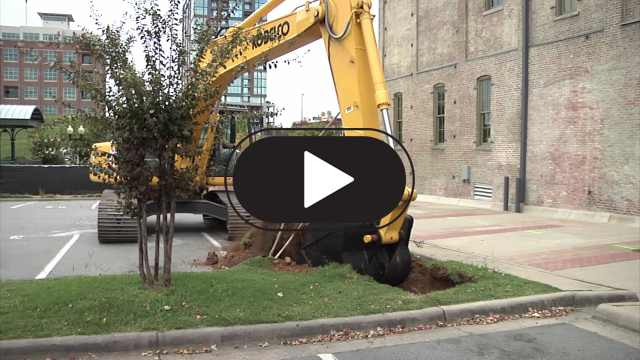 The building's largest user is the Central Arkansas Library System, whose space will include a movie theatre and archival space.
"We have worked out an agreement with the Little Rock Film Festival and its institute to be the host facility for the nationally acclaimed Little Rock Film Festival," CALS director Bobby Roberts said.
"We will also make the theatre available for events including the Clinton School Speaker Series, CALS Literary Festival and other public functions."
The building's largest office user will be Meadors Adams & Lee, a 103-year-old independent insurance agency that will take up more than 10,000 SF.
"We have always been located in downtown Little Rock," Roberts Lee, a partner with Meadors Adams & Lee Insurance. "As our company continues to grow, we are pleased to partner with MTRE and CALS in bringing this exciting new project to downtown."

Other new office tenants will include the building's architect, AMR Architects, and the University of Arkansas Clinton School of Public Service, which will have a classroom equipped for distance learning and a multi-purpose room to accommodate expanding enrollment.
"The name 'Arcade' is in honor of a wonderful, landmark structure that once resided in downtown Little Rock on Center Street between 6th and 7th," Moses said. "As we continue to redevelop our urban core, we think it is important to evoke memories of our city's past, too much of which has been destroyed over time."

The development will be home to several more entities, including a restaurant called Cache, owned and operated by RH Cuisine, led by Payne Harding, who also opened 1620 Savoy in west Little Rock.

The restaurant, which features continental fare, including Italian and French, is scheduled to open late next fall.