Posted 11/26/2012 12:00 am
Updated 2 years ago
The last time Murphy Oil Corp. of El Dorado spun off a division into its own company, Murphy shareholders benefited by receiving stock in the new company, Deltic Timber Corp.
That was at the end of 1996 — the same year that Murphy opened its first gas station.
These days, Murphy Oil is working on spinning off its subsidiary, Murphy Oil USA Inc. — which includes 1,154 gasoline stations (mainly in the parking lots of Wal-Mart Supercenters), two ethanol plants and seven product distribution terminals — into its own separate publicly traded company.
It's "too early to discuss plans for issuing stock for spin off of US retail," Barry Jeffery, a spokesman for Murphy Oil, said in an email to Arkansas Business last week. "We have announced the decision to spin and are now doing all the leg work."
He said the deal should be completed in 2013, but left a number of unanswered questions. If history is any indicator, though, both with Murphy and recent transactions involving similar energy companies, Murphy shareholders should receive shares in the new company.
Analysts said the spinoff, which was announced on Oct. 16, should be good for both Murphy Oil and the new company, called Murphy USA.
"I think the separation makes eminent sense," Raymond James analyst Pavel Molchanov told Arkansas Business. "It's an odd combination to have an [exploration and production] company that also owns gas stations.
"For investors … having this fuel marketing business is just confusing," he said.
Morningstar's Stephen Simko, a senior stock analyst, also said in his Oct. 19 research note that the spinoff makes sense.
"Oil and gas investors don't care much about the unexciting returns of gas stations," he wrote. "As a result, a spinoff could potentially unlock value as the market begins to value these businesses more efficiently."
Murphy USA posted $363 million in earnings before interest, taxes, depreciation and amortization in 2011. "A multiple in the 5 times-6 times range would imply this business is worth about $1.8 billion-$2.1 billion, or roughly $9-$11 per Murphy share," Simko wrote.
Other analysts also put the value of the stock in that range. After the split, Murphy Oil's value should be $53.17 a share, while the share price for Murphy USA will be $10.27, according to an Oct. 17 research report from Deutsche Bank Securities Inc. of New York. Murphy Oil's stock price was trading at just under $58 last week.
End of the Road
Murphy began talking about selling or spinning off its retail business several years ago.
In 2011, Murphy Oil's CEO at the time, David Wood, discussed the possibility of spinning off Murphy USA, but nothing happened, which frustrated some shareholders who thought that spinning off the gas stations could unlock some value for the company. Wood left Murphy in June.
"We were especially disappointed to learn that the recent resignation of David Wood as CEO was not intended to be the start of a companywide shakeup at improving results," Morningstar's Simko said in an Aug. 2 note.
Shareholders received some hope for a spinoff when during an August conference call, the new CEO, Steven Cossé, mentioned that a spinoff of Murphy USA was being discussed, although it wasn't likely to happen anytime soon.
"The proposed spin-off had been indefinitely postponed, due to the need to better understand and address the segment's operating underperformance, as management had communicated that business was losing market share to competitors and that margins were not improving in-line with industry standards," according to a research note written Oct. 17 by Guy Baber an analyst with Simmons & Co. International of Houston.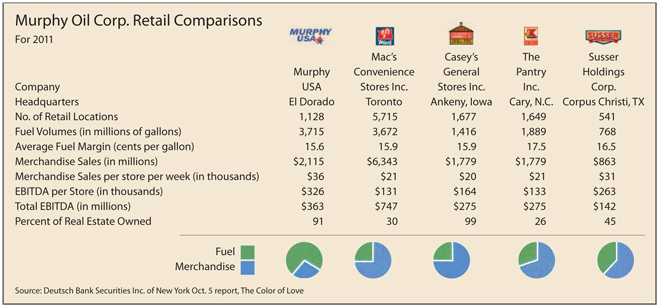 But by the middle of 2012, Murphy had watched some of its peers successfully spin off their gas station divisions.
In January 2011, Marathon Oil Corp. of Houston announced that it was going to spin off its refinery and marketing business, which included 1,350 convenience stores in seven states.
And in July 2011, ConocoPhillips of Houston announced it would spin off its gas station division into a new company called Phillips 66, also of Houston. That transaction was completed in April.
When a similar announcement wasn't made at Murphy, the activist hedge fund Third Point LLC of New York fired off a letter on Oct. 3 to investors.
Third Point quoted part of the Boyz II Men song "End of the Road" in the letter and said following Third Point's suggestions would increase Murphy's stock price by about 60 percent, to about $90.
Third Point owns about 1.5 million shares, or less than 1 percent of the outstanding shares. It said that in the last three years, it had watched Murphy's stock price fall about 15 percent while the Standard & Poor's Oil & Gas E&P Index climbed by about 50 percent.
"This issue has been exacerbated by management's decision to repeatedly delay spinning off its retail business," said Third Point's letter, which was filed with the Securities & Exchange Commission.
"Investors in Murphy have grown frustrated, particularly given the obvious merits of the spin due to the large multiple disparity between the retail business and the core [exploration & production] business."
The push worked.
On Oct. 16, Murphy announced it was going to spin off the retail business into a new company to be called Murphy Oil USA Inc.
The company also announced that it would pay a special dividend of $2.50 a share for a total dividend of about $500 million and a share buyback program of up to $1 billion.
The dividend will be paid Dec. 3 to the shareholders of record on Nov. 16. The $2.50 dividend is in addition to the $0.3125 per share that was previously announced and also will be paid on Dec. 3.
"Today's announcements are consistent with our commitment to creating value for shareholders," said Claiborne Deming, chairman of Murphy's board.
The announcement, however, didn't say what the move would mean for Murphy shareholders.
Other Spinoffs
Murphy shareholders could logically expect to see some shares in Murphy USA. When Murphy Oil spun off its timber business in 1996, Murphy Oil gave shareholders one share in Deltic Timber Corp. of El Dorado for every 3.5 shares of Murphy Oil they held.
There were 12.8 million shares of Deltic available, and it closed at $20.73 on Dec. 26, 1996. It closed at $61.08 on Nov. 15.
When ConocoPhillips of Houston spun off its gas station division, ConocoPhillips shareholders received one share of Phillips 66 for every two shares of ConocoPhillips shares held. Phillips 66 started trading on April 12 at $33.25 and had improved to $45.34 by Nov. 15.
Meanwhile, ConocoPhillips paid a special dividend of $17.025 per share on May 1, and its stock immediately dropped from the $71 range to about $55. It was trading at $54.59 on Nov. 15.
Shareholders of Marathon Oil also received one share of the new Marathon Petroleum Corp. of Findlay, Ohio, for every two shares of Marathon Oil they owned.
Marathon Petroleum opened on June 24, 2011, at $38.75. It closed at $54.06 on Nov. 15.
Marathon Oil was trading at $49.55 on June 24, 2011, but as a result of the spinoff, the stock price dropped to $32.95 on July 1, 2011. It closed at $30.53 on Nov. 15, 2011.
The Future
The benefits of the Murphy USA spinoff "clearly outweigh the costs in this case," said Raymond James analyst Molchanov. "The downside is that the retail business does provide relatively a more stable source of cash flow than E&P."
And the subsidiary acts as a hedge. When oil prices rise, the retail margins fall, he said. "But then the opposite is true when oil prices fall," Molchanov said.
Other unanswered questions include the future plans of Murphy USA President Tom McKinlay and whether he or someone else will run Murphy Oil USA when it becomes its own company.
"I don't want to comment on personalities," Molchanov said.