by Chris Bahn
Posted 12/3/2012 12:00 am
Updated 2 years ago
University of Arkansas officials confirmed last week that they are working to correct a multimillion-dollar deficit in the school's Division of University Advancement for the second consecutive fiscal year.
Brad Choate, vice chancellor for Advancement, has been stripped of day-to-day management responsibilities and will lose his job at the end of the fiscal year, Chancellor G. David Gearhart told Arkansas Business. Gearhart, who led the Advancement Division before his promotion in 2008, is managing the division in the meantime.
Choate will continue to collect his $350,000 salary and can stay on staff to assist Gearhart until June 30, unless he finds another job before then. He wasn't fired, the chancellor said, because "there was nothing that showed that funds were misappropriated or misspent. The funds were all spent on things we needed," including additional fundraising personnel for an upcoming capital campaign.
Choate declined an interview request, so Gearhart also offered the vice chancellor's side of the story.
"Brad was being told by his budget person that there were funds to cover it, when clearly there weren't," Gearhart said. "You could debate the issue of what his knowledge should have been. I think he would claim that he was getting bad information from his budget person."
That budget officer, 38-year UA employee Joy Sharp, has been reassigned to the university's human resources office until her appointment also runs out on June 30. She is paid $68,314 a year.
Interviews with UA spokesman John Diamond and Gearhart revealed that a $3.1 million budget shortfall in the Advancement Division that had built up over two to three years was discovered in late June and was covered by tapping into reserve funds. Gearhart said the division had a surplus of about $500,000 when he left it to take the top job on the Fayetteville campus.
The Advancement Division is funded by a mix of "educational and general" funds from the university and private money from the University of Arkansas Foundation. The division was able to settle up with the university using foundation funds until that account was essentially overdrawn and frozen, Gearhart said. That's when the university became aware of what Diamond described as a "major miscalculation."
An investigation after the June discovery determined that Choate thought he had millions more to spend each year than the $10 million in total revenue that the university's Division of Finance & Administration projected. The shortfall was projected to grow to $4.37 million in the current fiscal year.
Last week Gearhart presented a plan to UA college deans outlining how the shortfall could be covered and the budget balanced going forward. The plan calls for a combination of additional university funding and expense cuts.
"We're sorry this happened. We're sorry for Brad. As I said to the deans the other day, this doesn't mean that Brad's a bad person. ... But you really can't amass this kind of deficit and survive it," Gearhart said.
The Advancement Division, which has grown to about 150 employees, should have been allocated more money from the university for the past couple of years, Gearhart said. "And we would have done so if Brad had requested it."
While a final plan will probably not be adopted for several weeks, the solution preferred by the chancellor and his executive staff calls for rerouting "gift fee taxes" of between 10 and 15 percent on cash donations to the UA. Those fees, described by Diamond as a "cost recovery assessment" fee, are projected to generate up to $1.5 million during the next six months and would be a permanent part of the division's revenue stream.
Also, a pair of one-time, $1 million transfers from the budgets of Provost Sharon Gaber and Don Pederson, vice chancellor for finance and administration, will be used to cover the current deficit. Administrators in Advancement — the division that includes fundraising, communications, marketing, special events and the World Trade Center in Rogers — are being asked to trim $800,157 from their operating budgets, including cuts to travel budgets and other expenses.
Choate, who joined the UA from the University of South Carolina in 2008, is being paid $348,175 this fiscal year, including $273,181 from the university and $74,994 in private funds. (He was No. 13 on Arkansas Business' recent list of the highest-paid state employees who don't work for the University of Arkansas for Medical Sciences.)
Advancement Division salaries and benefits budgeted for the fiscal year that started July 1 total $9.4 million. The division's original revenue projection for the year was just over $10 million, including $5 million from the publicly funded "education and general" budget, a $450,000 share of interest generated by endowment accounts, and $4.5 million from the private, nonprofit UA Foundation.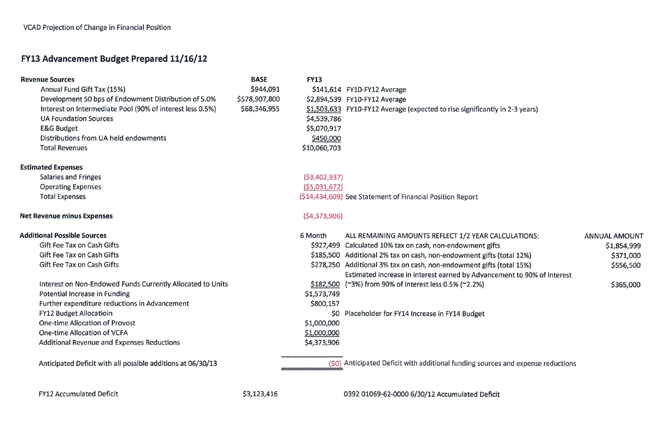 No current positions are in danger of being cut, Diamond said. However, a hiring freeze has been placed on the Advancement Division and no positions can be added and no current vacancies will be filled.
"[O]ur fundraising mechanism that's been in place has been working very well," Diamond said. "It's been very successful. … We've been using some of that revenue to help support additional positions. That continued at a pace faster than what it should have."
Costs for positions within Advancement are often shared with the colleges they represent. For example, the cost of paying for a communications position for the Walton College of Business is split between the college and Advancement.
No shifting of full financial responsibility to the colleges was anticipated, Diamond said. He said the budget could be covered in the future without taking money from the individual colleges.
Money generated from the gift fee taxes should help cover the cost, he said. Arkansas had looked at possibly implementing the in-house "tax" on donations — common at other schools — when its next capital campaign began.
"We didn't anticipate needing to go to this step this early in the process," Diamond said.
Fundraising has been viewed as a bright spot for the UA under Gearhart, who served as vice chancellor for Ad-
vancement at the UA for 10 years until being named chancellor. He was the chief architect for Arkansas' Campaign for the 21st Century, which generated more than $1 billion in donations and pledged donations between 1998 and 2005.
Diamond said the chancellor and UA are confident the problem will be corrected.
"It's not university-wide. It is being dealt with," Diamond said. "We were able to address the problem for the last fiscal year, and we're preventing the problem from happening again."
Gwen Moritz contributed to this report.