by Kate Knable
Posted 1/7/2013 12:00 am
Updated 2 years ago
Joël Antunes arrived in Little Rock in mid-December, sans chef uniform and other possessions moving with him from London.
Antunes' December cross-ocean trip brought him to Arkansas to take up temporary residence at the Capital Hotel and take permanent leadership of the hotel's two restaurants, Ashley's and the Capital Bar & Grill. His baggage, though, was delayed. (Hence the track suit in the video.)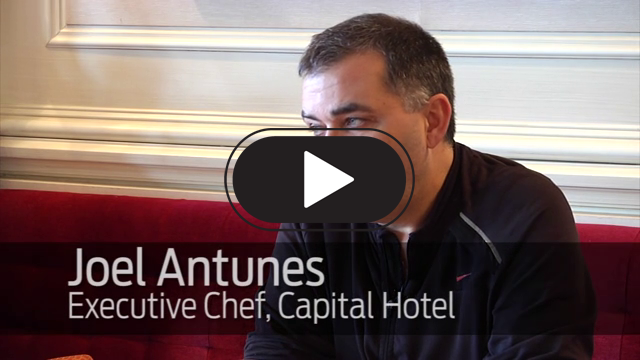 Antunes came from a job as consulting chef at the Embassy Mayfair in London. At the Capital, he replaced Lee Richardson, the popular executive chef from New Orleans who helped design the hotel's current kitchens and was chef when the hotel reopened in 2007 after at least $24 million in renovations. Richardson resigned and left the historic hotel last June and has not yet announced any new endeavors.
Antunes plans to learn the hotel, get to know Little Rock and, in Ashley's kitchen, improve on what he finds. The hotel's taxable receipts, which include restaurant sales, totaled $7.23 million from January through November 2012. About $3.15 million of the total was food sales.
Antunes, 49, learned to cook in France, where he was raised and attended culinary school. He's from the small town of Volvic. French is, indeed, his first language. France is also where he worked under world-renowned French chefs Michel Troisgros and Paul Bocuse.
However, Antunes' 34-year career has been an international one, and cooking Southern food at the Capital won't be his first attempt at cooking in the American South. He's adapted his cookery style for local tastes in Thailand and Japan, but he also spent more than a decade in Atlanta. Atlanta's Southern cuisine isn't much different from Arkansas', he said.
And Antunes has won awards along the way, including a 2005 James Beard Best Chef of the Southeast Award.
Growing Ashley's
Antunes expects to change the Ashley's menu, but he doesn't plan to make the fare incompatible with what Richardson and his team have done in the past, he said.
"I think, you know, when you move somewhere, you have to know about the people, the city. You have to know about the supplier, local farmer," Antunes said. "And when you understand all these things, I can cook for the local people. Because Little Rock is not going to change for me. I have to change for Little Rock, you know, to give what they want to eat."
At Ashley's, however, Antunes does plan to draw on his tastes and experiences while trying to improve business. "Bar & Grill, I don't want to touch anything because it's busy, works very well," Antunes said. "But in Ashley's, we're going to change a lot of things."
Antunes said he'd like to incorporate a variety of international flavors into new Ashley's offerings, once he gets organized in a few months.
"When people work for me in the kitchen, I want harmony. I want something very smooth. I don't want stress because when people are stressed, they don't work very well," Antunes said. "When you're well organized, it is easy."
He didn't specify any new dishes he'll be cooking, but said the Capital's leadership hasn't limited him.
"If I do a very nice dish with a little bit of Japanese influence, people will love it," he said. "I think they trust me. I think I can do what I want if the restaurant is busy. When you have business and the business works very well, everyone is happy. If any restaurant is busy, you like [it] or you don't like [it], but they do something right because they're busy. If I make this place busy like the Bar & Grill, I'm sure they're going to love me."
Southern food will continue to be important at Ashley's, as will extremely fresh ingredients and local food suppliers, he said. "If I change everything, people will shoot me," he said with a laugh.
Prices won't change, though Antunes might create a small tasting menu with new, cheaper dining options to attract more patrons.
"I don't want Ashley's to be a special events restaurant," he said. "I want the restaurant to be busy every day."
The Hire
Antunes first traveled to Little Rock in September to meet the Capital's leadership, then returned shortly thereafter to cook up a nine-course tasting menu for the hotel managers and ownership to try.
Warren Stephens, Little Rock financier and owner of the Capital Hotel, was among the hotel leaders who weighed in on Antunes' hiring.
Antunes was among "not many" candidates considered for the position, said Michael Chaffin, the hotel's chief operating officer. The hotel did not conduct an international search.
"We basically made people aware that we had an opening. … This would be a coveted job in many ways," Chaffin said. "We were looking for someone with experience, experience specifically with hotels."
The Capital's leadership judged that Antunes was a good fit for the city of Little Rock and for the hotel, he said.
Important were "His engaging personality, obviously his track record and ability to lead a culinary team. … The tasting was, of course, instrumental. There's no question this gentleman can cook. His personality, his leadership style, his desire for our type of environment," Chaffin said. "This is what he wanted for this stage in his life for him and his wife."
In a December press release announcing Antunes' hire, Stephens said Antunes was "an exceptional chef, but he is much more than that.
"He is a warm and outgoing individual who connects with people and who is genuinely excited to become a part of our community. This was what really set Joël apart in our eyes, and it is why we are very proud to be bringing him to Arkansas," Stephens said.
Settling in Little Rock
Arkansas appealed to him, Antunes said, because Little Rock is smaller than Atlanta or London.
He plans to find a home, probably outside of the city limits, where he can enjoy his hobbies of bicycling and running. Among the job's appealing features were a "small city, nice people, nice weather and I can [go] cycling," he said.
He prefers the American South to, say, New York, where a brief stint as a consulting chef proved not to be a good fit for him.
There, among other negatives, The New York Times gave his food a bad review.
"In New York, I have one bad review. Everyone makes mistakes. It's very funny because I think, in my life, I have 99 percent very good reviews and one bad one. And every time, people speak of the bad one," he said.
"I try to learn. I try to be positive. And also, sometimes people don't like the same food. …
"If someone comes to your restaurant and says, 'I don't like your food,' I understand. If you say my food is disgusting, I don't understand because, you know, I always use the best ingredients, and every dish that comes from my kitchen is always good."