Posted 7/22/2013 12:00 am
Updated 1 year ago
On July 2, 2007, Page One of the Arkansas Democrat-Gazette featured a story about the Obama campaign's fundraising exceeding that of the Clinton campaign, as in Hillary. The business section offered a story about the new trend of using Wi-Fi to operate cell phones.
As for the markets, the Dow stood at 13,535.43. The Nasdaq, on which most Arkansas-based public companies trade, closed at 2,632.3. The S&P 500 was at 1519.43.
And then the monsters came.
Four years after the Great Recession officially ended (June 2009), a look at the stock performance of the 18 publicly traded companies headquartered in Arkansas shows mixed results. Nine are winners, while nine remain below the price they marked as of close of trading on July 2, 2007, the first day of trading in third-quarter 2007.
We chose to examine the companies' stock performance between that date and six years later, July 1, 2013. Like most such exercises, it's somewhat arbitrary. U.S. housing starts started slipping in late 2006 and early 2007, indicating softening of the real estate market, a softening that ended in a meltdown. But in the middle of 2007 few people were expecting economic Armageddon.
We're wiser (or more traumatized) now. And almost five years after the headline "Crisis Pushes Confidence to Record Low" (Wall Street Journal, Oct. 28, 2008), maybe we should remember what it was about the autumn of 2008 that pushed confidence — and the stock market — so low, just how far it has recovered since and how widely the stock of Arkansas' public companies has fluctuated.
Trucking
The only winner in the transportation industry is — no surprise — J.B. Hunt Transport Services of Lowell. In the past six years its stock has increased by 143.55 percent, rising from an adjusted close of $28.15 on July 2, 2007, to 73.49 on July 1, 2013.
What has J.B. Hunt done right?
Brad Delco, a transportation analyst with Stephens Inc. of Little Rock, noting that he covers only J.B. Hunt, USA Truck and Arkansas Best, said J.B. Hunt in some ways is no longer a trucking company. Instead, it's a "multifaceted transportation service provider."
Most of J.B. Hunt's growth has been in the intermodal segment, the segment he calls the company's "bread and butter," which has been growing for the past decade. Rail efficiencies and on-time service have improved, Delco said, causing shippers to realize that they "can convert what were traditional truckload shipments, put them in a J.B. Hunt container and ship them by rail. It's a cheaper rate and it saves money on fuel. And so J.B. Hunt has certainly benefited from that."
The high cost of transforming their transportation models has largely prevented the other Arkansas carriers from following suit, he said, though USA Truck has taken steps in that direction and "seen good growth out of it. But they haven't been in a position to make the type of investments needed in order to really grow that business the same way that J.B. Hunt has."
The truckload market continues to be challenging, Delco said. He noted that since about 2007, "J.B. Hunt has shrunk its over-the-road trucking fleet by 70 percent."
Despite a disappointing performance during the past six years, the stock of Arkansas' other trucking companies — particularly Arkansas Best and USA Truck — has shown good growth since the first of 2013, reinforcing the caveat that examining share performance during a particular time is somewhat arbitrary.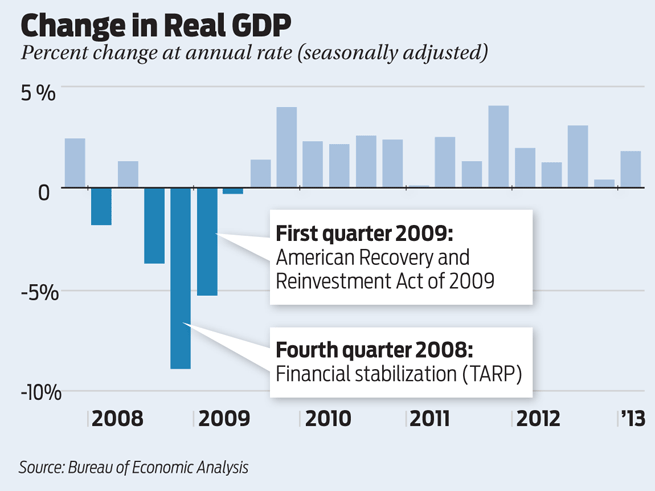 Banking
Two publicly traded Arkansas bank stocks have experienced big increases during our six-year window from July 2, 2007, to July 1, 2013. Bank of the Ozarks has seen its share price rise 224.97 percent, from an adjusted close of $12.63 to $43.57. The stock of Home BancShares of Conway has increased 188.54 percent, from an adjusted $8.88 to $25.96. (Both companies have enjoyed 2-for-1 stock splits since the recession, Bank of the Ozarks in August 2011 and Home BancShares in May of this year.)
The banks' healthy performance has led them to expand their footprints and buy banks throughout the country, with Home BancShares' recently announced $280 million deal to buy Liberty Bancshares of Jonesboro coming in as the largest in-state banking transaction in Arkansas history.
And though the shares of Simmons First National Bank of Pine Bluff and First Federal Bancshares of Arkansas Inc. of Harrison haven't fared as well, those companies also have been in a position to grow their business.
Matt Olney, also an analyst at Stephens, covers Bank of the Ozarks, Home BancShares and Simmons. "The Arkansas banks have performed very well in general," he said.
He cited three factors in their success, the resilience of the Arkansas economy, real estate in the state holding its value relative to other parts of the U.S. and the banks' growth strategies, "whether it's the failed bank acquisitions, live bank acquisitions or organic growth."
They were able to move beyond Arkansas because "they had good balance sheets and their credit quality was strong," Olney said.
"As I travel to the money centers, whether it's New York or Boston, I get the question all the time: Why are there so many strong banks in Arkansas when the state's so small?"
Randy Dennis, president of DD&F Consulting Group, a Little Rock bank consulting firm, noted of First Federal Bancshares that it had recapitalized within the six-year window (in 2011) and was poised to continue to grow. In fact, First Federal has announced a $129 million deal to buy First National Security Corp. and its two banks, First National Bank of Hot Springs and Heritage Bank in Jonesboro.
From Jan. 3, 2012, to July 17, 2013, First Federal has seen its share price rise by 107.58 percent.
Retail
The rebound of Dillard's Inc. has been well-reported in these pages, but in the last six years, Arkansas' other publicly traded retail companies, America's Car-Mart and Wal-Mart Stores, also have experienced strong stock rebounds.
The stock of Car-Mart, the Bentonville seller and financer of used cars, has increased from an adjusted close of $13.37 on July 2, 2007, to $43.68 on July 17, 2013. Wal-Mart, also of Bentonville, has seen its stock rise from $42.23 on July 2, 2007, to an adjusted close of $77.20 on July 17, 2013.
By Industry
Trucking
JBHT 143.55%
ABFS -41.90%
PTSI -43.47%
USAK -61.90

Banking
OZRK 224.97%
HOMB 188.54
SFNC -3.59%
FFBH -91.76%

Retail
CRMT 224.87%
DDS 130.33%
WMT 55.42%

Technology
ACXM -6.84
WIN -46.80%
INUV -97.54%

Everything Else
DEL 11.22%
TSN 11.15%
MUR 1.28%
AERT -88.14%