Posted 8/19/2013 12:00 am
Updated 1 year ago
The pending sale of First National Security Co. of Hot Springs will result in a $129.1 million payday for the family of John H. Hendrix. As it stands now, the cash-stock combo transaction with Harrison's First Federal Bancshares of Arkansas Inc. is valued at about $134.2 million.
The Hendrix family's First National holdings are divided among six blocks of stock that represent nearly 96.3 percent of the ownership. Family shareholders will divvy up $71.1 million in cash and $58 million worth of First Federal stock.
Hendrix lives in Texas, where he made his fortune in the oil and gas business, but his roots are in Arkansas: He grew up near Gillham in Sevier County.
"I'm a born and raised hillbilly, and I love the state," Hendrix said in a 2005 interview with Arkansas Business.
The pending acquisition will nearly triple First Federal's asset total and expand the lender into two new quadrants of the state: southwest and northeast Arkansas.
First National Security owns the $695.3 million-asset First National Bank of Hot Springs and the $241.2 million-asset Heritage Bank of Jonesboro.
First National Bank is founded on the charter of First National Bank of De Queen, established back in December 1897. The headquarters was relocated to Hot Springs in August 2007.
The bank represents the consolidated charters of at least 10 lenders: First National banks in De Queen, Dierks and Mena, American State Bank of Broken Bow, Okla., Bank of Ashdown, Bank of Montgomery County in Mount Ida, Bank of Waldron, Caddo State Bank in Glenwood, Citizens National Bank of Nashville and First State Bank of Idabel, Okla.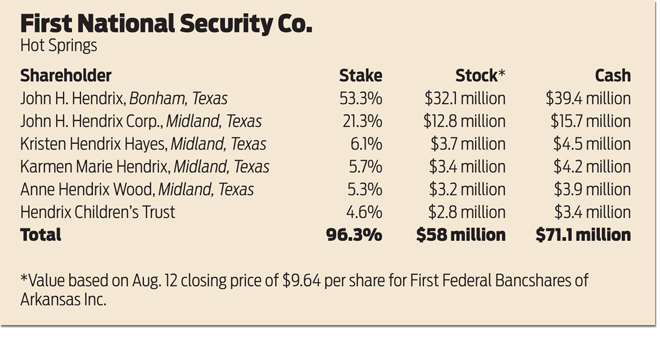 First National Security made the geographical leap to northeast Arkansas in December 2009 with the $39.6 million purchase of Heritage Capital Corp., the one-bank holding company of Heritage Bank of Jonesboro.
Heritage has its own charter migration story. The bank is established on the 1934 charter of Leachville State Bank in Mississippi County and the headquarters moved 30 miles west to Jonesboro in July 1998.
In between, the lender went through two name changes to Buffalo Island Bank in June 1994 and Heritage Bank in June 1998.