Posted 9/2/2013 12:00 am
Updated 1 year ago
Oct. 1, a Tuesday, is barely four weeks away, and it will mark one of the biggest changes in the history of health insurance in the United States.
On that day, open enrollment begins in the Health Insurance Marketplace, a central feature of the controversial Patient Protection & Affordable Care Act that has survived scrutiny by the U.S. Supreme Court and literally scores of repeal attempts by Republicans.
The marketplace, accessible online or by telephone, is where individual Americans will be able to buy health insurance policies that take effect Jan. 1 or after. With the arrival of 2014, having health insurance will be required by federal law: People who don't secure insurance will, theoretically, face a penalty that starts at $95 next year and increases to $695 in 2016.
As of last week, though, there were still several unanswered questions surrounding the ACA, including the price of buying insurance through the Health Insurance Marketplace for Arkansas. The price information is expected to be released this week, said Cynthia Crone, deputy commissioner of the Arkansas Insurance Department and director of the Arkansas Health Connector division, which oversees the state-specific marketplace.
But she did telegraph some encouragement: "I think people will be pleasantly surprised by how affordable it will be," she said, especially for the majority of Arkansans who are eligible for tax credits to help offset the cost.
Here's another question: Will the marketplace work as intended come Oct. 1?
The marketplace website is designed to be easy. The applicant will answer a few questions such as age, place of residence and use of tobacco products, and the online database will immediately generate plans and rates from different insurance companies.
If the questionnaire seems streamlined, it's because the kind of questions that health insurers traditionally asked will no longer be allowed. For policies that take effect Jan. 1 and after, carriers won't be able to deny people coverage for pre-existing conditions.
Still, "nothing this big has ever gone completely 100 percent smooth on Day One," Crone said. "So I think there will be some glitches, but we're doing everything we can to make it as smooth as an experience as we can."
Meanwhile, Arkansas legislators are concerned about funding the second wave of an advertising campaign designed to encourage people to sign up for insurance through the marketplace. The review subcommittee of the Arkansas Legislative Council hasn't yet approved $5.1 million in federal funds that would be used to spread the word about the marketplace in Arkansas.
"The whole premise behind the private option" — Arkansas' unique approach to the expansion of Medicaid anticipated under the ACA — "was we would allow the markets to work as much as possible," said state Sen. Jonathan Dismang, R-Beebe, who is the president pro tempore-elect of the Senate and on the committee.
He would rather see the advertising paid for by the insurance companies that have signed up to sell insurance policies through the marketplace.
"I just believe we're getting excessive with the amount of tax dollars we're putting towards that," he said. "This is the opposite direction that we had hoped to go in."
About $24 million has been spent so far in Arkansas for outreach education, but most of that money has been used on staffing and other programs, including marketing, Crone said. But she said Arkansas needs that money because it has a tall order in working to inform everyone. About 500,000 out of 3 million Arkansans don't have health insurance.
"If we do a good job in getting people enrolled, then it's to the economic benefit of the state," she said.
Crone said she hopes legislators approve the additional $5.1 million — and fast. The money would be used starting Oct. 1. The committee's next meeting is scheduled for Wednesday.
Getting the word out about health care reform could be an uphill battle. A study of about 1,000 U.S. adults that was conducted for the American Institute of CPAs of New York and released last week found that many people had a limited knowledge of the health care law and its implications.
In the survey conducted last month, 41 percent of the respondents said they are not at all knowledgeable about the law and another 48 percent said they were only somewhat knowledgeable, the American Institute of CPAs news release said. Young adults were the least knowledgeable, with 48 percent of respondents between the ages of 18 and 34 saying they had no knowledge of the law.
Business Updates
Here's what people need to know:
Businesses with 50 or more full-time employees will be required to provide coverage, but not until 2015. Businesses that don't offer "affordable" insurance to their employees could face penalties. ("Affordable" in this case means the employee's share of the premium can't be more than more than 9.5 percent of his salary.)
Companies with fewer than 50 full-time employees don't have to offer coverage, but they might want to consider it.
"It can help you attract and keep good workers who might otherwise go to a competitor that offers health insurance," Arkansas Health Connector's website says. "Your workers may be healthier and more productive if they have health coverage."
Very small businesses will be able to buy insurance through the Health Insurance Marketplace and be eligible for tax credits to help offset the cost of offering coverage. To receive the credits, the businesses have to employ 24 or fewer workers who have an average salary of $50,000 or less, said Bruce Donaldson, a producer specialist at the Arkansas Insurance Department. The employer must then pay at least 50 percent of the individual premium for the employee, Donaldson said.
In return, the tax credit could be up to 50 percent of the employer's contribution to the premium if the business is a for-profit firm and 35 percent if it's a nonprofit. Employers also have to tell their employees about the exchanges, according to the U.S. Department of Labor.
Generally, an employer that has to comply with the Fair Labor Standards Act has to send a written notice that includes the coverage options that are available in the marketplace to all employees by Oct. 1. If the employee is hired after Oct. 1, the employer has 14 days to notify the new employee of the marketplaces.
There isn't a financial penalty if the employer doesn't comply, though.
Gearing Up
Arkansas Blue Cross & Blue Shield of Little Rock has been getting ready for health care reform, known as Obamacare, since it was first approved in March 2010.
"We have done a very aggressive outreach program" to insurance brokers, employer groups and individual members on how health care reform might impact them, said Max Greenwood, a spokeswoman for ABCBS. "We have taken the position that the more information people have, the better decision they will be able to make."
ABCBS is one of the four companies that will sell insurance through the Health Insurance Marketplace in Arkansas. The others that have signed up are National Blue Cross Blue Shield Multi-state Plan; QCA Health Plan of Little Rock, which does business as QualChoice of Arkansas Inc.; and Celtic Insurance Co. of Chicago, through its subsidiary NovaSys Health. (A fifth carrier, United Security Life & Health Insurance of Bedford, Ill., first said it would offer insurance in the marketplace but withdrew its application at the end of July.)
ABCBS will offer insurance in all counties in the state. Greenwood said several plans will be offered in the exchange, but she declined to say what the prices were because as of last week, they hadn't been approved by the federal government.
QualChoice also will offer a variety of plans in the marketplace, but it won't write policies in the extreme southeast and southwest regions of the state, QualChoice President and CEO Michael Stock said. Stock said QualChoice couldn't offer competitive prices in those areas of the state.
Stock also declined to release QualChoice's marketplace rates.
The Price Myth
Crone, at the Arkansas Insurance Department, said that one of the myths of Obamacare will be the price of health care insurance.
"People think the premiums are going to be way high and unaffordable," she said. "I don't think that's going to be the case."
She said if premiums are higher, it will be primarily because the plans offered through the Health Insurance Marketplace have more benefits than some individual plans that have previously been sold in the state. Stock, at QualChoice, said the health care reform law required a number of changes that could increase the price for some buyers. For example, Obamacare makes it illegal to charge different premiums for men and women, which is currently common in the individual insurance market.
For many, maybe most, Arkansans who buy insurance through the new marketplace, the price will be offset to some degree by federal tax credits. Tax credits will be available for households with incomes that fall between 100 and 400 percent of the federal poverty level. For 2013, those income brackets are about $11,000 to $45,000 for an individual and up to $94,000 for a family of four.
"We're in a state where 78 percent of the people are under 400 percent of the poverty level," Crone said.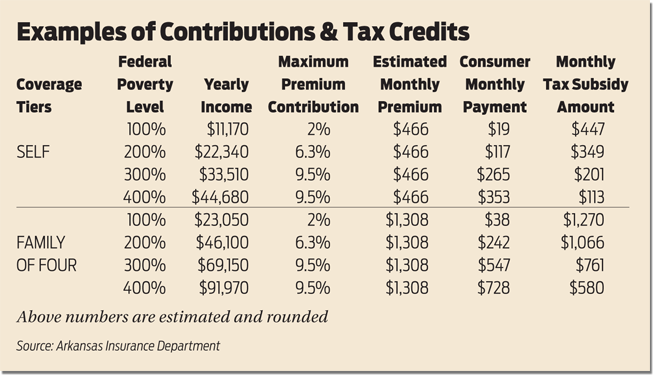 Those whose household income falls below 100 percent of the federal poverty level will be able to obtain private insurance from one of the four Health Insurance Marketplace companies and have their premium paid and all out-of-pocket expenses paid. Those Arkansans who fall between 100 and 138 of the federal poverty level would have their premium paid, but would have to cover some of their out-of-pocket expenses, such as copay, she said. And those whose income is more than 138 percent of the federal poverty level will have to pay for some expenses.
This is the "private option" that Arkansas lawmakers adopted in lieu of expanding the existing Medicaid program, and those private policies will be paid for with the federal funds that would have otherwise gone to expanding Medicaid.
There are believed to be 200,000 to 250,000 Arkansans who will qualify under that scenario.