A U.S. Bankruptcy Court judge on Thursday approved a $53.6 million bid by Simmons First National Corp. of Pine Bluff to acquire Metropolitan National Bank of Little Rock from Rogers Bancshares Inc.
Thursday's hearing marked the first time Simmons First's $53.6 million offer, more than three times the initial bid by a Dallas investment fund, was publicly revealed. Simmons was the successful bidder in a rare type of bank auction that took place Monday at the Wyndham Hotel in North Little Rock.
Thursday's hearing was devoted to an authentication and court approval of Monday's auction. In all, Monday's auction went through 19 rounds of bidding, according to information disclosed in court.
Simmons plans to discuss the merger in an analyst conference call at 4 p.m. Arkansas Business will update this story.
Simmons' offer beat out competitors Arvest Bank of Fayetteville and Ford Financial Fund II of Dallas, the "stalking horse" bidder that had the chance to match any other bids.
Bidding for the bank began at $16 million, the amount Ford Financial said it would pay when Rogers Bancshares, owned by the heirs of the late Doyle Rogers, announced in July that it would file Chapter 11 bankruptcy to facilitate the sale. Simmons later announced its intention to bid at least $16.9 million, the minimum required to overbid Ford Financial.
The bid amount doesn't include the amount of additional capital Simmons might apply toward the new combined operation, one of many questions yet to be answered about the deal. Metropolitan had been thinly capitalized, and Ford Financial had said it would inject more than $74 million into the bank to meet federal guidelines.
The Simmons bid is above the $52.9 million that Rogers Bancshares said it owed creditors in its bankruptcy schedules. Whether those creditors are made whole after other bankruptcy-related expenses are paid — including the $640,000 breakup fee owed to Ford Financial as the stalking horse bidder — is not yet known, but they will presumably receive more than they would have received had there been no other bidders.
One of the creditors is the U.S. Treasury Department, which bought $25 million worth of preferred stock in Rogers Bancshares through the TARP program. The bankruptcy does not anticipate paying back the TARP investment, but it does list $5.85 million worth of unpaid dividends on the Treasury's stock as a liability.
During the hearding, Simmons First CEO-elect George Makris and Metropolitan National COO and CFO Susie Smith took the stand to confirm that the auction proceeded correctly. No one in court raised objections.
At one point, Makris noted that Simmons had talked to Metroplitan several times over the last 10 to 12 years about a merger.
The Combination
Simmons First National Corp., a publicly traded bank holding company (Nasdaq: SFNC) that operates eight separate bank charters, intends to combine Metropolitan with its flagship, Simmons First National Bank of Pine Bluff. The move will grow Simmons First National Bank by nearly 50 percent, taking it from $1.99 billion in assets to nearly $3 billion -- assets that would call for perhaps $50 million in additional capital.
Simmons First National Bank has 35 offices in Arkansas and nine each in Missouri and Kansas. Metropolitan National Bank has 45 offices in Arkansas. The combined entity would have significant overlap with a sister bank, Simmons First Bank of Northwest Arkansas. That operation, headquartered at Rogers, has about $244.3 million in assets.
The final phase of selling Metropolitan, which had been hit hard by losses sustained on loans in northwest Arkansas, became public in July, when Metropolitan and Ford Financial announced that Ford had offered $16 million for 100 percent of the bank's stock.
Monday's auction came after Metropolitan spent years struggling to get out from under problem loans in northwest Arkansas, which led to almost $100 million in losses beginning in 2008. The bank has been under a supervisory agreement with the Office of the Comptroller of the Currency since May 2008 and had been looking for a partner to help recapitalize the bank since 2009.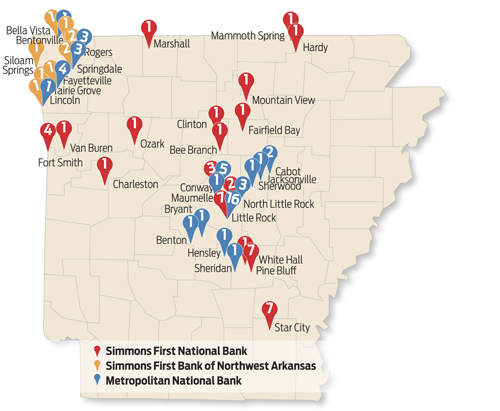 A map of the Simmons-Metropolitan Bank branch footprint. The map includes only branches of Metropolitan and Simmons' Pine Bluff- and Rogers-based banks.