by Lance Turner
Posted 9/12/2013 04:19 pm
Updated 1 year ago
Simmons First National Bank Corp. of Pine Bluff said Thursday that it expects "significant" branch consolidation in as integrates its acquisition of Metropolitan National Bank, which it aims to close by the first of December.
Executives with publicly traded financial holding company (Nasdaq: SFNC) discussed the deal in a conference call with analysts on Thursday. Earlier, a U.S. Bankrupcy Court judge approved Simmons' $53.6 million bid to buy the bank from Rogers Bancshares Inc.
More: See Simmons First's slideshow outlining the Metropolitan acquisition.
During the call, Simmons executives said it could close between 14 and 35 branches. It expects consolidation to take place April 1.
Simmons also revealed that it will merge two of its existing banks, Simmons First National Bank of Little Rock and Simmons First Bank of Northwest Arkansas of Rogers, with Metropolitan under one charter. Much of the branch overlap between the companies is in northwest Arkansas.
In all, the move will create a Simmons banking entity with $4.4 billion in assets and expand Simmons' market share in Little Rock and northwest Arkansas. Simmons will also enter Benton, Bryant, Cabot and Maumelle.
During the analyst call, CEO-elect George Makris said the deal will be accretive to Simmons earnings as early as January at 25 percent.
"We expect excellent financial results with this transaction," he said.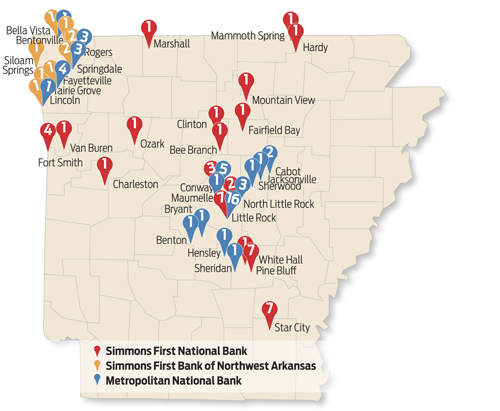 A map of the Simmons-Metropolitan Bank branch footprint. The map includes only branches of Metropolitan and Simmons' Pine Bluff- and Rogers-based banks.