Country music station KSSN-FM, 96, was the champion this summer for listener ratings reported to Nielsen Audio, the new name for the rating system long known as Arbitron.
Nielsen Audio's ratings for the Little Rock area represent 586,600 people in Faulkner, Lonoke, Pulaski and Saline counties. The Little Rock data for its summer period was released in October.
KSSN had a rating of 9.5, just 0.1 percentage point lower than in the same period last year.
Just behind KSSN were KIPR-FM, 92.3, with 7.1 and KLAL-FM, 107.7, with 6.7. Neither station was included in the Nielsen ratings from summer 2012.
Radio stations that do not subscribe to the Nielsen ratings are not included in the share data that Nielsen releases publicly.
The accompanying chart contains the average quarter-hour share data of listeners age 12 and older, 6 a.m. to midnight Monday through Sunday. Each share point equals 1 percent of total radio listening in the market.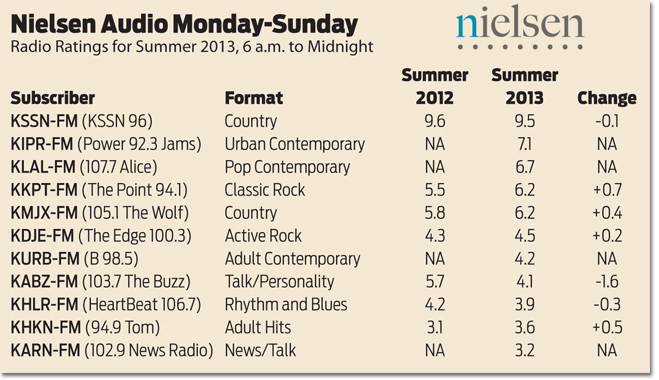 Nielsen Media Research of New York acquired Arbitron of Columbia, Md., earlier in 2013, and the Arbitron ratings were officially renamed Nielsen Audio ratings in September.