Posted 1/13/2014 12:00 am
Updated 11 months ago
Metroplan recently released its latest "Metro Trends: Economic Review and Outlook" report, in which the agency examines the region's rate of economic recovery four years after the official end of the Great Recession in June 2009.
"The Great Recession has caused some structural shifts to the local economy," said the report, written by Jonathan Lupton of Metroplan, the planning agency for Pulaski, Faulkner, Saline and Lonoke counties. The report studies economic data for the Little Rock-North Little Rock-Conway metropolitan statistical area.
The accompanying chart, provided by Metroplan, compares the growth rate by industry sector between the United States as a whole and central Arkansas, looking at the 2011-13 period.
The area has seen a decline in the information, wholesale trade and government sectors. The retail trade sector has experienced the greatest growth, with transport warehousing and utilities closely following. However, the report said, the retail trade sector "has lower-than-average income per job, and faces poor long-term prospects as e-commerce replaces a growing share of retail sales."
"Location quotient analysis suggests the local professional/business services sector retains its traditional role as one of the regional strengths in the Central Arkansas economy," the report said.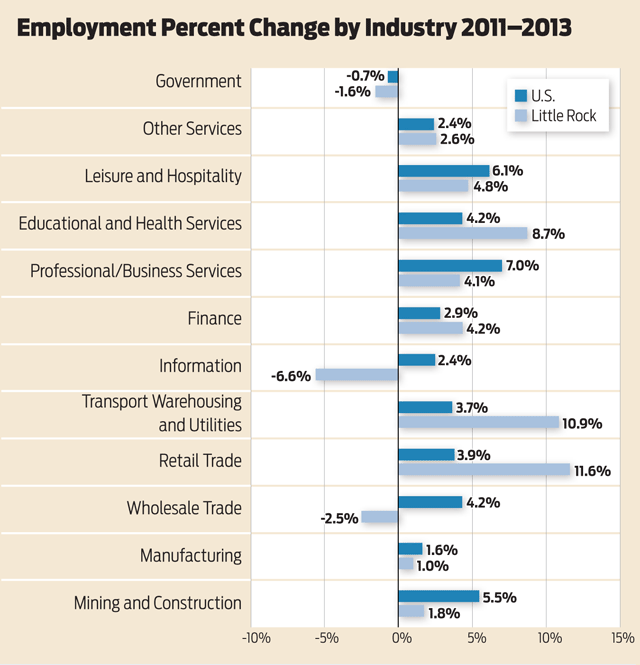 More information can be found at Metroplan.org.