Posted 2/26/2018 12:25 am
Little Rock is the capital of Arkansas and the global brand of a 12-county region, home to more than 1 million people living within a 50-mile radius of downtown.
Little Rock, "La Petit Roche," got its name from the 1682 Robert La Salle expedition, when the party led by the French explorer landed on the south bank of the Arkansas River.
Little Rock became the seat of Arkansas' new territorial government in 1821 and was incorporated as a city in 1831. It was named capital of the newly admitted State of Arkansas in 1836.
Centrally located with four distinct seasons, Little Rock has a daily mean temperature of 62.6 degrees and an annual precipitation of 49.6 inches. Downtown, where the Southeast meets the Southwest and the Delta becomes the mountains, is 286 feet above sea level with some residential areas rising 300 to 630 feet.
Little Rock's downtown is home to both a capitol and a presidential library, and is linked on both sides of the Arkansas River by 88 miles of one of the best trail systems of parks and pedestrian bridges in the country, connecting 38 parks, six museums and 5,000-plus acres of federal, state and local parkland.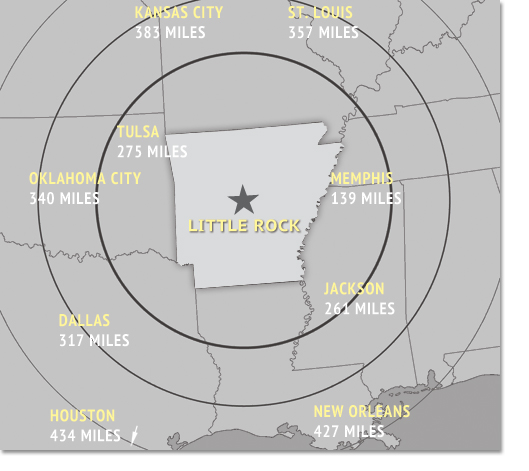 Metro Area By the Numbers
22.5 minutes average commuting time
(U.S. News & World Report)
No. 1
(Kiplinger's "10 Great Places to Live" 2013 list)
Little Rock's cost of living is 11.20% lower than the U.S. average
(Sperling's Best Places)
$130,500 median home cost
(Sperling's Best Places)
14.3 public school students per teacher
(Sperling's Best Places)
No. 7 "Best Places for Jobs in the Nation"
(Forbes)
3.7 percent unemployment rate, 1.5 percent below national average
(Sperling's Best Places)
No. 2 Most Diverse Regional Economy
(Moody's Investors Service)
No. 3 Best Value City significant to African-American History
(Trivago.com)
217 average sunny days per year
(Sperling's Best Places)
90 water quality rating on 1-100 scale (national average: 55)
(Sperling's Best Places)