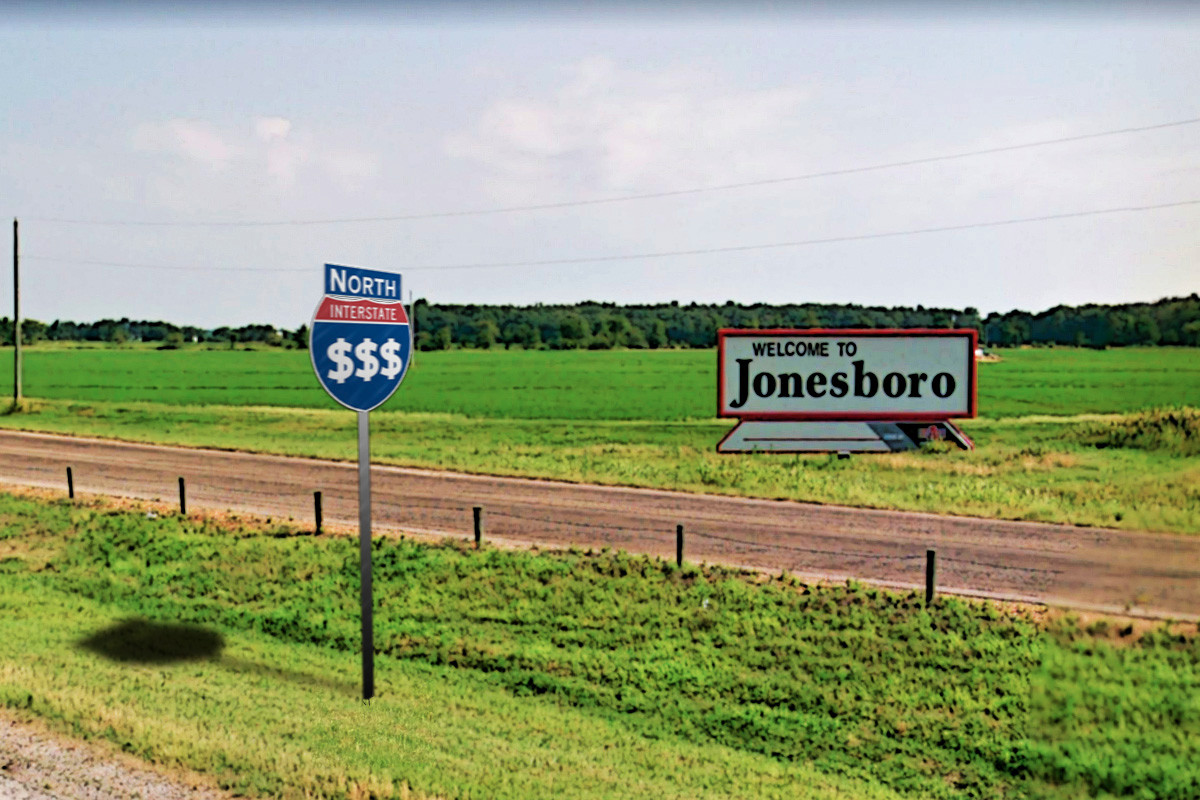 Two more banks are expanding the competitive field of lenders in the biggest market in northeast Arkansas.
Forrest City's Armor Bank and Little Rock's Encore Bank have entered the Jonesboro market with loan production offices in advance of plans to open full-service locations.
Armor Bank has set up shop in tempo-rary quarters at 1814 Executive Square. The $101 million-asset lender intends to develop a 5,500-SF full-service office at 1402 E. Highland Drive.
The Jonesboro move is a regional extension of its $8.4 million acquisition of Marked Tree's First Delta Bank earlier the year, part of Armor's planned rollout of locations around the state.
"The ownership group of our bank is committed to growing a real commercial business franchise across Arkansas, as long as it's practical," said Chad May, CEO of Armor Bank.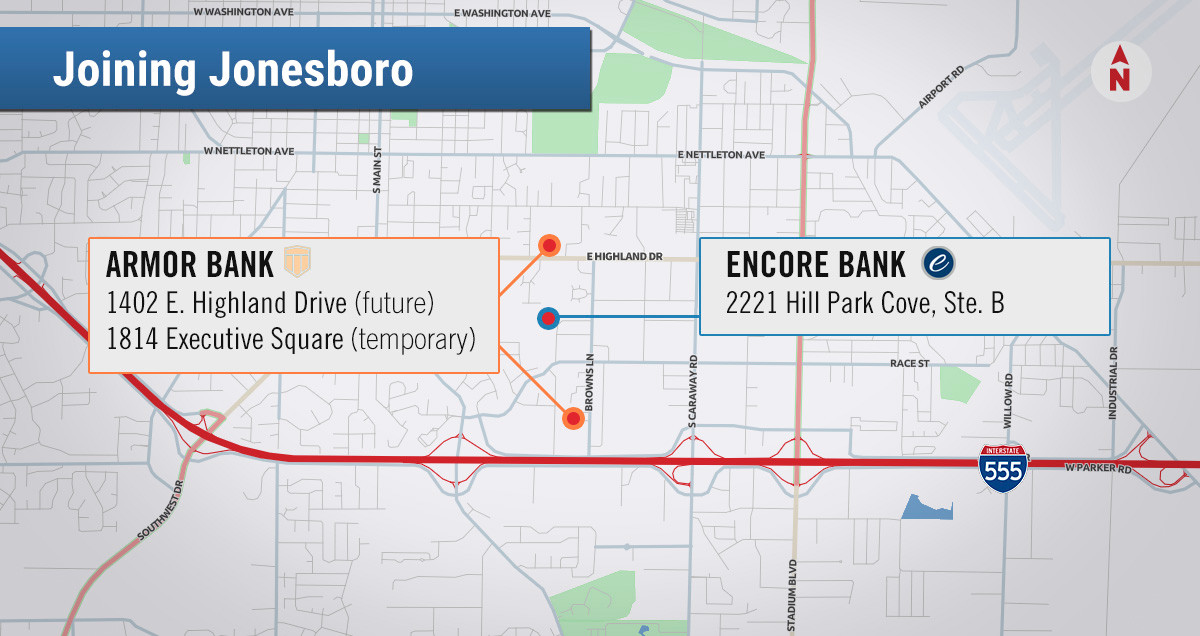 Little Rock's Encore Bank has opened a loan production office at 2221 Hill Park Cove, Suite B. The $247 million-asset lender's plans to transition from this temporary spot are still taking shape.
"We are working towards a full-service branch location," said Barry Jackson, senior vice president and chief marketing officer with Encore. "We're looking for the space now, and we have a couple spots in mind."
The bank went into expansion mode early this year when Chris Roberts came aboard as CEO and began a capital campaign to transform Capital Bank into Encore.
Total equity has ballooned from $13 million to nearly $50 million as of Sept. 30. The capital raise has helped fund new hires as the Encore staff has grown from nine to 35 during the past three quarters. The near quadrupling of personnel has escalated the tally of salaries and employee benefits as of Sept. 30 from $935,000 in 2018 to more than $3.1 million this year.
Behind the substantial increase in payroll, Encore recorded a nine-month loss of $3.7 million while its loan portfolio more than doubled from $75.7 million to $178 million.
In three quarters, total interest in-come grew to more than $5.5 million this year compared with about $4 million during the same period in 2018.
So far this year, total assets at Encore have climbed from $161 million to $247 million.
New Players
Armor and Encore are among four new banks entering Jonesboro's $2.6 billion-deposit market this year.
Marion's Premier Bank of Arkansas should have its full-service branch operational by year's end.
The fourth new lender Stuttgart's Farmers & Merchants Bank, came to Jonesboro via the May acquisition of Mountain Home's Integrity Bank.
The additions of Armor, Encore and Premier are boosting the headcount of banks on the ground in Jonesboro to 19.
---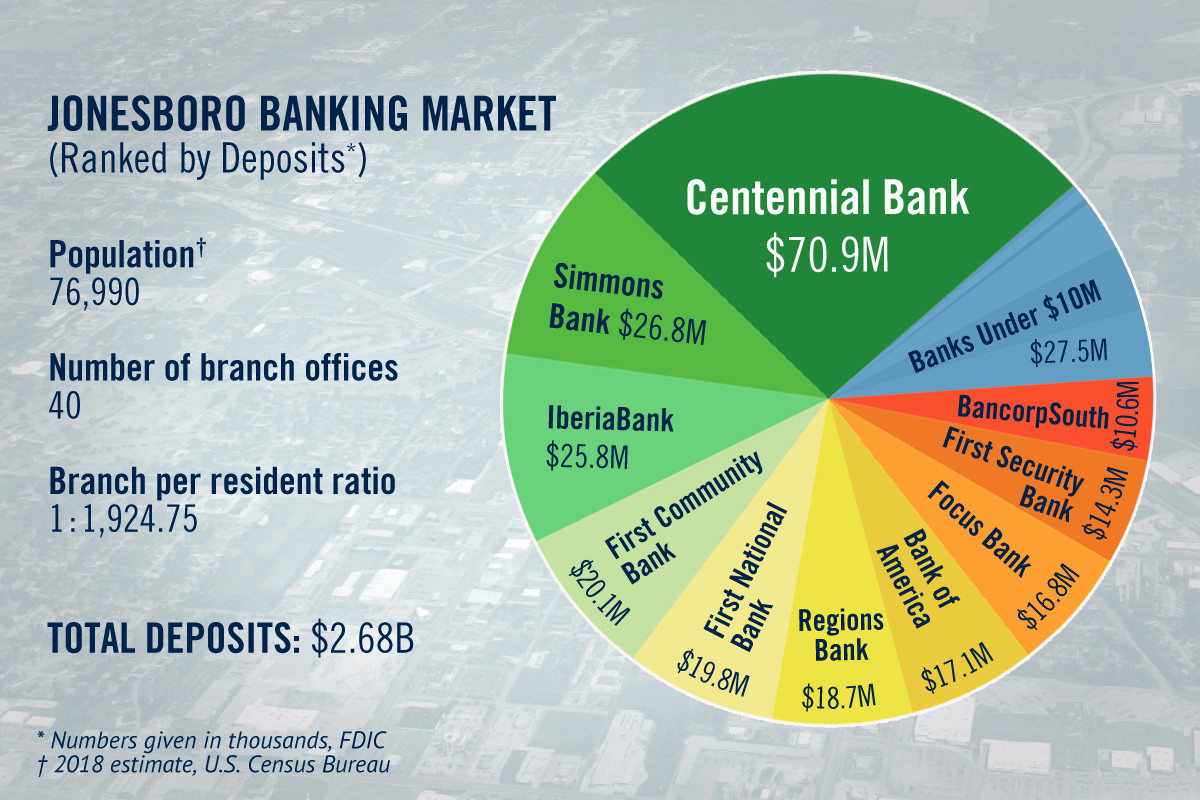 Offices
Deposits*
Mkt. Share
Centennial Bank
Conway
6
$708,916
26.42%
Simmons Bank
Pine Bluff
3
$267,833
9.98%
IberiaBank
Lafayette, Louisiana
3
$257,617
9.60%
First Community Bank
Batesville
3
$200,693
7.48%
First National Bank
Paragould
3
$198,003
7.38%
Regions Bank
Birmingham, Alabama
2
$186,634
6.96%
Bank of America
Charlotte, North Carolina
1
$171,359
6.39%
Focus Bank
Charleston, Missouri
3
$167,675
6.25%
First Security Bank
Searcy
3
$142,694
5.32%
BancorpSouth Bank
Tupelo, Mississippi
4
$106,149
3.96%
Southern Bank
Poplar Bluff, Mo.
2
$94,085
3.51%
Arvest Bank
Fayetteville
3
$88,107
3.28%
Farmers & Merchants Bank
Stuttgart
1
$65,449
2.44%
FNBC Bank
Ash Flat
1
$12,045
0.45%
Cross County Bank
Wynne
1
$10,332
0.39%
Unico Bank
Mineral Point, Mo.
1
$5,215
0.19%
TOTAL
40
$2,682,806
*In thousands as of June 30, 2019.
Source: FDIC