When he was maybe 10, my bookworm son stumbled on an unfamiliar word. "What does eccentric mean?"
I thought for a few seconds and said, "Like Mammaw" — the name her grandchildren used for my mother.
"Oh," he responded, "that makes sense in context."
---
Context is my favorite word. Context is the environment in which words, facts and events can be fully and rightly understood. Even children can grasp the importance of context and are taught to seek it out, and yet so many grow into adults that can be misled by deliberate manipulation of facts without context.
Last week's winter weather event provided some egregious examples.
Exhibit A: A photo went viral on Facebook of a helicopter de-icing the blades of a wind turbine, accompanied by implicit or explicit suggestions that it was happening in Texas.
"A helicopter running on fossil fuel spraying a chemical made of fossil fuel to de-ice a wind turbine made of fossil fuel during the ice storm is a GREAT example of how stupid the Green New Crap is!!!" read one version shared by a cousin in Michigan. And he added, "Almost 25% of Texas uses wind turbines for energy. Well they FROZE! Now millions in Texas lost electricity. Texas has the most oil in our country and because liberals they are frozen....."
Giving my cousin and other sharers of this misinformation the biggest possible benefit of the doubt, wind turbines in Texas did have problems last week, and it would have taken research to determine that the photo of the helicopter was from Sweden and is at least seven years old.
But the suggestion that Texans were suffering because of liberals seems like something that any adult of average intelligence would automatically question considering the context. Texas, the proving ground for natural gas fracking, hasn't favored a Democrat, not even a conservative one, in a statewide election since 1994. So in what context could Texas energy policy be the liberals' fault?
Wind turbines in Texas do provide almost a quarter of the state's electric generation capacity. Why? Because it is a cheap, reliable power source in parts of the vast Lone Star State. The freezing up of wind turbines resulted in about 13% of the state's disastrous power outages, an executive with the Electric Reliability Council of Texas told the Austin American-Statesman.
Some context missing from the meme with the Swedish photo: Fully half of Texas power comes from natural gas-fired plants. Less than 20% is generated by burning coal because even Texans know that's an outdated technology. Gas and coal generators also froze last week. Just as they did in 2011, when wind was less than 10% of the state's power mix.
"A decade ago, another deep February freeze created power shortages in Texas the same week the Super Bowl was played in Arlington. A federal report later flagged failures in the system, including power plants that are unable to stand up to extreme cold," The Associated Press reported, offering important context.
Here's some more context for the debacle: Texas chose to operate its own electric grid free of most federal regulation — and free of a backup plan in case of a catastrophic, statewide failure.
---
The mayor of Colorado City, Texas, resigned last week after, or maybe before, posting a rant on Facebook disclaiming any responsibility for the health and safety of his city's 3,900 residents.
"No one owes you are your family anything; nor is it the local government's responsibility to support you during trying times like this!" Tim Boyd wrote in a hail of spelling and punctuation errors.
Among other things, he asserted that "only the strong will survive and the weak will parish," and blamed both "a socialist government" (of which he was apparently a part) and "your raising" for the fact that his constituents were sitting in the dark with no water.
When the statement that he had posted for all the world to see got the attention he sought, Boyd announced that he had already resigned. He took responsibility for popping off. But notice what he blamed first:
"Believe me when I say that many of the things I said were taken out of context and some of which were said without putting much thought in to it."
He did not suggest what the proper context might be.
---
My second-favorite word is options. Anyone who has ever managed anything — employees, a household, an electric grid — knows how important it is to have a Plan B.
---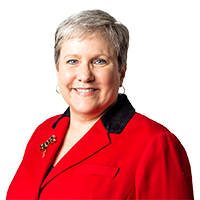 Gwen Moritz is the editor of Arkansas Business.