The first time Arkansas Business editorialized on the issue of applying sales taxes to e-commerce was in September 2001, back when the Associated Press Stylebook still quaintly capitalized Internet. At the time, sales taxes were applied to few online sales, and online retailers insisted that figuring out thousands of local sales tax rates was just too complicated.
I always suspected that was a smokescreen intended to preserve the distinct advantage online sellers had when local retailers had to collect and remit an additional 6% or 8% or 10% on every sale. After all, federal law had long required mail-order sellers like Sears to collect sales taxes in states where they had physical stores. But the editorial "we" are neither tax experts nor computer programmers, so our editorial position was this:
"There may be software available to deal with Internet sales, but it seems to us the fair thing would be for the states to come up with a simple plan that says which items would be taxable and which items would not. Perhaps they should adopt a single rate."
Political reticence to imposing any new or higher taxes — and taxing online sales certainly felt like a new tax since most of us didn't voluntarily pay taxes that weren't collected at the time of sale — preserved the online retailers' advantage to the detriment of local businesses for many more years. Amazon.com, which still has only a few stores in a handful of states, could undercut small retailers as well as Arkansas' own Walmart Inc., which had stores in every state and therefore had to collect sales tax on online transactions.
A decade later, brick-and-mortar retailers had adopted a smarter message: a bill to tax online sales was called "The Main Street Fairness Act." But even that proposal, which would only impose the taxes on out-of-state companies that had operations or "affiliates" in Arkansas, was not fair enough for Arkansas Business.
"It would be even fairer to require the collection of sales tax on all sales made for delivery in Arkansas, whether there's a corporate 'nexus' or not," the editorial from March 2011 said.
And it took aim at the legislators who foolishly signed Americans for Prosperity's shortsighted pledge never to raise any taxes for anything no matter how worthy the cause: "Hardliners have to decide which is more important: their no-new-taxes pledge or removing the unfair advantage our current system offers to companies specifically because they are mainly taking money out of our state rather than investing in it."
In 2013, the U.S. Supreme Court cleared the way for states to impose the same sales taxes on internet sales as in local stores, and Rep. Steve Womack, whose congressional district includes Walmart's Bentonville headquarters, was ready with legislation called the "Marketplace Fairness" bill. It went nowhere, but as internet sales grew, resistance to taxing them became increasingly futile.
In 2017, Amazon took one for the team, announcing it would voluntarily collect sales taxes in Arkansas on its corporate sales in hopes of preserving the tax-free advantage for the third-party vendors who pay Amazon a commission to sell through its website.
Finally — finally — sales tax fairness was achieved with Act 822 of the 2019 legislative session. Effective July 1 of that year, "remote sellers" making more than incidental sales in Arkansas — more than $100,000 or 200 transactions per year — were required to collect and remit sales taxes in compliance with the Streamlined Sales & Use Tax Agreement adopted by Arkansas and 43 other states, plus the District of Columbia. Since it takes two months for taxes to be remitted to the state by retailers and then distributed to the appropriate city or county, local governments in the state began to feel the financial impact of internet sales in September 2019.
And not a moment too soon. When the pandemic hit six months later, brick-and-mortar sales plummeted while online sales ballooned. (My household Amazon orders grew from 10 in 2018 and 13 in 2019 to 53 in 2020, and I suspect that kind of change was not unusual.)
As Senior Editor Mark Friedman explains in City Sales Tax Receipts Rise, Defying COVID-19 Predictions, widespread stimulus payments by the federal government, including unusually generous unemployment benefits, kept retail sales humming, but I shudder to think how city and county collections would have suffered if the tax laws continued to favor out-of-state online retailers over brick-and-mortar stores with local customers and local employees.
---
I was able to find those long-ago articles and editorials about taxing online sales because I have access to the Arkansas Business online archive, and you can too. We sell unlimited access to almost 30 years worth of articles for $20 a year. What a steal!
---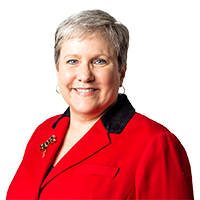 Gwen Moritz is the editor of Arkansas Business.