Four commercial real estate leaders offer their insights on what's currently happening in the retail sector.
CLINTON BENNETT
Principal
Bennett Commercial Real Estate, Rogers
JOSH BROWN
Principal Broker
Haag Brown Commercial, Jonesboro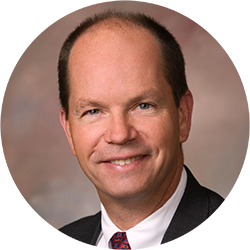 HANK KELLEY
CEO, Partner, Executive Broker
Kelley Commercial Partners, Little Rock
ZACK KIFER
Associate Director
Newmark Moses Tucker Partners, Fayetteville
What types of properties seem to be most in demand in your sector and why?
HANK KELLEY: Quick service restaurants (QSR) with drive-through, grocery store space, value oriented furniture, dollar stores. QSR's with drive-through access were accelerated during the pandemic to avoid in-person contact. Grocery store space is a response to the increased demand for in-home time for cooking. Dollar store space has been a result of people's use of dollar stores to buy necessities in smaller footprints.
JOSH BROWN: Retail has been the most active sector in northeast Arkansas in large part because of the lack of product, specifically junior box and small shop retail properties, but this has had little to do with COVID. The Mall at Turtle Creek was hit by a tornado in March of 2020 and has not opened back up. Several of the former mall tenants have relocated to other locations in the market. We have shopping centers full that haven't seen 100% occupancy in 20 years.
CLINTON BENNETT: Service businesses, medical businesses (I use that term very broadly) and restaurants/food related businesses seem to be driving the majority of the tenant demand in the retail sector.
ZACK KIFER: Market is once again moving fluidly overall. We are seeing corporate tenants move quickly on new deals and looking for opportunities focusing on updated strategies and drive-through emphasis.
How has the pandemic affected the market in terms of the types of properties and space that are in demand?
KELLEY: Yes, the demand by junior department store users (25,000 to 40,000 SF) and anchor stores dealing with women's clothing and accessories was reduced. This category is starting to get back in the market. All entertainment oriented and fitness-related space use has been reduced and this category is starting to get back in the market.
BROWN: I will not be so bold to say the northeast Arkansas real estate market was not affected from the pandemic, but not much changed. We had a few full-service restaurants who did not survive, but they were on life support pre-pandemic. It seems there is more demand for fast food restaurant locations than ever before. Our office market was not as affected as larger cities where there were massive office buildings. The demand for medical space is high. The demand for office space is similar to pre-COVID.
BENNETT: There was obviously a significant shift in preferences and space needs occurring in the retail sector, and the pandemic has simply sped that up. We definitely see a trend away from the big box spaces and toward a smaller neighborhood type format.
KIFER: We are not seeing the same type of aggression on the franchisee side. We are still seeing more of a wait and see approach from many groups or some that have shut down their operations completely and moved onto their next venture with the COVID heartburn experienced.
What trends seen during the pandemic do you expect to continue?
KELLEY: [People will be] very selective with the addition of any new stores.
BROWN: We expect restaurant designs to focus on easy and efficient drive-through and pick-up areas. Grocery stores will continue to do more volume with less walk-in traffic. E-commerce sales are exploding and will continue to rise, making the ability to get those products to consumers more and more critical.
BENNETT: I expect to see the continued shift away from holding a large inventory of product to a more service focused model that helps advise shoppers in regards to what they need and helping them get those products in an omnichannel format versus having it stocked in the store.
KIFER: It does not take long to develop habits and I believe we all relied heavily on drive-throughs, curbside pickup and food delivery during the pandemic. I believe each of these will be strong for the foreseeable future and many tenants are incorporating this into their strategies moving forward.
In what ways, if any, do you see the market in this sector returning to pre-pandemic "normal"?
KELLEY: The acceleration of online shopping will slow the demand for expansion or new locations for retailers that have products that are purchased on online venues. Our focus on leasing is to recruit service oriented retailers and adapt the spaces to accommodate office and service oriented users. There will still be great local retailers that understand how to present products and offer their service to compete with online shopping, but there will be fewer than in the past. When you decide to purchase a product online, you vote for this trend to continue.
BROWN: People are ready to get out and get back to some sort of normal. This desire will put sit down restaurants, downtown venues, festivals, events and the entertainment sector back in high demand. However, I think the entertainment industry will look a bit different moving forward, specifically for movie theaters. Trampoline parks and bowling alleys will more than likely get back to full pre-pandemic numbers, if they haven't already. But the movie industry was already facing headwinds with streaming services. During the pandemic, the entire process experienced a systematic change. In order to stay alive, the industry had to jump on board and make their box office hits available to the millions of Americans sitting at home. Now that they have crossed that line, there is little to no chance they can ever go back. Again, COVID has been the "great accelerator" in terms of moving this industry in a direction it was already heading.
BENNETT: I think that in this space in particular that "normal" will continue to evolve in a significant way but generally I think that, as with most instances of change, the pendulum will swing past the sweet spot of consumer preferences and we will reach a point in many retail businesses where shoppers will recognize that they are willing to pay a premium to be able to touch, feel, try on and leave with an item that they want that day. I expect that you will see many brands like Gearhead Outfitters or Phat Tire or Walker Brothers Clothing along with other premium brands, that are often regionally owned, continue to excel due to their focus on customer service and premium products. I feel like the bottom line is that consumers will ultimately make the decision to pay for a premium experience and some businesses will continue to understand and cater to that.
KIFER: We are getting closer every day as more people get vaccinated and restrictions are lifted. There is a lot of pent up demand and we are starting to see that impact leasing activity in a positive way.
What, if anything, about the market surprised you in the past year?
KELLEY: Across the board how hard it was for retailers and restaurants to survive. I have admiration for how adaptable many of our retail and restaurant [owners] have been and how hard they have worked to get to this point with their business still in place. When you can, go support them with your needs.
BROWN: It was a dang economic roller coaster. … The highs were high and the lows were low. In the few months pre-pandemic, business was good. 2020 started strong for us as a development company. During the height of the pandemic, our office, and the rest of the business world, completely stood still for three months, leaving us in the dark about what the future was going to hold. Literally everything we were working on stood still. Then everyone figured out the world wasn't ending. Tenants were paying rent. Customers were spending money at coffee shops, grocery stores, etc. … Our deals started picking back up where they left off. The end of the year comes around and low and behold, 2020 ended as one of the best years we've ever had as a company. The same story has been told to us by numerous clients among numerous industries. Who could have seen that coming? It certainly surprised me.
BENNETT: I am very surprised by the demand that we have seen and continue to see from the American consumer and I would have never imagined that we would become acclimated to the idea that the supply chain is unable to keep up with the seemingly insatiable demand of the consumers.
KIFER: While the pandemic forced way too many long-running establishments to close, what was surprising to me is how many restaurants gutted it out and were able to survive through the pandemic.
What should we know about this market sector that hasn't been asked?
KELLEY: An evolution of retail space is happening with mixed uses being introduced to use well located and accessible properties. Retailers have always demanded the most visible and accessible storefronts and so their locations will support many different kinds of office and retail uses.
BROWN: No one is really talking about the growth southern and middle America is experiencing at the expense of the country's larger metros. As long standing, national brands close down stores across the Northeast and West, they are opening them in droves in middle America. With localized distribution centers popping up everywhere to meet the increasing e-commerce demands of these brands, rural areas are claiming independence from bigger cities and the resources formerly stockpiled therein.
BENNETT: That industrial is the new retail. I say that because the industry is now understanding just how interconnected these two market segments are, and if you can't get product in the hands of consumers you can't produce sales and revenue. I expect the interconnectivity in the retail/industrial space to keep becoming more prevalent and I think that it will be fascinating to watch the continued evolution.
KIFER: Retail is not dead or dying, however it has changed forever and will constantly require retailers to adapt to meet the needs of their consumers.