Back in May, Arkansas Business published guest commentary by Jennifer A. O'Brien of Little Rock, author of the book "The Hospice Doctor's Widow," about the importance of planning for the inevitability of death. In her commentary, "The Business of Life," O'Brien offered a three-point to-do list:
Load your medical I.D. details into your smartphone.
Establish your advance health care directives.
Get your personal administrative stuff together.
These are steps we all can and should take to ease the burden on our survivors. But, according to O'Brien, two in three American adults don't have a will or advance health care directive, and this is true regardless of age or wealth. Grief is compounded by knotty financial messes left for someone else to unravel.
As a human, you should think about minimizing stress on your survivors. As an executive, you should also think about whether your business is as helpful as possible when a customer or client dies.
Consider this true story:
A 67-year-old Little Rock man died unexpectedly in May. He never married and had no children, and he never got around to making a will. So his brother — his only sibling — and sister-in-law, dear friends of mine, have spent more than three months trying to close out the books on one man's life — a relatively simple life, at that.
They dealt with funeral planning, two state pension plans, life insurance, homeowners insurance and various utilities. They paid off final debts and sold a vehicle. They cleaned out the deceased's small, cluttered home, made urgent repairs, listed it and sold it. They closed accounts at two financial institutions.
They hired a probate attorney because some assets had a designated beneficiary while others didn't. None of this was pleasant, but for the most part it proceeded smoothly. (Especially the house-selling part. A modest house that needs a lot of TLC sold for 33% more than the modest asking price because the real estate market is insane right now.)
Despite two months of what the sister-in-law called "terrier-like tenacity," she had been unable to get a credit union headquartered out of state to answer one simple question: Did her brother-in-law's individual retirement account have a designated beneficiary?
"Unfortunately We Can't …" should be this institution's official slogan, according to my friend, who described her fruitless efforts on Facebook.
Compounding the frustration is the fact that dealing with customers' survivors seems to be no one's job at this particular credit union. "You can only call back, get a different person, start the process of explaining over again and just wait for 'unfortunately we can't' and 'please check back.'"
If the IRA has a beneficiary, then the balance should be paid to the beneficiary (with proper paperwork, of course) without being included in the probate case. If there is no beneficiary, then it needs to be probated. Only the credit union knows the answer to that question, and my friends will be paying the probate attorney to get a yes-or-no answer.
The surviving sister-in-law dealt with her own mother's death a few years back, so she now has a lot of experience with these chores. While I won't name the institution that drove her to rant on Facebook, I'll tell you who she said is a model of best practices: USAA.
"When Mom died, I contacted them, and they had a single person who could access all of her accounts (insurance and financial). He was able to help me settle everything in record time," she wrote.
If you are an executive at a business that has a continuing relationship with clients — accounts that are billed regularly, accounts that contain a client's assets — do you know what happens when a client dies? Do you have a process for making sure that the account can be closed without undue difficulty and frustration for people who are already burdened with grief (and sometimes shock)?
Your business needs a well-considered protocol whenever someone calls to say that a loved one has died. There should be a point person who knows the questions to ask, the documents to request and the steps to take to assure the prompt and legally proper handling of an account.
Because, as my friend said, "the caller needs to be focusing on processing their grief, not documenting their interactions with the 'unfortunately we can't' people."
---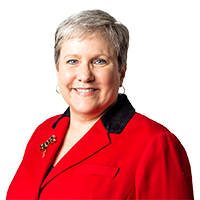 Gwen Moritz is a contributing editor at Arkansas Business Publishing Group.