"LuLaRich," the four-part documentary about the multilevel marketing company LuLaRoe that debuted on Amazon Prime Video in September, should be required viewing for every high school student. And it wouldn't hurt anyone else, including businesses that have to compete with them for sales and talent, to commit the time to understanding how MLMs take advantage of the hopes and dreams of people — mainly women — who can least afford the risk.
I have never been a fan of MLM sales schemes because I'm a notorious bargain hunter, and generating profit at multiple levels guarantees that every product is more expensive than it needs to be. That doesn't mean the products aren't good. But it does mean that similar products of equal quality are available for less when there's not a pyramid to feed, and those are the products I want to buy.
Still, only in recent years have I become sensitive to just how predatory MLMs can be, thanks to a proliferation of exposés. "LuLaRich" follows a 2016 documentary called "Betting on Zero" about the Herbalife MLM. John Oliver brutally skewered MLMs in an episode of his "Last Week Tonight" on HBO in 2016. Anti-MLM videos are a cottage industry on YouTube, and a 2018 podcast called "The Dream" deconstructed the appeal of MLMs in communities where there are limited traditional job opportunities.
The prey for these predators are not people who might agree to host a "party" or the friends who might feel obligated to buy an overpriced thingamabob. The prey are the sales contractors who invest significant personal money, often borrowed, in inventory with the expectation that they will become entrepreneurs earning satisfying amounts of cash from a reasonable amount of effort interspersed with their existing responsibilities. They quickly learn that the business is not actually selling merchandise.
The business, and the only way to make money in an MLM, is to recruit more and more people just like themselves to buy inventory and compete for the same limited market of buyers.
LuLaRoe founder DeAnne Stidham acknowledged that the big checks its contractors were encouraged to show off on social media were rewards for recruiting new sellers, not the markup on their sales of leggings or other articles of clothing. Corporate headquarters, you see, did not even track retail sales. The top of the pyramid didn't know or care whether there was actual market demand for the clothes, as long as there were ever more independent contractors placing ever more wholesale orders, and this appears to be standard among MLMs.
If a contractor doesn't recruit enough new contractors, she will lose money. And she will be blamed for her failure to work hard enough to enrich her "upline." Gaslighting is strong in MLMs, as is the reliance on guilt and the sunk cost fallacy. If only they work just a little harder and invest just a little more money, this thing will finally pay off.
Some contractors who were most successful in recruiting large "downline" teams expressed regret for luring others into what was, for most of them, a money-losing proposition. But, as one of my YouTube heroines, Chelsea Fagan of "The Financial Diet," pointed out after watching "LuLaRich," "The line between who is a victim and who is a predator is extremely blurry." Some of the repentant LuLaRoe contractors in the documentary "made it several years in the company only by exploiting and entrapping other women underneath them."
---
"LuLaRich" makes a lot of disturbing points. One of them, illustrated by a woman who did get in early and did recruit many downline producers and did receive large checks, was the complete failure to educate the independent contractors about their personal tax responsibilities. Because she didn't know she was required to pay estimated taxes quarterly, this woman found all her "savings" wiped out by a tax penalty.
LuLaRoe, it seems, had plenty of corporate bandwidth to train and motivate contractors to recruit more contractors to compete with the existing contractors. But helping these empowered entrepreneurs manage their businesses was clearly not a priority. Why would it be?


---
What's the most cringe-inducing part of "LuLaRich"? You might vote for the part about women being encouraged to sell breast milk in order to buy more inventory. Or you might hit on the campaign to pressure top producers to have weight-loss surgery at a particular clinic in Tijuana. For me, it's when the interviewer asks Stidham what inspired her to want to empower women, and her husband, Mark, pats her arm and says, "Can I jump in here and then you can talk?"
---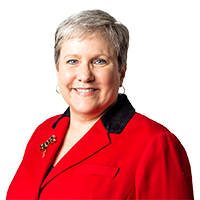 Gwen Moritz is a contributing editor at Arkansas Business Publishing Group.