A map that appeared on our Feb. 14 front page confirmed the trend we saw when we produced a similar map last year: The percentage of residents with medical marijuana cards is higher in north and northwest Arkansas, lower in the south and east.
But this year's map required vastly more effort because last year I got the countywide card counts from the Medical Marijuana Commission, which had received them from the Arkansas Department of Health, and this time I went straight to ADH. The result was a months-long adventure in government opacity and obstinance:
► ADH does not accept that the state Freedom of Information Act defaults to the public's right to know unless legislators create a specific exemption.
► ADH didn't notice that its data suggested that some counties were awash in marijuana cards and seemed not the slightest bit curious even after I pointed that out. Repeatedly.
In early November I requested 2021 countywide card totals like those for 2020 that I had received from the MMJ Commission. I waited six weeks only to be given a report to the Legislature that included countywide totals in ranges — less than 500, more than 7,000, etc. — showing that more populous counties have more marijuana cards.
I can't calculate a percentage from a range, but when I renewed my request for specific numbers, ADH balked. In a phone conference, ADH attorney Craig Smith cited the Medical Marijuana Amendment to the state Constitution, which protects the list of people who have received cards. He said ADH had interpreted that exemption "narrowly" to include any data derived from that list.
I said that was actually an overly broad interpretation, and Smith suggested we might have to ask a judge. This was his quaint way of telling me that Arkansas Business might have to sue ADH. My publisher offered to call in lawyers, but I wanted to avoid that because when we won — and we would have — taxpayers would have had to pay our lawyers as well as the government lawyers who sought to deny their right to information.
Smith also pointed out that ADH must comply with the federal Health Insurance Portability & Accountability Act, which restricts the release of medical information. I knew Smith's interpretation of the FOI was indefensible, but I had to read up on HIPAA. According to the U.S. Department of Health & Human Services, there are "no restrictions on the use or disclosure" of information that "neither identifies nor provides a reasonable basis to identify an individual." Like the countywide COVID case counts that ADH has released routinely for almost two years. Or marijuana card counts.
It seems I was right all around. Ten weeks after my first request, I finally got countywide card totals. Not specifically in response to my FOI request — ADH has not acknowledged having been wrong about that — but in the face-saving form of a revised report to the General Assembly. Smith emailed to say the report had been shared with me as a "courtesy," still not recognizing my right to information just because I asked for it.
Within an hour of receiving the countywide totals, I flagged problems — starting with the first county in alphabetical order. According to ADH, 26% of Arkansas County's 17,000 residents had been issued cards between 2019 and mid-2021. The statewide average is 3%.
ADH promptly corrected its report to the Legislature, but the new numbers were just as baffling. Arkansas County was correct, I was told; what's more, the number of marijuana cards for Searcy County represented 34% of its population.
I wasted a lot of time trying to find anyone who could explain these patterns, which ADH insisted were correct but denied any responsibility to investigate. Finally, three months after my first FOI request, 28 days after I first questioned their numbers and 26 hours before the issue went to press, ADH corrected a "flaw in the algorithm" and updated its report to the Legislature for the third time.
Their numbers had been wrong for 74 of 75 counties. Arkansas and Searcy counties were back in line with the trend.
I have two things to say to Dr. José R. Romero, the state's secretary of health:
► Aligning your department's culture with the FOI needs to come from the top.
► Your employees should care about ADH data at least as much as I do. The algorithm may well have been an error by a vendor, but I should not have had to beg ADH staff to recognize the implications of what they reported to legislators.
---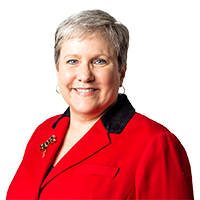 Gwen Moritz is a contributing editor at Arkansas Business Publishing Group.