Arkansas historian Ben Johnson sums up the recent history of the Arkansas Delta in one word: depopulation.
The Delta comprises all of 16 Arkansas counties and parts of 10 more (not including the extreme southeast sliver of Pulaski County). While there are bright spots, the 300-mile region has been losing population, unevenly but inexorably, for half a century — some parts longer. Every technological and economic development, from mechanized farming to offshoring to industrial automation, has accelerated the spiral: dwindling workforce, dwindling tax base, dwindling representation in Little Rock and Washington.
The Delta has enthusiastic boosters with ideas, but, in the words of Arkansas Court of Appeals Judge Raymond Abramson, "It takes a critical mass to make progress happen." And that critical mass — typically a convergence of health care, education and government jobs — is missing from most communities in the Delta.
Abramson, "a son of the Delta and grandson and great-grandson," is the moving force behind the Arkansas Delta Council, a nonprofit economic development organization still in formation. When its incorporation is finalized, the ADC — with Rex Nelson, senior editor and columnist for the Arkansas Democrat-Gazette as its first president — will raise money and hire a staff to "speak with one voice" for the far-flung region.
Its mission: a better quality of life for the people who choose to remain in the Delta.
New population estimates for 2018 released last month by the U.S. Census Bureau show that only five counties in the Delta have gained population since the last official census in 2010. (See table.) But the addition of fewer than 25,000 souls in those five counties — half of them in Craighead, where health care, education and government converge at Jonesboro — is not enough to offset the loss of nearly 40,000 in the other 21.
Jefferson County, which boomed in the 1940s and continued growing until the 1980s, lost more than 9,000 residents between 2010 and 2018. While it is still the fourth most-populous county in the Delta at 68,114, that's a contraction of 25% since the 1980 census.
All told, the region's population declined an estimated 2.1% in the eight-year period, to just under 774,000. By comparison, Pulaski County has inched up to 392,680 — a 2.5% increase since 2010 — while Benton and Washington counties in extreme northwest Arkansas together added 85,000 residents and now total more than a half-million.
Delta Past
Ben Johnson, named a distinguished professor last month by the trustees of Southern Arkansas University in Magnolia, said he has never settled in his mind whether mechanized farming was the cause or effect of the exodus from the Delta.
"The cotton harvesters came in and you no longer needed labor, and people left," he said in a recent interview. "Or there may be a better argument that people left, and that speeded the development of the cotton harvester."
The end result was the same: "The most significant development in Arkansas since the Depression was people leaving."
Cotton gave ground to soybeans, "and that was always mechanized. It was never hand harvested," Johnson said.
Over time, tens of thousands of small farm operations consolidated into a few thousand larger ones, and the regional economy became dependent on "heavily capitalized farms that are sophisticated business enterprises," he said.
"The Delta is clearly rural but — this is glib — it just doesn't have many rural people. It's just the nature of the economy: It does not require many workers. The people who own small farms are not full-time farmers. They are doing something else, but they want to live out in the country."
Jeannie Whayne, a history professor at the University of Arkansas who has written extensively about the Delta, was was born in 1948 and grew up at Marked Tree in Poinsett County.Even as a child she saw the signs of economic change.
"In the '50s I didn't understand what was going on. I was too young, but there were a lot of empty tenant shacks," she said.
That was followed by empty storefronts. "All those merchants in those towns lived and died by their sales," she said, recalling a time when there were four pharmacies in nearby Lepanto.
Mass exodus was staved off for several years by luring in manufacturing plants with the promise of low taxes and cheap land.
"So they got these factories — shirt factories or shoe factories — in the '50s and '60s," but they eventually went further south, leaving the U.S. entirely. "It was low cost to settle there so it was low cost to leave there," she said.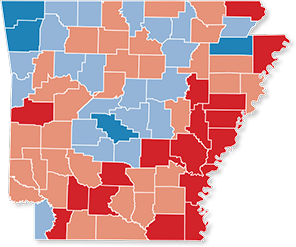 See the population changes of other Arkansas counties in this week's
Weekly Report graphic
.
Steel mills, like those that have provided a lifeline to Mississippi County, are different. "They are expensive to locate there and they attract spinoffs to supply the industry," Whayne said. "That kind of infrastructure is important."
Delta Present
Judge Abramson was born in 1951, and the Holly Grove of his childhood was one of three bustling towns in Monroe County. Depopulation had already begun by then, and the countywide population that hovered around 20,000 from the turn of the 20th century until World War II was estimated at 6,900 in 2018.
In an interview last week, he recalled boyhood trips to Fayetteville for Razorback football games that were eye-opening because of the poverty they revealed in the Ozarks in stark contrast to the riches of the cropland back home.
The tables, of course, would soon turn.
A few years ago, Abramson attended a meeting of the Arkansas Agriculture Council in Marianna, the Lee County seat, at which Nelson was the featured speaker. His topic: depopulation of the Delta.
"That was the germ of a thought for a group of regional leaders to get together and acknowledge that this trend is going to continue. We aren't going to see a huge new influx of people," he said.
The Arkansas Delta Council, as envisioned, will make a "comprehensive regional effort," with the entire Delta "pulling in the same direction at the same time rather than cross-currents."
He has in mind a cross between the Mississippi Delta Council, which has been "hugely successful in getting attention paid to their area" between Memphis and Vicksburg, and the Northwest Arkansas Council, which has unified the efforts of local chambers and economic developers in the formerly impoverished Ozarks.
Rodney Slater, a native of Marianna and former secretary of transportation under President Bill Clinton, is part of the ADC effort, and he has been preaching the idea of a technology corridor in the Delta.
Nathan Reed, who farms 6,500 acres at Marianna, is also on board. And while he is open to all kinds of ideas for revitalizing the Delta, he thinks the answers will always be in the land.
"You can talk about tourism, you can talk about a bunch of stuff, but to get young professionals to move here, the ag economy is what has to be strong."
---
Population Trends in Arkansas Delta Counties, 2010-18
| | | | |
| --- | --- | --- | --- |
| | 2010 Census | 2018 Estimate | %Change |
| Craighead | 96,443 | 108,558 | 12.56% |
| Lonoke | 68,356 | 73,657 | 7.75% |
| Greene | 42,090 | 45,325 | 7.69% |
| Independence | 36,647 | 37,678 | 2.81% |
| White | 77,076 | 78,727 | 2.14% |
| Randolph | 17,969 | 17,948 | -0.12% |
| Drew | 18,509 | 18,328 | -0.98% |
| Poinsett | 24,583 | 23,974 | -2.48% |
| Crittenden | 50,902 | 48,342 | -5.03% |
| Lincoln | 14,134 | 13,383 | -5.31% |
| Lawrence | 17,415 | 16,434 | -5.63% |
| Arkansas | 19,019 | 17,769 | -6.57% |
| Jackson | 17,997 | 16,811 | -6.59% |
| Cross | 17,870 | 16,676 | -6.68% |
| Prairie | 8,715 | 8,074 | -7.36% |
| Clay | 16,083 | 14,847 | -7.69% |
| Ashley | 21,853 | 20,046 | -8.27% |
| St. Francis | 28,258 | 25,439 | -9.98% |
| Woodruff | 7,260 | 6,490 | -10.61% |
| Mississippi | 46,480 | 41,239 | -11.28% |
| Desha | 13,008 | 11,512 | -11.50% |
| Chicot | 11,800 | 10,438 | -11.54% |
| Jefferson | 77,435 | 68,114 | -12.04% |
| Lee | 10,424 | 8,985 | -13.80% |
| Monroe | 8,149 | 6,900 | -15.33% |
| Phillips | 21,757 | 18,029 | -17.13% |
Highlighted counties are entirely within the Delta region.
Source: U.S. Census Bureau