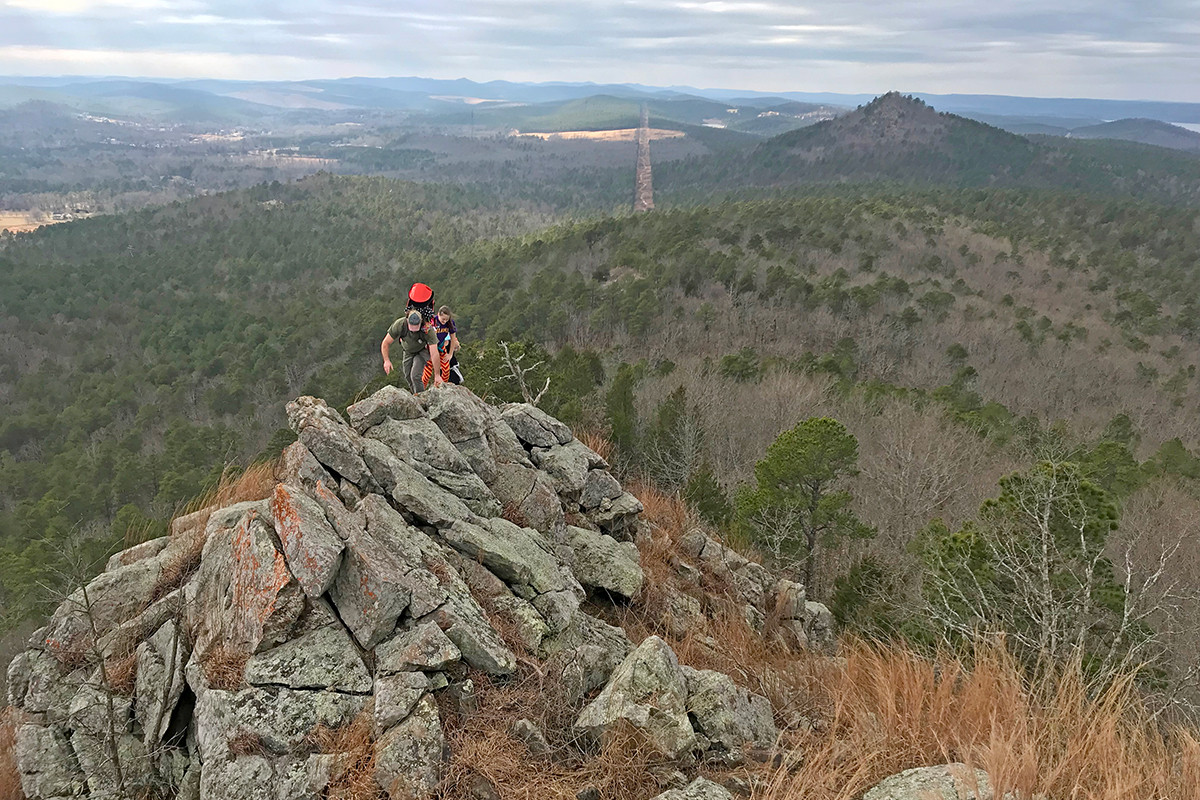 There's gold in the hills of the Maumelle Pinnacles, both in natural splendor and spending by nature lovers, and Arkansas is ready to seize it.
A $6 million project by the state and The Nature Conservancy to buy and conserve Blue Mountain, the westernmost peak in the Pinnacles chain, is well underway. A trail-building contractor from Clinton has been selected for work on the 459-acre tract purchased from timber company PotlatchDeltic Corp. of Spokane, Washington.
The idea is to build parking and an entranceway along with the trails, and eventually connect Blue Mountain with the trails of the nearby Rattlesnake Ridge Natural Area and Pinnacle Mountain State Park, one of the most popular in the state. The result, according to officials with the conservancy and the Arkansas Natural Heritage Commission, will be a huge mecca for bikers, hikers and others who have made outdoor recreation a powerful tourism engine in recent years.
"There's a growing importance of outdoor recreation as an economic driver, a tourism driver, and a way to create a quality environment for attracting and retaining an excellent workforce," said Katherine Andrews, a former state economic developer now in her third month as director of the new Arkansas Office of Outdoor Recreation. "We have a lot of momentum here in Arkansas, and this office was created to lead efforts in growing that outdoor economy."
Gov. Asa Hutchinson, who created the office last June and named Andrews as its chief, said that outdoor recreation generates $9 billion a year in economic benefits for the state, including 96,000 direct jobs.
Andrews, who spent five years with the Arkansas Economic Development Commission before taking the job, grew up in Arkansas "hunting, fishing, camping, hiking, running, biking, kayaking, all of those outdoors things."
She said outdoor recreation accounts for 2.2% of Arkansas' gross domestic product. "As a former economic developer, I'm excited to mash both paths of my career together for this role." She started on Nov. 29 at a salary of $87,000.
In the wake of northwest Arkansas' rise as an off-road bicycling destination, Blue Mountain and its neighbors have a chance to become a similar attraction just minutes from the capital city. "We are so fortunate in Little Rock to have just a 15-minute drive out to this incredible resource," Andrews said.
PotlatchDeltic first reached out to The Nature Conservancy with an offer to sell the Blue Mountain acreage, and officials saw the project as a good fit with other partnerships the conservancy has struck with the Arkansas Natural Heritage Commission to preserve land and creat outdoor recreation opportunities.
"Since we closed on the land purchase, as part of our process and culture, we've been studying the site, visiting with neighbors, and determining what type of recreation we want, what type of experience we want people to have," said Scott Simon, Arkansas state director for The Nature Conservancy. "We want people to have a nature experience, so once we finished getting that feedback, our teams at the conservancy and at the Natural Heritage Commission started identifying the trail plan."
The Blue Mountain trails are envisioned as part of natural recreation chain linking Pinnacle Mountain, Rattlesnake Ridge, the Ranch North Woods Preserve and Blue Mountain to the Lake Maumelle watershed area. The conservancy negotiated a price with PotlatchDeltic below the land's appraised value, officials said. Then the conservation group sold it to the Arkansas Natural Heritage Commission for $1 million less than the conservancy paid, taking advantage of gifts from donors determined to aid in the project.
The ANHC paid $3.9 million for the acquisition, including $2,816,334 from the commission's Arkansas Natural & Cultural Resources Council grant funds. The remaining $1,169,432 was paid from the commission's federal and cash accounts, Andrews said.
A reimbursement of about $1.9 million is pending from the Land & Water Conservation Funds program, a federal grant system administered by the National Park Service. That money is expected soon, Andrews said.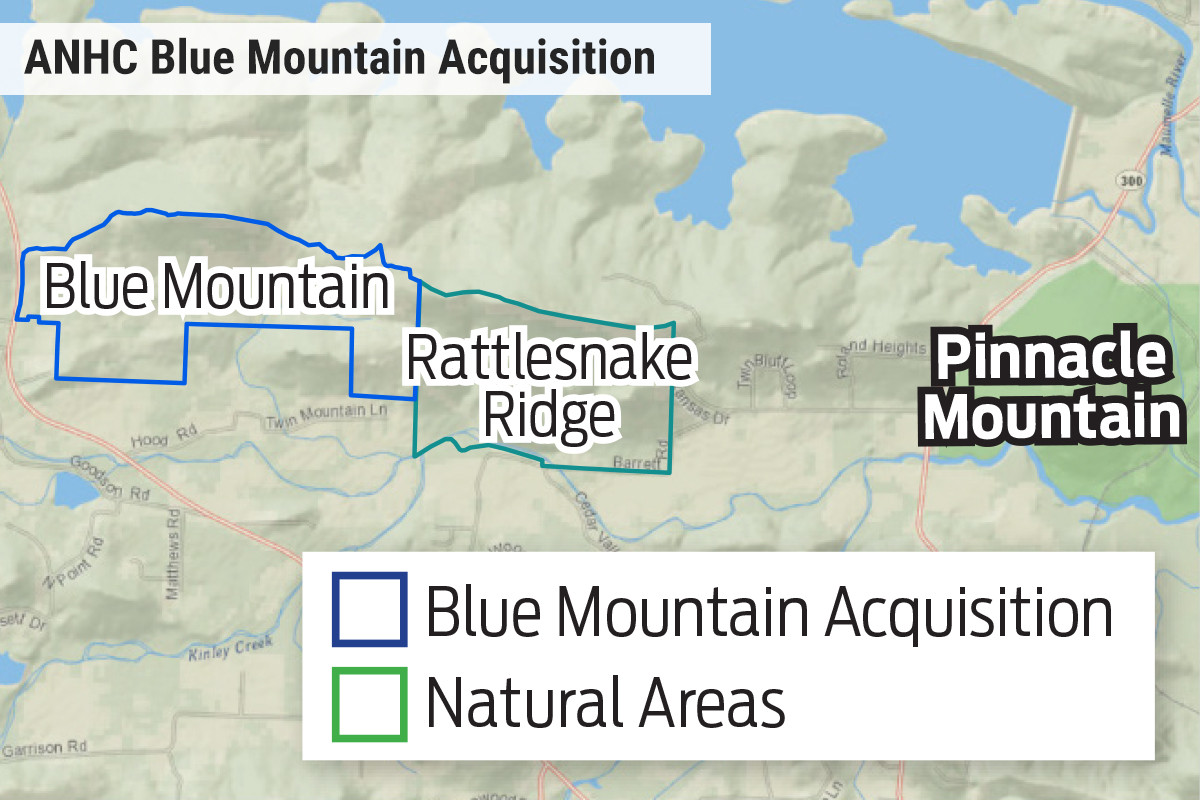 Conservation and recreation go hand in hand, Andrews said, so the project will protect Blue Mountain's rare grassland habitats. "Conservation will support those areas and the species there while still giving people a chance to have low-impact recreation activities." That would include nonmotorized pastimes like hiking, bicycling, fishing, etc.
Construction recently began at the Blue Mountain site, now largely wilderness, Simon said. Affordable Trail Solutions of Clinton, owned by Jeff and Amber Gannon, won the work with a bid of $283,537.
"This is one of many projects that The Nature Conservancy and the Natural Heritage Commission have partnered on, and it has really been fun and productive," Simon said. "We like working together." Simon offered no firm date but said he expected the Blue Mountain work to be finished by the fall.
"Gov. Hutchinson really identified it as a public priority and helped identify the funding for it. And our seller, PotlatchDeltic, was very gracious in selling it at a price we could afford."
Affordable Trail Solutions will be clearing ground vegetation for narrow trails but generally working between the trees, Simon said. Crews will largely work by hand, but a mini-excavator may be needed for stones and steep slopes.
The builder will ensure that any rainfall or seepage quickly drains from all trails. "A construction process can be iterative," Simon said. "As teams install the trails, they'll also be observing the water movement and preparing to make adjustments as they go."