(Editor's Note: Click here for an update to this story.)
A proposed new state funding formula would hobble state efforts to expand broadband access, particularly by smaller providers, industry leaders say.
The formula proposal would route Arkansas Department of Commerce Broadband Office grants only to internet service providers that can cover 25% of the upfront costs of broadband extensions. The grants would cover the other 75%. Under current policy, the office awards grants for full project costs.
"The economics don't work for us," said Alan Morse, president and CEO of Ritter Communications of Jonesboro, which has grown exponentially in recent years and last week announced a $12 million investment to extend high-speed fiber internet in Fort Smith, Van Buren, Alma and Ozark.
Since 2021, the privately held telecommunications provider has reaped 14 grants worth about $67 million for connecting broadband in rural Arkansas. But the funding change would keep Ritter out of some markets, Morse said. Connecting a remote house can cost up to $30,000, he said, picking an example. Ritter's cost would be $7,500, more than many Arkansas companies would be in a position to advance.
"Unfortunately, it may be the large national companies that have traditionally underserved the state" that end up getting the grants, Morse said.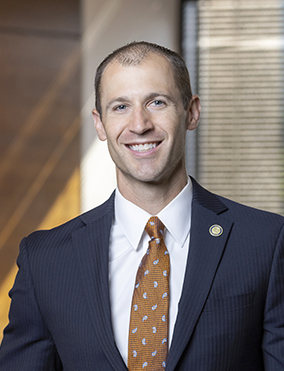 Mike Preston
Arkansas has been promoting internet access for several years, but the COVID-19 pandemic made working with providers on high-speed projects a pressing priority. But as Americans set up home offices and classrooms, adopted telemedicine for doctor's visits and traded trips to the store for online shopping, reaching some Arkansans proved costly.
Since 2019, the Arkansas Department of Commerce Broadband Office has awarded $392 million for 163 projects to connect homes and businesses with high-speed access. Connecting the remaining 140,000 homes could cost $500 million or more, Arkansas Commerce Secretary Mike Preston told Arkansas Business. "That's obviously a moving number," he said. "Costs continue to change and go up, so I don't think that number is going to move down at all."
Arkansas is expected to receive at least $100 million from a federal infrastructure bill approved last year.
A public hearing on the permanent changes involving the funding formula was scheduled to be held at the Department of Commerce on Friday, after Arkansas Business' deadline. (Update: No comments were made at the Friday hearing.) The rules will ultimately have to be approved by the Arkansas Legislative Committee of the state Legislature. The ALC Executive Subcommittee recently approved an emergency rule proposed by the Commerce Department that contained the proposed changes.
Preston said he expects bidding on projects to begin next month.
"We're confident most ISPs will be appreciative of the grant funds and look for ways to help stretch our limited resources, further ensuring coverage for as many Arkansans as possible," he said.
Economic Development
Better internet service for more Arkansans is also a key economic development tool, business recruiters say.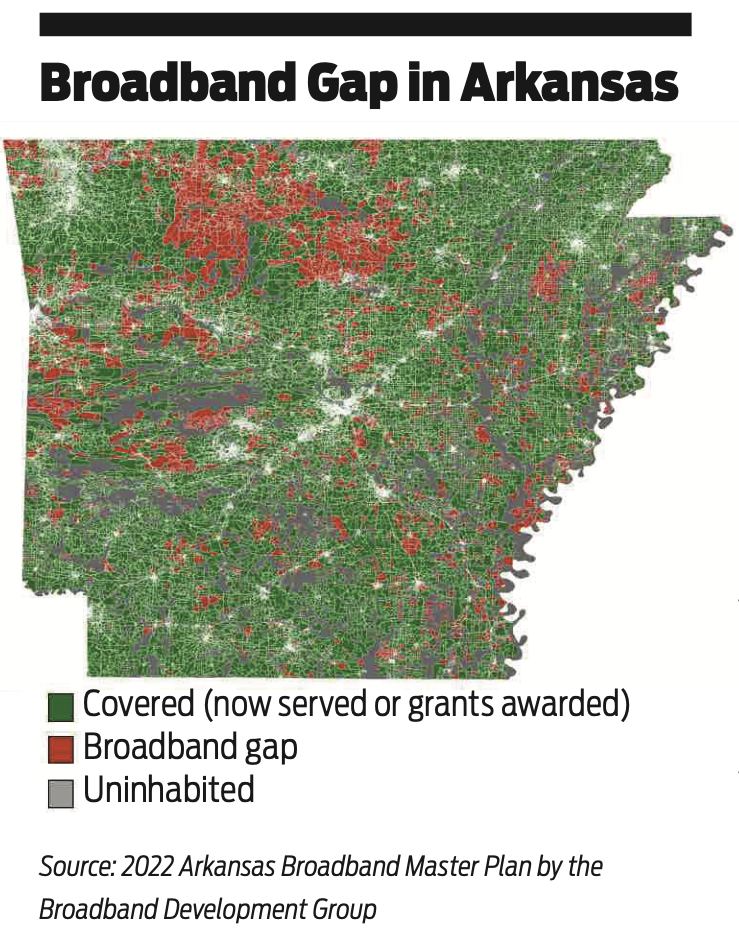 "We already knew we had less connectivity than other places, just because there's a higher cost to connect," said Tiffany Maurer, director of economic development for Sevier County in rugged and remote southwestern Arkansas, on the Oklahoma border. "That need was really brought to light once COVID hit."
The lagging internet infrastructure makes it hard to compete with better-connected regions in attracting businesses and residents. Sevier County has just 16,000 residents in nearly 600 square miles. "It's a lot harder for us to recruit higher-paying or more diverse jobs to our area when we don't have the same infrastructure in place," Maurer said.
Broadband is just as important as electricity for most people, she said.
Leigh Ann Wilson found out how important high-speed internet was after she bought an office and trucking terminal in Howard County that wasn't wired for broadband. "I basically bought a building that was useless to me," said Wilson, the owner of LJT Transport Inc., a regional trucking company with about 2,600 tractor-trailers. "We use GPS satellites and we need to be able to do live feed, so it was important to us to have an internet that would keep up with that."
The company was spending about $600 a month on mobile hot spots to keep up with the flatbed trucks. But in November 2021, Four States Fiber of Texarkana connected Wilson's building with broadband. "It's the best thing that's ever happened to me," Wilson said. "I've never been so pleased."

Federal Funds
Last November, President Joe Biden signed the Infrastructure Investment & Jobs Act, which includes a total of $65 billion for broadband expansion to Americans who are unserved or underserved.
We are at the very early stages, and it's still going to take a while for money to roll out the door," said Shirley Bloomfield, CEO of the NTCA-The Rural Broadband Association of Arlington, Virginia, which represents 850 independent telecommunications companies.
The regulatory process includes having states submit a map to determine what addresses have access to broadband. That process will take months and money won't flow to the states until the maps are approved. Bloomfield said that she doesn't expect the states to receive federal funds until the end of 2023 or 2024.
And it might be 2025 before the country sees the numbers drop for underserved and unserved households, she said. The benefit of using fiber optics for high-speed internet is that it should be useful for decades, Bloomfield said.
Other Funds
Four States Fiber began construction on its broadband connection project in May 2021 and connected the first customer three months later in Howard County, said Dion Cooper, president and CEO of Southwest Arkansas Electric Cooperative of Texarkana, the parent company of Four States Fiber.
Four States received $53 million from the Rural Digital Opportunity Fund, a Federal Communications Commission project for the construction and operation of rural broadband networks. Four States hasn't received any state money yet, Cooper said.
"But we're hoping to change that in the next round of funding here," he said.
Four States has a five-year, 7,000-mile project that will connect 60,000 locations with broadband. Four States has connected 4,500 locations so far and has expanded into Little River County and into Bowie County, Texas.
"Our biggest challenge is we serve about five members per mile," Cooper said.
Arkansas has connected about 100,000 homes with high-speed internet.
"I feel like we've made significant progress, but we know that there's still a lot of work out there left to do," said Preston, the commerce secretary.
He said the state has to have broadband access available to be competitive. "This is an economic development issue for the state," he said. "If we want to continue to be one of the leading states in economic development and in job growth into the future, we have to have the infrastructure in place to allow us to do so. And broadband is a huge piece of that puzzle."
Glen Howie started on Aug. 1 as the state's new director of broadband. He told Arkansas Business last week that he's listening to the stakeholders and residents to get a sense of the issues and what has worked and where the opportunities are.
He also has plans to work with the governor and Preston "on setting the vision that Arkansas would like to see achieved in the infrastructure bill and the dollars that we're going to get from that moving forward."