The CARTI Surgery Center is expected to open next month in Little Rock, making it the first dedicated cancer surgery center in the state.
The 57,000-SF center will be on the campus of the nonprofit's flagship center on CARTI Way and feature six operating rooms and eight private rooms for patients who need to stay overnight.
The center will allow CARTI to provide comprehensive cancer care with "state-of-the-art technology, giving our patients the best care possible," said Dr. Yara Robertson, CARTI's medical director of surgery, who sees patients in Pine Bluff and Little Rock. "That's not offered anywhere else in the state of Arkansas."
CARTI plans to add between 75 and 80 employees and additional surgeons for the center to treat multiple types of cancers, said CARTI President and CEO Adam Head. Other surgeons also will have privileges to practice at the location.
The surgery center, CARTI's second-largest construction project since its main location was completed in 2015, comes at a time when cancer cases are soaring.
The number of CARTI's new patients increased 17% in the most recent fiscal year that ended June 30, and that number is expected to grow. Screenings are identifying cancer in patients earlier, Robertson said.
"But also, we're still recovering from the pandemic where people weren't getting their screenings," she said. "So some patients are coming in with more advanced cancer for breasts, unfortunately."
CARTI also has been growing in recent years. For its fiscal year that ended June 30, CARTI had $299.8 million in net patient service revenue, up 11.6% from the previous year.
An exact date for when the surgery center will open hasn't been announced, as it's waiting on its final accreditation.
Dr. Scott Stern, CARTI's chief medical officer and a head and neck oncologic surgeon, said the center will open with two operating rooms. About four weeks after that, CARTI will open two more operating rooms. The goal is to have it fully operational in three months, he said.
"I think for all of us, we really want this to be just really, really special from the get-go," Stern said.
'Next Logical Stage'
Shortly after Head joined CARTI in 2017, CARTI reestablished its mission statement, which was to be the cancer treatment destination, he said.
"And so we've continued to define that," Head said. Now CARTI's mission statement is "to make trusted cancer care accessible for every patient we serve through compassion, innovation and purpose." Since Head joined CARTI, its number of cancer patients has nearly doubled.
Founded 47 years ago, CARTI has 18 locations, including six community cancer centers. The latest to open was the CARTI Cancer Center in Pine Bluff, which opened last year. CARTI has about 1,000 employees.
CARTI realized that if it wanted to offer comprehensive services to patients, it would need a surgery center. "That's why this is the next logical stage for us," Head said.
In March 2020, Stern, Head and Dr. Balan Nair, CARTI's chief medical officer at the time, went to Memorial Sloan Kettering Cancer Center in New York to visit with officials about their facility so they could begin planning one for CARTI. "They had done a ton of research about the transition from inpatient surgery to outpatient surgery, particularly for oncology," Stern said.
Initially, the idea was to focus on breast oncology, and the center was going to be about 35,000 SF. "The idea of doing this was met with a lot of enthusiasm," Stern said.
But three months into the planning process, Stern said, CARTI officials realized the center would need to be bigger to accommodate their goals.
"Our administration at every level was willing to listen, make changes, and always have the patient as the central focus," Stern said.
Cromwell Architects Engineers of Little Rock designed the building and Kinco Constructors of Little Rock built it. Head said the building cost more than $29 million and another $10 million-$12 million was spent on equipment for it.
Head said bonds will be used to finance the cost of the building.
Privacy and Light
The features of the surgery center include 14 private rooms for patients waiting to have their procedures done, allowing surgeons to have private conversations with them, Stern said.
The center has 12 recovery bays in a large room with windows at the top of a wall letting natural light in. "What's different about this is when patients wake up [from surgery], it's relaxing," Robertson said about the windows. Patients "can look at the sky. It's a very calming environment."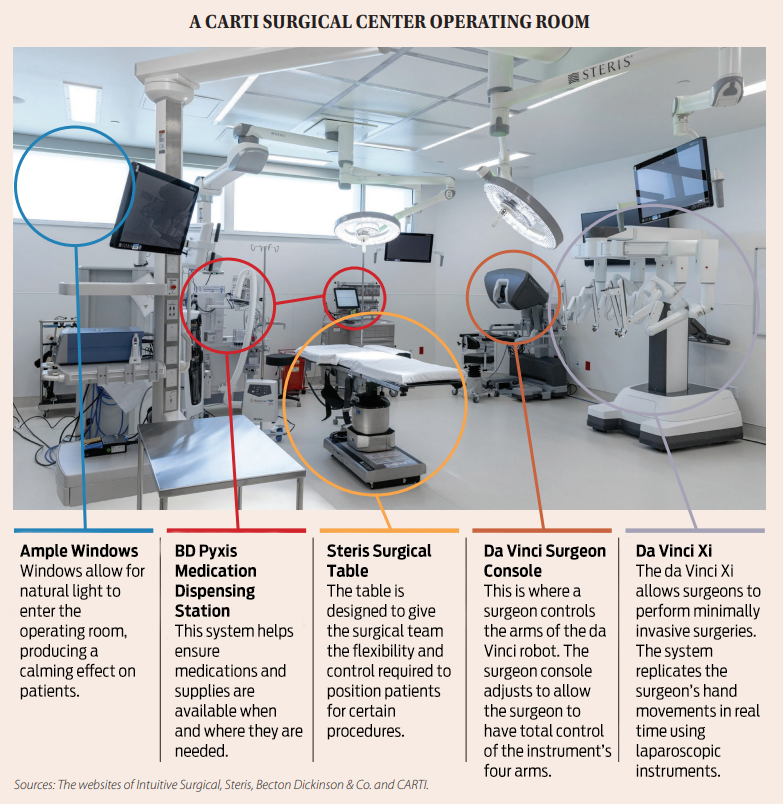 Two of the six operating rooms will have da Vinci surgical systems, allowing surgeons to perform robotic-assisted and minimally invasive surgery, which allows the patient to recover faster, in some cases in days rather than weeks.
The lights in the operating room can be dimmed or change colors and music can be played to help relax patients when they're rolled in for their procedure.
Robertson said the operating room was designed to be a soothing experience for anxious patients going through "a terrible ordeal."
The surgical center also offers interventional radiology for procedures such as lung and liver biopsies and treatments.
Most patients will have outpatient procedures, but the center will have eight beds for patients who need to be monitored after a procedure. They will be checked out the next morning.
Head said it's difficult to predict how many procedures will be done at the center annually.
The center is expected to attract cancer patients from Arkansas, northeast Louisiana, east Texas and Memphis.
Stern said the surgery center will provide wider access to cancer patients. "We believe that we can really fill a tremendous need in the community, in the state as a whole," he said.