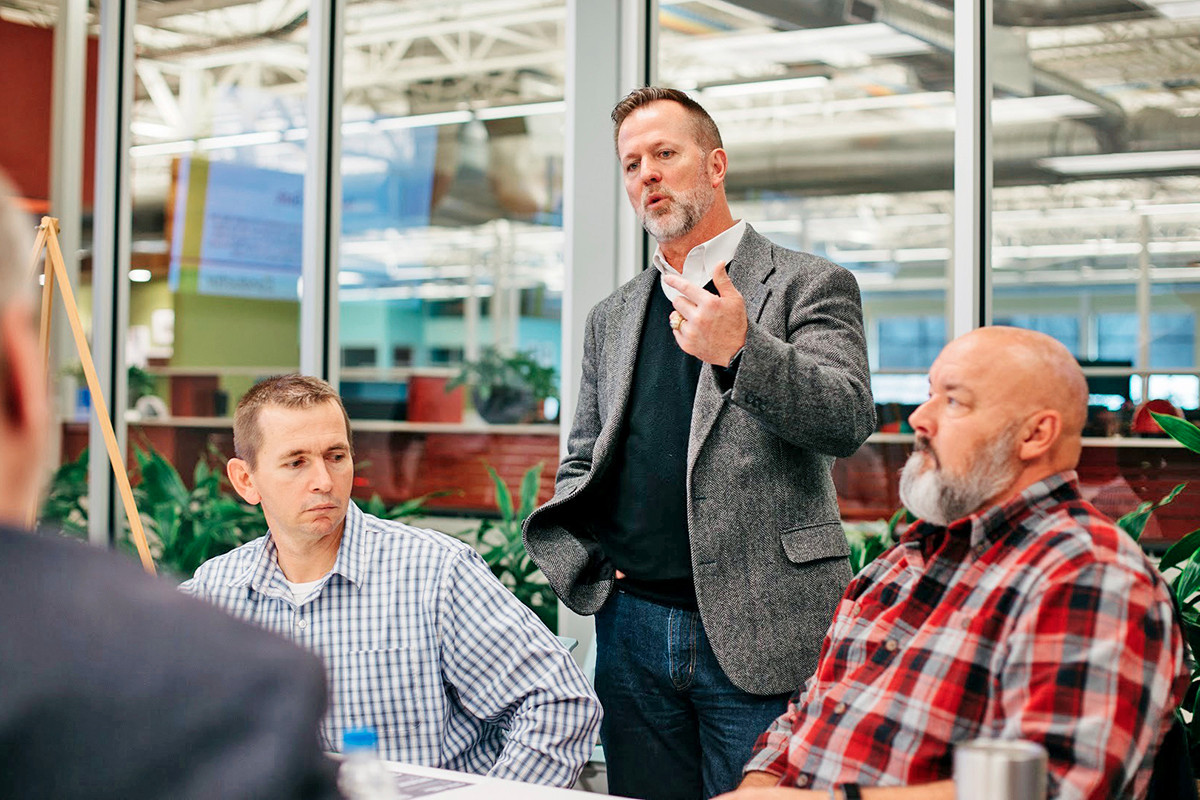 Established Arkansas businesses say they must innovate to stay competitive in a rapidly changing world. Learning how to think like a startup is a means to that end.
Thinking like a startup, six executives from five industries told Arkansas Business, means making decisions quickly, evaluating choices with a willingness to pivot, trying new things without fear of failure and engaging more employees in decision-making.
The startup mindset also means rejecting the idea that old ways are always best.
Company leaders are getting outside advice on startup-style ideas, and one source has been Startup Junkie Consulting of Fayetteville. Conway Regional Health System is one client. "What we had to do was build muscle in this area of innovation, really teach ourselves how to be innovative," Conway Regional CEO Matt Troup said. "How do we do this? I think you have to structure and hard-wire this within your organization and not just tell people 'Hey, go be more innovative and creative.' You need to teach them how … and perhaps that means bringing someone in from the outside."
Innovation Junkie
To help meet demand, Startup Junkie was scheduled to launch on Monday a new arm called Innovation Junkie. It formalizes the entrepreneurial support organization's corporate innovation, strategic growth and executive and organizational services.
The idea is to help disrupt the status quo, redesign processes, generate sustainable results, make strategic plans and build companies' capacity to execute those plans. Innovation Junkie also offers executive coaching and leadership and team development programs.
It is led by Startup Junkie managing partners Jeff Standridge, Jeff Amerine and Brett Amerine. "What we found, particularly in the last several years, is that … medium to large-sized organizations are really also interested in figuring out how to be agile, quick to market, strategic," Jeff Amerine said. "They want to capture that 'think like a startup' mindset so that they can be more innovative, rolling out new products and services more quickly and efficiently."
In a statement provided to Arkansas Business last week, Amerine said that Innovation Junkie will not be a "one-size-fits-all consultancy" with "plug-and-play packaged materials." Its services will be customized to meet specific client needs.
Standridge, who conducted Arkansas Business Publishing Group's annual employee retreat presentation last year, said the rise of startup thinking corresponds with the rise of a startup ecosystem in Arkansas over the past five years. But he said requests from established businesses have increased since mid-2018. Those businesses are also engaging with startups, providing mentors to entrepreneurs and sponsoring events by entrepreneurial support organizations.
Edafio Technology Partners of North Little Rock has sponsored programs hosted by The Conductor in Conway and the Venture Center in Little Rock. Both are ESOs. Kenny Kinley, Edafio's CEO, said it is critical to think like a startup because things change so fast in the tech industry, and Edafio must stay on top of those changes to serve its clients.
"I think one of the benefits is to use some of the skills and disciplines of these startup companies to begin to create new innovations. You have to start with what's the definition of innovation," Standridge said. That is "planned change that is targeted toward a more pleasant, a more efficient or a more cost-effective way of doing things," he said.
Established businesses are also able to launch a new initiative and put resources behind it knowing that, if it fails, they won't shutter like startups might, he said.
Innovation Junkie teaches this: "Don't fall in love with the new idea; fall in love with the business problem you're trying to solve," Standridge said.
Standridge was brought in to help Conway Regional a year and a half ago. Troup, the health system's CEO, said Standridge met with about 100 of its top leaders for a daylong workshop.
The leaders formed 13 teams, who plotted paths for Conway Regional to take. The day concluded with the teams pitching those ideas; three finalists were selected to repeat their pitches to the system's board a few months later.
In October 2019, Standridge did this again for employees in the hospital's cafeteria, nutrition services division, health and fitness center and outpatient clinic.
'Agile Decision-Making'
Troup cited ideas from both workshops that the system has implemented, including letting emergency room patients check in online before arriving at the ER, having food service workers rather than nurses deliver meals, and selling premade meals for less than $15 to hospital workers.
"It's hard to put this in a very structured way," Troup said. "We don't belabor a lot of decisions. We tend to have a pretty lean process for making a decision, whether it's recruiting a physician or starting a service line or implementing an initiative."
When decisions are made, he said, the hospital commits to checking back in three or six months on whether they had the desired effect. "I think that ability to say yes quickly, or no, and then the discipline to go back and look at it is something startups do that I think we do a very good job of here," Troup said.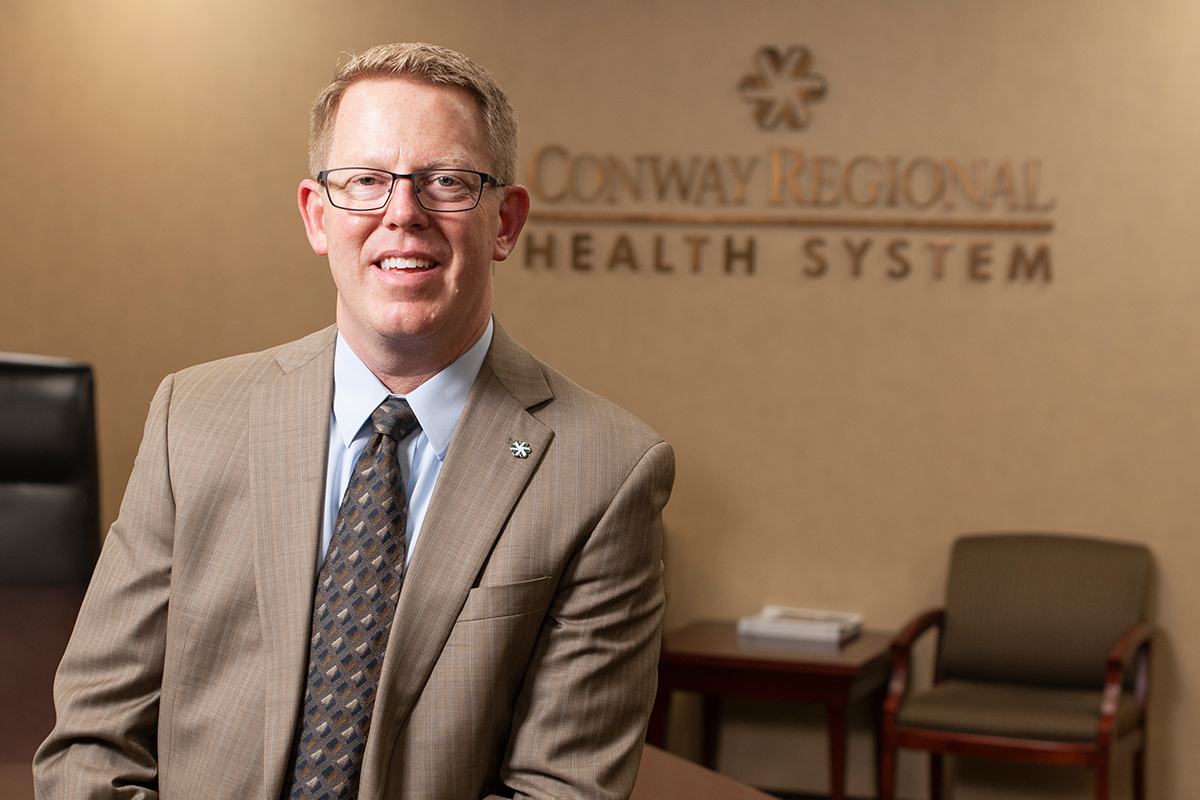 Dave Wilgus, CEO of the architecture and engineering firm HFA, said something similar. HFA, another of Startup Junkie's established business clients, was formerly Harrison French & Associates, and has offices in Bentonville, Boston, Mexico City and Fort Worth, Texas.
"The mind of a startup, to me, is agile decision-making, to be able to take information, make decisions quickly and keep going toward your goal based on constant feedback," Wilgus said.
HFA's COO, Ryan Ray, added, "You can't be afraid to fail in this modern culture because things are changing so fast and you have to adapt."
He said that thinking like a startup, and like a modern business in general, also means acknowledging when something isn't working out and making adjustments sooner.
Wilgus said modern business practices and startup business practices are really the same thing, and that HFA must innovate to retain and attract the talent it needs to succeed.
Troup said said several challenges drive the hospital's need to innovate, including the rise of telemedicine, CVS' addition of primary care services, and "Haven," the joint health care venture of Amazon, J.P. Morgan and Berkshire Hathaway.
"These are things that have the potential to disrupt our industry and the status quo. I think we have to innovate to get ahead of that, because no one really should be able to do that better than us," he said. "And the industry can really get haywire when you start to siphon off a patient group that they have really good margins and the kind of volume that you need to support a lot of indigent services in your hospital."
If outside disruptors keep up with trends and the hospital doesn't, Conway Regional could be left without enough support to keep going, Troup said.
Taking Nothing for Granted
Another organization that has had an experience similar to Conway Regional's is Arkansas State University-Beebe. Standridge, with Startup Junkie, led its annual staff development day on Oct. 18.
"We wanted to, as an entire campus, every single employee, take a step back and think in that innovative way and say, 'If there's a game changer here, if there's a game changer that will really help us move this strategic plan forward, really help us serve more students and serve them better, what is it?'" said Chancellor Jennifer Methvin.
ASU-Beebe used that opportunity to re-examine its 2018-23 strategic plan and engage all of its employees in the decision-making process.
Unlike Conway Regional's Troup, she didn't cite any specific initiatives spawned by the development day. "Relooking and rethinking, I think, is one of the biggest things that we take away from here. … We have to make choices about where we put our resources and our efforts every single day," Methvin said. "And so to continually ask ourselves the question 'Are we applying our energy and our resources in a way that will lead us to our ultimate objective, and that is more students being more successful?' That's what we come to work to do every day. To be in the habit of continually asking that question, that's how you think like a startup. You don't take anything for granted."
Without that kind of thinking, she said, ASU-Beebe won't be able to help the state reach its goal of having 60% of Arkansans obtain a college degree.
Mitch Bettis, owner and president of ABPG, said innovative thinking is critical to business survival.
"I think one of the great dangers of being in business, or perhaps life in general, is developing a sense of contentment because it often leads to staleness if not even apathy," he said. "So the reason we talk about growth and change and adaptation and evolution is the recognition that we've got to continue to evolve or we will not survive."