The Arkansas Democrat-Gazette has reported on its northwest Arkansas website that a "cancer research facility" in Rogers was raided by the FBI on Thursday morning.
The facility is run by a company known variously as Situs Cancer Research Center and Situs Oncology. While his name is not on its nonprofit incorporation records at the Arkansas Secretary of State's office, the business is affiliated with Jim Bolt, a convicted felon who was acquitted of federal charges related to investments in a previous company that claimed to treat cancer.
A law enforcement official provided Arkansas Business with a photocopy of Bolt's business card, which identified him as "J.W. Bolt, PhD" and as "clinical research director" for Situs Oncology at 1222 W. Poplar in Rogers. That's the location of the FBI raid as reported by the Democrat-Gazette.
The cellphone number listed on the card was not answered early Thursday afternoon, and the first office extension number listed on the card was answered by a voicemail message identifying the department as "regulatory affairs."
The business card also identifies Situs Oncology as "a non-profit cancer research organization," and its website, SitusOncology.org, says Situs "is presently processing its IRS 501 (c)(3) determination and is chartered by the state of Arkansas as a non-profit organization formed for the purposes of research, education and delivery of clinical services."
In 2002 and 2003, Bolt was chief operating officer of a penny stock company in Springdale first called Golf Entertainment and then Sienna Broadcasting Corp. Reporting on the company by Arkansas Business and the Northwest Arkansas Business Journal prompted a libel suit against the newspapers.
While the libel suit was ultimately dismissed, Arkansas Business Publishing Group did win a $92,000 judgment against Bolt, his lawyer and three companies they incorporated for infringing on ABPG's trademarks. The judgment has never been paid.
In 2007, Bolt, his lawyer (the late John Dodge) and two other men were acquitted by a federal court jury of fraud charges related to their attempts to find investors for a Rogers company called Shimoda-Atlantic, which was looking to fund clinical trials of a cancer treatment.
Bolt, who is now in his early 60s, was convicted in 1975 for impersonating a police officer. In 1982, he was convicted on two counts of mail fraud and two counts of making false statements to a federally insured bank in federal court in Oklahoma. He spent more than two years in federal prison.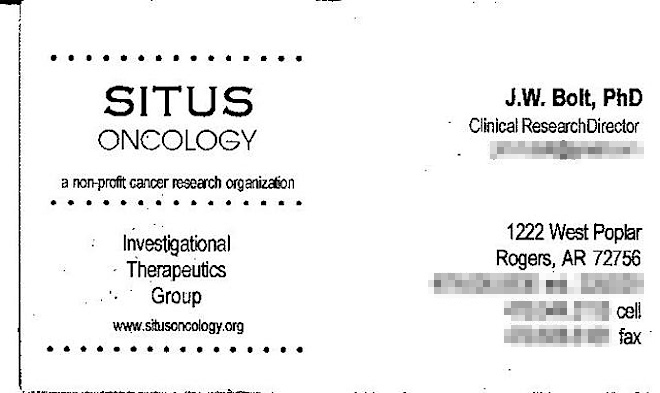 A photocopy of the business card of Jim Bolt at Situs Oncology in Rogers, which was raided by the FBI on Thursday.