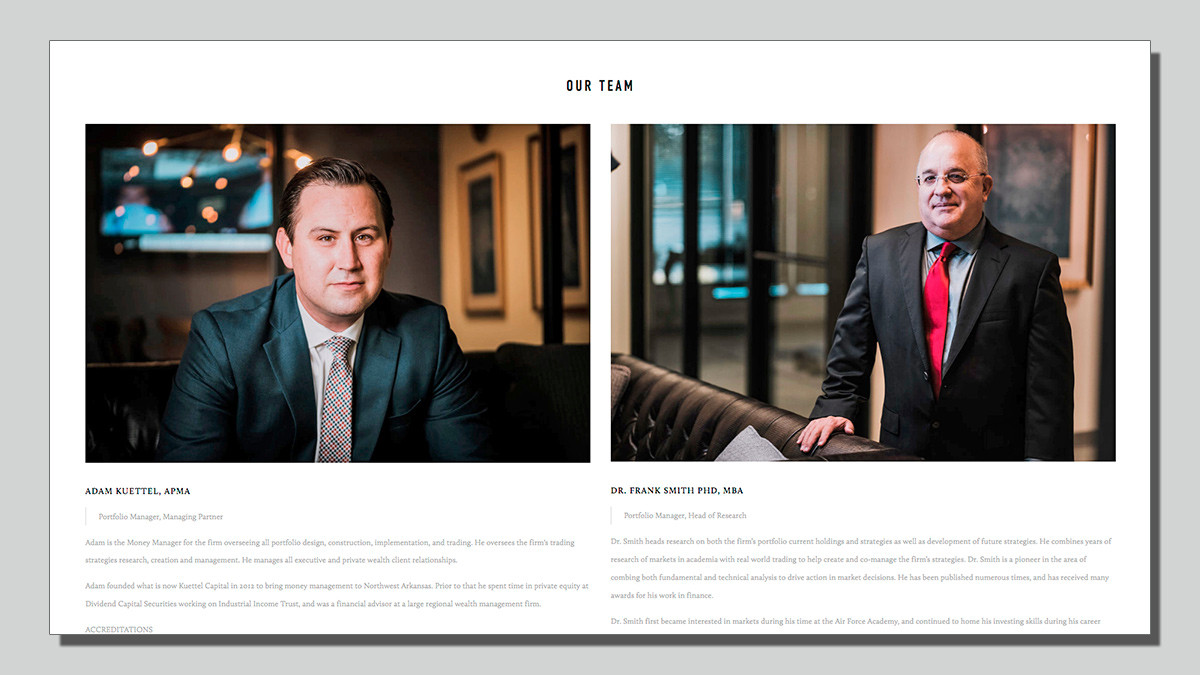 Bentonville investment adviser Adam Kuettel has been in a destructive spiral since March 30, both professionally and personally.
More than a dozen clients have sued Kuettel and his firm, Kuettel Capital LLC, saying they lost millions of dollars because of his handling of their funds, and the 36-year-old was arrested on probable cause charges that included felony aggravated assault on a family or household member.
In five lawsuits filed in Benton County Circuit Court, the clients, who include a married couple and employee 401(k) accounts, accused Kuettel and Kuettel Capital of breaches of fiduciary duties while managing their funds.
The clients' lawsuits share similar allegations that accuse Kuettel and his firm of placing their money in high-risk investments when that wasn't their risk level or objective.
The clients also said Kuettel didn't reveal that the Financial Industry Regulatory Authority suspended him in April 2016 for nine months and fined him $10,000 in connection with improper trading. (Kuettel agreed to the sanctions without admitting or denying the findings.)
On May 20, Benton County Circuit Judge John R. Scott ruled in favor of clients Anthony and Maria Cardarelli of Rogers in their lawsuit against Kuettel Capital because the firm didn't respond to the couple's lawsuit, filed April 13. Kuettel had been named as a defendant in that case, but the couple asked that he be dismissed from the suit.
A hearing to determine damages will be held on Aug. 24.
The lawsuit said that the Cardarellis invested about $290,000 with Kuettel's firm in late 2017 and early 2018 and lost most of it.
"These losses occurred in a market where ordinary investors whose funds were diversified and not invested in highly-volatile investments were earning substantial returns," according to the lawsuit, filed by David Matthews of the Matthews Campbell Rhoads McClure & Thompson law firm in Rogers.
The couple's "losses include lost investment opportunity during one of the nation's longest periods of sustained investment growth," the lawsuit said.
Matthews declined to comment on the case.
Kuettel didn't return calls or a text message left on his cellphone or at Kuettel Capital
As of Wednesday, he hadn't filed responses in any of the other pending lawsuits against him.
Kuettel's recent developments surprised Frank Smith, who is listed on Kuettel Capital's website as its portfolio manager and head of research. The website also said Smith had been with the firm since 2017, but Smith told Arkansas Business last week that the last time he "worked with them in any capacity" was about 17 months ago.
He said that the work he did for the firm was as "an independent consultant guy. I would run numbers on their portfolios or on their options or help them to create portfolios." Smith said he didn't know who the clients were or how they invested.
Smith said he tried to get his name removed from the website, but he was told the person who was running the website left the company about a year and a half ago and no one else could manage the site.
Smith said he hasn't talked to Kuettel "in forever and ever" and was surprised to hear about the firm's trouble. "Adam was, from all my dealings with him, one of the most honest, nice people I had known," Smith said.
Others disagree.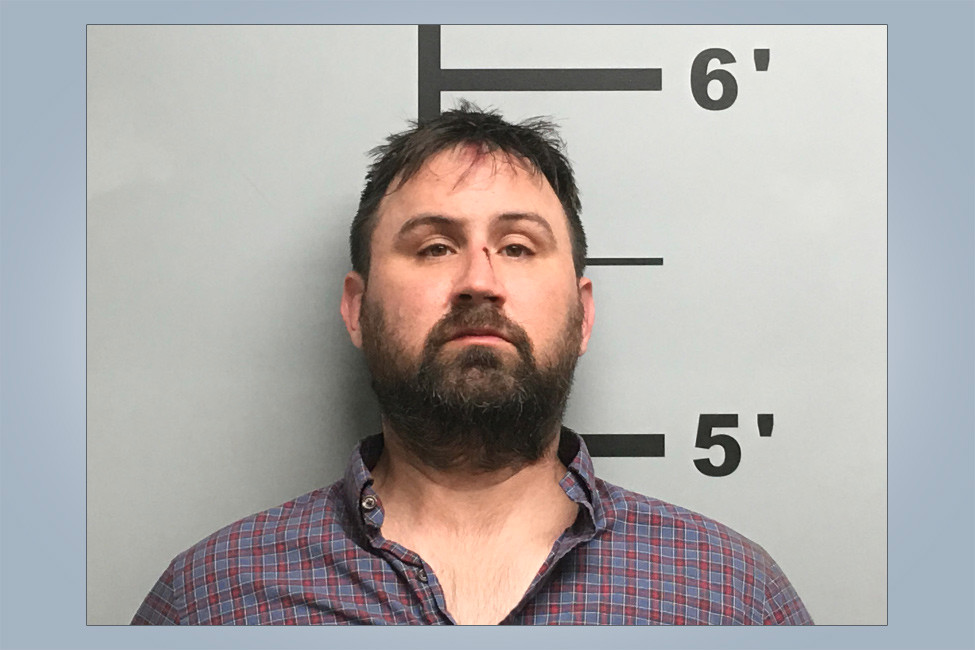 Order of Protection
Kuettel's ex-wife, Haley Kuettel, petitioned for an order of protection against her ex-husband on March 4. She wrote in the affidavit that Adam Kuettel said on Feb. 28 that he would "come over to the house & kill me. He would cut my heart out & feed it to the dogs."
The order of protection was filed against Adam Kuettel weeks later, on April 29.
But by that time, he had been arrested on probable cause of felony aggravated assault on a family or household member and endangering the welfare of a minor.
On the afternoon of March 30, according to the affidavit of probable cause filed by the Centerton Police Department on April 2, Kuettel went to a neighbor's house in Centerton carrying an AR-15 with a suppressor and searching for his "spouse," an apparent reference to the fiancée with whom he lived.
The person at the neighbor's house said Kuettel didn't point the weapon at him, but the neighbor was "very fearful," according to the police report filed in Benton County Circuit Court.
Kuettel's fiancée, Lauren Shipman, told police that Kuettel has "a long history of bipolar and alcohol abuse and is quite delusional right now," the police affidavit said.
Shipman said she had never seen him like that. She also accused him of pointing a loaded "large gun" at her in the couple's living room. "Shipman claimed she was not scared for her safety but added that she told Kuettel that if he was going to shoot her, to not do it in front of her son, and they walked to the garage."
Kuettel was arrested March 30 and released April 1. His first arrangement is scheduled for June 15 in Benton County Circuit Court.
As of Wednesday, he had not been formally charged.
$2 Million Loss
After Kuettel's arrest, angry clients marched to the courthouse.
Terri Miller and her 4M Design Resources Inc. of Bentonville transferred her investment accounts to Kuettel and his firm in 2016, according to their lawsuit.
At the time, Miller was 58 and wanted to retire within five years. She "made it clear" to Kuettel that "she wanted a conservative investment strategy that preserved liquidity" and provided her with appropriate income, according to her complaint.
It seemed like a good move. Kuettel said on his website that he started the firm in 2012 with the goal to "change the way people's money was managed in NWA."
"It was a bold move to say no more products, no more one-size-fits-all models, … no more advice that only benefited the advisor and their firm and not the client, no more losing to the market every year," Kuettel wrote on the website.
But Miller's lawsuit, filed by attorney Kyle Unser of the Rogers office of Kutak Rock LLP, says that Kuettel and his firm not only invested her money against her instructions but "also engaged in a series of unauthorized trades, trading that fell well below applicable industry standards, and unethical fee practices that were not fully disclosed to Plaintiffs."
Miller's accounts have dropped more than $2 million in value and "performed well below the S&P 500 and other comparable indexes," since Kuettel began handling them, the suit said.
She is seeking at least $2 million in damages.
Attorney Marshall Ney of the Friday Eldredge & Clark law firm is representing several plaintiffs in three lawsuits against Kuettel and his firm. The plaintiffs include 401(k) plans, including the retail consultants Infinity Worlds Inc. in Rogers.
In the suits, Ney said that Kuettel, without permission, invested the plaintiffs' money "in triple leveraged oil options — meaning the return and loss are 300% of the investment's performance — and left Plaintiffs' money there, resulting in massive losses."
Ney said in the complaints that Kuettel and his firm's action "has cost Plaintiffs millions of dollars."
Ney told Arkansas Business via email last week that he expects to receive an answer soon to the first lawsuit he filed against Kuettel and his firm. "And hopefully two weeks later we'll know whether there is any insurance available to cover the losses."