Special agent Brian Brusokas has worked some headline-grabbing cases during his 11 years investigating art and cultural property crimes as a member of the FBI's Art Crime Team.
Brusokas helped bust a global fine art print counterfeiting operation that bilked investors of more than $5 million through eBay sales. He also helped recover a 1728 Krzysztof Lubieniecki oil painting looted from the Polish National Museum during World War II, a stolen Presidential Medal of Freedom that was to be awarded to Apollo 13 astronaut James Lovell, and Tom Brady's purloined Super Bowl XLIX and LI game-used jerseys.
And then there's serial fraudster John Rogers, the rogue sports memorabilia dealer and photo archive mogul from North Little Rock. Rogers deployed phony contracts, forged signatures, bogus appraisals, fake certifications, phantom transactions and counterfeit collectibles to bolster criminal enterprises that dotted the nation from coast to coast.
"As far as one individual, it would be the largest fraud scheme I've worked," said Brusokas, who works out of Chicago. "It ended with a judgment of nearly $24 million. That's just the restitution. It's not the whole scope of the fraud."
Twenty-six victims are associated with that loss total, and Brusokas said the actual tally of victims and financial loss will never be known.
"He claimed the street value of what he did is almost a billion dollars," said one victim, David Hoffman, who has communicated with an imprisoned Rogers via email and phone.
It's a boastful figure in keeping with a blustery scam artist's penchant for ditching the truth for lies and his felonious fondness for big and often inflated numbers.
Hoffman, of Santa Cruz, California, is on a long roster of of victims defrauded by Rogers, who began serving a 12-year sentence last year.
Compared to others who lost millions, the film documentarian got off easy. He was merely a creditor, owed $80,000 on the $325,000 sale of his video and photograph collection in 2012.
"I love John and had a wonderful relationship with him," said Hoffman, once a houseguest in the fabulous mansion that Rogers built in North Little Rock. "And I'm one of the people he screwed."
According to Hoffman, Rogers claims that for the most part, he sold his fraud-tainted goods to Russian oligarchs, mafia types and very wealthy international sports collectors. Those categories make for a good story but don't fit very well with the profile of victims associated with his criminal case.
The yarn that Rogers is spinning from prison has sparked Hoffman's interest in producing a documentary on his fabulist life.
"He's a consummate storyteller," Hoffman said. "I couldn't tell if it was all true or not. But I thought it would be interesting. What he claims to have done is amazing.
"He wants to stick it to the art community who didn't catch his forgeries. He claims that all the great analysts couldn't tell his forgeries from the real thing. Nobody caught him, he claims."
In a plea deal with the federal prosecutors that he ultimately violated, Rogers admitted being most heavily involved in illegal conduct from 2005 to 2014. The Justice Department believed his criminal activity began as early as 2000, but Hoffman says Rogers told him that it went back much farther than that, to 1986.
"He said he started forging at 13 years old," Hoffman said. "He never got caught at that, he claims."
According to the story Hoffman says Rogers told him from behind bars at the low-security federal prison in Forrest City, forgery is an illicit talent that Rogers practiced for 31 years. If true, the revelation casts an even darker shadow on his life story.
The first version Rogers presented to the public was a warm and fuzzy tale of trading baseball cards as a young boy, a childhood hobby that provided the gateway to building a lucrative business as a sports memorabilia and photo dealer.
Brian Brusokas
That changed after his extensive frauds were exposed in the months following the 2014 raid on his home and business by federal agents.
The second narrative shifted to the corruption of his innocent passion collecting baseball cards, a transformation that served a sinister career built on fraud that supported a lavish and drug-fueled lifestyle.
"Folly rooted in narcissism and greed" is how the U.S. attorney described Rogers' criminal endeavors before he was sentenced last year.
The new image of Rogers as a teenage shyster emboldened by his early success ripping off people is a jarring plot change in his good-kid-gone-bad storyline.
Using his adjusted timeline for crime, Rogers was casting aside the ideals of the Boy Scouts even as he traveled the fast track to become an Eagle Scout 20 days shy of his 14th birthday.
With characteristic audacity, Rogers bragged to Hoffman that he flew solo in developing forgery as a life skill.
"I did all of it myself," Hoffman said Rogers told him. "I learned all of the skills myself."
The FBI's Brusokas said that when it came to accomplishing his frauds, Rogers was first and foremost a forger who used his considerable gift for lying to back up his fake creations posing as valuable memorabilia.
"He would make up items — bats, balls, baseball cards — out of thin air," Brusokas said.
Holding Honus
In the world of sports memorabilia, Rogers wasn't considered a big name until 10 years ago, when he attracted the national spotlight.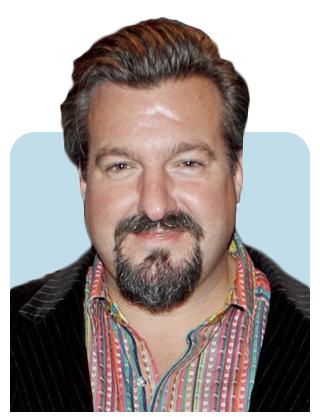 Find out in this week's Whispers
what happened to John Rogers' counterfeit baseball bats
. Also, take a look at
our complete coverage of John Rogers
.
"He was a known quantity in the industry, but he didn't have a large presence," Brusokas said. "He would attend trade shows and buy things. He didn't rent booth space to put his business on display. After he purchased the Wagner card, that all changed."
In 2008, Rogers emerged from an Aug. 1 online auction as the owner of a rare 1909 Honus Wagner baseball card, known as the Jumbo Wagner, with a then-record bid of $1.6 million. Rogers didn't hide in the shadows of anonymity, a common posture in such big-ticket buys.
"He did the opposite," Brusokas said. "Most people don't go out and trumpet it. He wanted everybody to know he was the guy who bought the Jumbo Wagner card. It was on the back of purchasing the Jumbo Wagner Card, and he started setting up as a national dealership."
The ballyhooed purchase elevated the then-35-year-old owner of Sports Cards Plus in North Little Rock from a face in the crowd to a big dog with a literal $1.6 million calling card.
The murky transaction, presented as crystal clear at the time, opened up new doors for criminal mischief with newfound access to wealthy circles.
"Remember, he was the guy with the pedigree of owning the Jumbo Wagner," Brusokas said. "As far as the records show, he paid some money for it, and he physically had it for a time."
Snake Hill Manor: The House That Fraud Built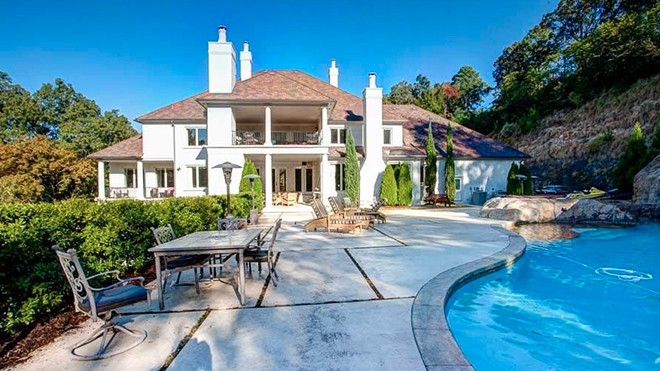 A 12,400-SF mansion commissioned by John Rogers presented a grand facade of wealth and success when it was completed in 2010. Before the beginning of his fall in 2014, the residence hosted its share of guests and parties including Little Rock Soirée at Snake Hill. A nod to the local nickname of the steep winding section of Avondale Road outside its gates, the house party was described as North Little Rock's premier social event of the year. The gathering raised funds for The Wildcat Foundation, supporting North Little Rock High School.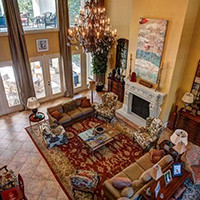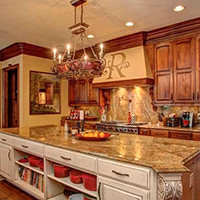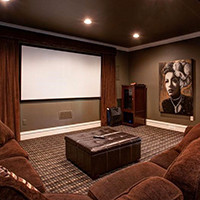 Showing the Cards
Brusakos can't remember the details of his first meeting with Rogers, at some sports memorabilia gathering where they talked in passing. At 6-6, 300-plus pounds, Rogers is a hard guy to forget even in a brief encounter.
But the FBI agent does recall the second time he met Rogers, on Jan. 28, 2014. That's when he was part of a team of federal agents who executed search warrants at Rogers' business and home.
Of special interest to Brusakos was a special safe that protected assets securing millions in loans from First Arkansas Bank & Trust of Jacksonville.
The dual-lock safe could be opened only with a key held by Rogers in conjunction with a key kept by bank officials. It was supposed to house the Fritsch Collection. The safe was bought especially to house this incredibly valuable collection of old and rare baseball cards as presented by Rogers.
"Before the safe was opened, I was sure a real collection wasn't going to be there," Brusakos said. "I just wasn't sure what was going to be in there."
The safe did contain a collection of cards seemingly from Larry Fritsch, a renowned collector. However, the cards were reproductions, not the genuine items. The cards were a reprint collection that Rogers had acquired and placed in protective sleeves with fake authentication stickers attached.
Rogers used the Fritsch Collection to orchestrate a bogus $6 million purchase in 2013 to defraud investor Mac Hogan and the bank.
Documentation valued the collection at $12 million, false assurance for Hogan and bank officials.
"They were very shocked," Brusakos said when they learned the truth.
The raid marked the beginning of many shocking discoveries about Rogers.