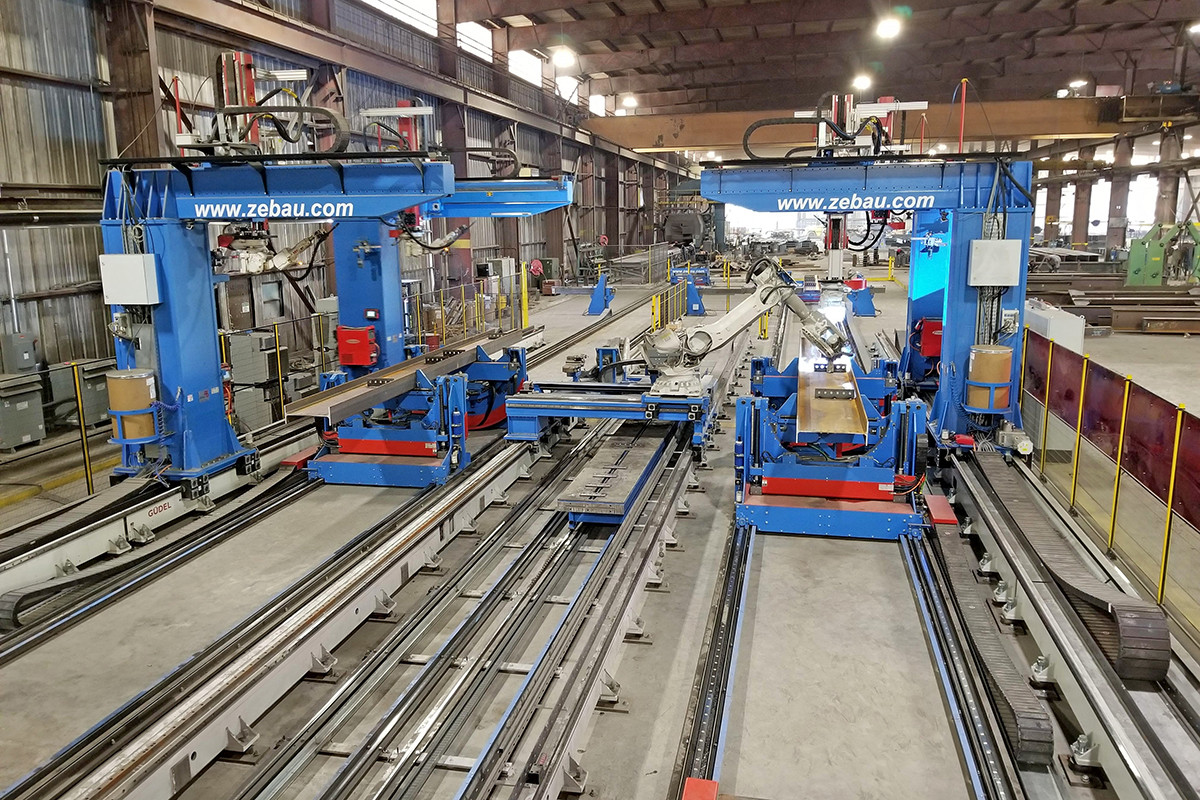 Ask how long Lexicon Inc. has been immersed in the molten-hot steel industry in Mississippi County, and CEO Patrick Schueck will ask how long you're ready to listen.
Still, his exuberant reply boils down to three words: from the beginning.
"My sister [Jennifer Schueck McCarty] actually delivered the bid to erect the structural steel for Nucor-Yamato in 1986," Schueck said. His father, the late Lexicon founder Tom Schueck, was tied up and had to delegate one of the most momentous journeys in company history.
"Dad and Gene Riley, our current chairman of the board, did the estimate, but they were called to a meeting on a much smaller project they were having trouble getting out of, so Dad sent my sister up with the bid to Nucor. They were awarded the project and became the steel erector on that job."
It was the first steel mill in Mississippi County, Arkansas' far northeast corner bordering Tennessee and Missouri.
"It scared Dad to death, because at that time we were a not-so-big company working off of Bethany Road in North Little Rock," Schueck said. "But we erected all the steel, and that's where we developed our mechanical division."
The past year has energized America's steel industry as demand and prices soared in the pandemic, yielding record sales.
Lexicon's revenue grew by more than half in 2020, to $817 million from $530 million. Nucor reported record quarterly earnings in July, beating a record it had set in the previous quarter. "Our first-half earnings of $8.13 per share exceeds our full-year earnings-per-share record of $7.42 set in 2018," CEO Leon J. Topalian said in a July 22 earnings call. CFO James Frias added that the company's second Mississippi County plant is "an excellent example of Nucor's growth strategy." In the last quarter, he said, "the Hickman specialty cold mill ran at 118% of rated capacity, more than double its originally projected production ramp timeline."
U.S. Steel, now the parent company of Mississippi County's Big River Steel, reported second-quarter net income up a whopping 272% year over year. Big River is a big part of the venerable American steelmaker's more flexible future, U.S. Steel CEO David Burritt said in January, when it completed the acquisition.
"The steel industry is gaining more and more strength," Patrick Schueck said, crediting former President Donald Trump for trade policies that helped American companies compete. "Over the years, China really hurt the U.S. steel industry by undercutting prices. But the leveled playing field enabled the U.S. steel producers to get back on their feet, make some money, pay their people what they deserve and, more importantly, spend money on capital projects to make them more efficient, more green and more competitive on the world stage."


Cotton to Steel
One example of that capital investment is at Lexicon's Prospect Steel, which has a 360,000-SF robotic fit-and-weld steel fabrication plant in Blytheville. A short rail track away from Nucor-Yamato, which supplies it, Prospect's double robotic assembly line is unsurpassed in the world, Schueck said. The rail connection offers another advantage, eliminating inbound shipping costs for steel.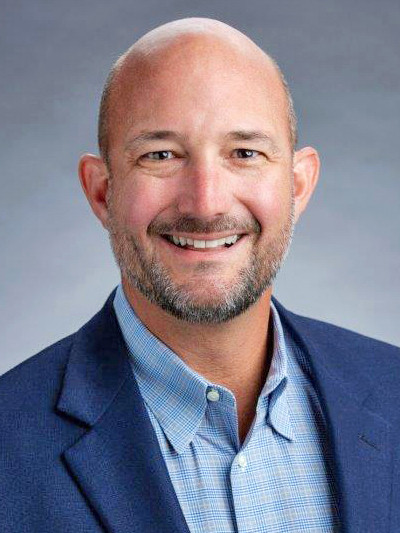 Patrick Schueck
Between Prospect and Lexicon's other divisions, the company has close to 300 employees in Mississippi County. Lexicon was founded in Tom Schueck's Little Rock garage in 1968 and remains based in the state capital, "but Mississippi County is home, too," Patrick Schueck said.
Prospect Steel, even with its mammoth plant, is a relatively small operation compared with the three major Mississippi County steel mills — Nucor-Yamato, Nucor-Hickman and Big River Steel.
Nucor's plants, in operation since 1988 and 1992, proved the area's capability as a steel hub. Big River started building its $1.3 billion flex mill in 2014, the largest economic development in state history. That plant in Osceola, the co-county seat with Blytheville in a physically sprawling county, was fully acquired this year by United States Steel Corp. of Pittsburgh in a two-part deal totaling $1.47 billion. Last November, Big River completed a $700 million second-phase expansion ahead of schedule, doubling annual production capacity to 3.3 million tons of flat-rolled steel.
Those companies, employing most of the county's 3,600 highly paid steel mill workers, have made more than $2.1 billion in capital investments in the area, economic development leader Clif Chitwood said. Chitwood is president of Cotton to Steel, Mississippi County's aptly named economic development agency. Once the largest cotton-producing county in the nation, Mississippi County now ranks No. 2 among America's steel-producing counties.
Nucor, Big River
Publicly traded Nucor of Charlotte, North Carolina, is the largest steel products producer in the United States with 27,000 total employees, 25 steel mills and 1,800 direct jobs in Arkansas. Those positions were critical after Eaker Air Force Base in Blytheville closed in 1992, costing the area thousands of jobs.
Nucor-Yamato began steel beam production in 1988, and its rapid success caught the eye of company leaders. They commissioned another Mississippi County plant, called Hickman for the small town nearby, and it started making rolled steel in 1992. A far smaller thin-cast sheeting plant in Blytheville, Nucor Castrip Arkansas LLC, started production in 2009 with fewer than 100 workers.
Big River has about 650 workers in its modern plant, and steel mill wages are unmatched in Arkansas manufacturing: Chitwood said local steel mill workers average more than $90,000 in yearly pay.
Big River shifted leadership in the months after the U.S. Steel acquisition, with Big River CEO David Stickler departing that role, a company official confirmed in July. "Dave Stickler is still affiliated with U.S. Steel, but he has taken on new roles," the official told Fastmarkets, adding that Dan Brown would lead Big River as chief operating officer.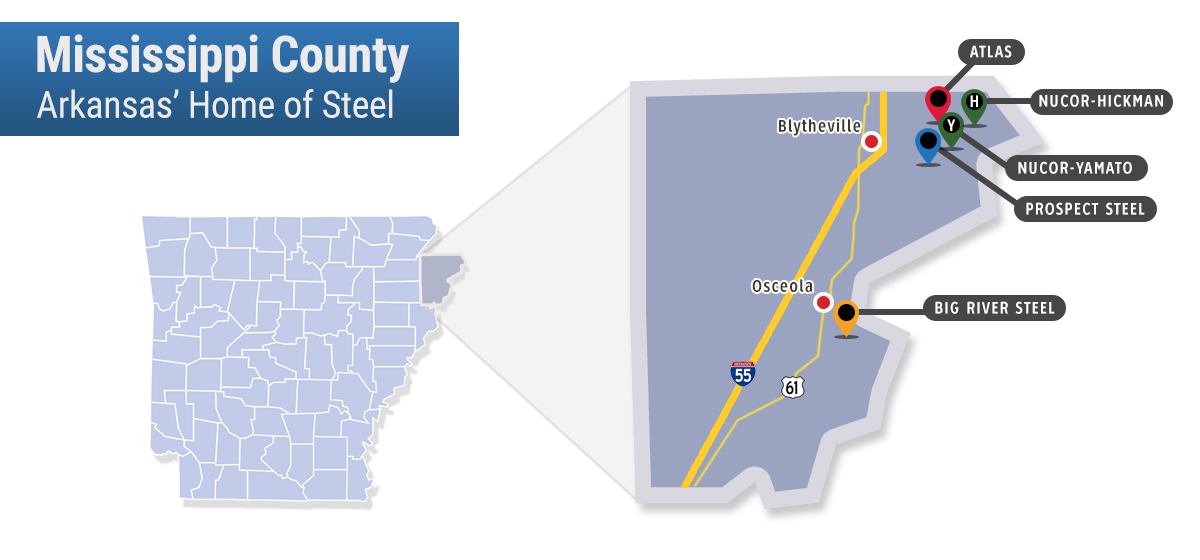 Steelmaking Heaven
Mississippi County's surging steel mills have helped along a dozen related companies, including Atlas Pipe, a division of Zekelman Industries of Chicago.
Atlas is rapidly completing a 515,000-SF facility in Blytheville that company officials say will be the "largest continuous electric resistance welding mill in the world." Near the company's existing plant, it will make HSS (hollow structural sections) steel, with production set to start as early as next month or October.
So what made the northeast corner of Arkansas a magnet for steel?

"Dan DiMicco, a family friend who used to be the mill manager at Nucor-Yamato and went on to be CEO of Nucor, called Mississippi County the greatest steel-producing county in the entire country, if not the world," Schueck said, ticking off several reasons.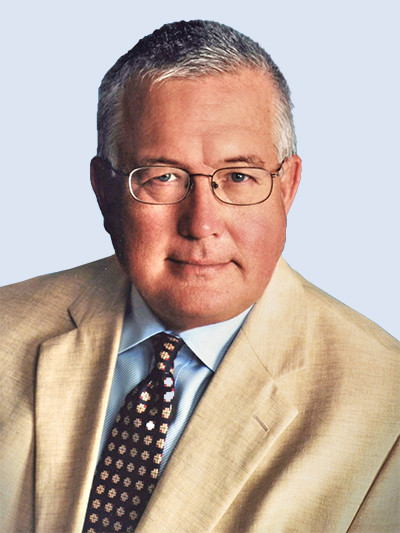 Clif Chitwood
"First, it's in the center of America, surrounded by hardworking farm families that produce incredible ironworkers. But most importantly, it's got the mighty Mississippi that they can bring scrap in and haul steel off." Chitwood noted that the river offers the cheapest route per ton for transporting raw materials.
Both Nucor and Big River produce their steel by recycling millions of tons of scrap metal from cars, appliances and other discarded metal products, the vast majority shipped in by barge.
The area has easy rail access and is crossed by Interstate 55; I-40 is within an hour's drive. "Mississippi County was a great discovery by Nucor," said Schueck. "Ironworking has gotten into the people's DNA."
MaryEmily Slate, a former entry-level employee who worked her way up to become a Nucor plant manager in Blytheville and is now a corporate vice president in Charlotte, put it this way: "Farmers and kids who grow up on farms have a mechanical instinct that fits in well at our mini-mills. They want to work hard and know how to work hard — have been working hard all their lives."
Schueck expressed pride in an industry that literally helps build up America.
"We stay true to ourselves because we're real people who build real projects with real integrity," said Schueck, who is 6-7 and played collegiate basketball at Jonesboro's Arkansas State University, just 50 miles from Blytheville. Now at work on several projects for Tesla, Amazon and other top companies, Lexicon and its affiliates are poised for more work if President Joe Biden's trillion-dollar infrastructure plan gains congressional approval. Schueck is excited about that prospect, and proud of the immense work Lexicon has done.
"When you drive across the Ohio River Bridge in Louisville, know that we built that here in Arkansas. When you look at the roof of Cowboys [AT&T] Stadium, we fabricated that roof here. And the Ivanpah solar plant out in California, the world's largest solar project with 420-foot towers surrounded by 20,000 mirrors, we built that. We're just exceptionally proud to be part of an industry that's generational and so important to this country and state."