Belinda Lister and her husband, Samuel, 76, still have a rooftop full of useless solar panels at their 1,200-SF all-electric home in Fairfield Bay.
The Listers, members of Petit Jean Electric Cooperative of Clinton, have been denied a grid interconnection since their solar array was installed by Shine Solar of Rogers in June 2021.
Now the Arkansas Public Service Commission is demanding answers from the state's 17 electric distribution co-ops on accusations of foot-dragging and obstruction in solar interconnections.
The Listers had expected savings of $125 a month from their solar array, but the co-op demanded unexpected requirements for plugging it in under Arkansas' net metering laws. Net metering is the system that allots credit to utility customers with their own power generation systems for the energy they contribute to the grid. And in Arkansas, solar customers get a rate for their created power equaling the rate they're charged for pulling electricity off the grid.
The cooperatives have long argued that this basically overpays customers for solar power. Cheaper electricity is certainly available on the open market.
They also say net metering as practiced here shifts grid infrastructure costs from solar customers to ratepayers who lack solar panels and thus bear a heavier load for keeping the lights on.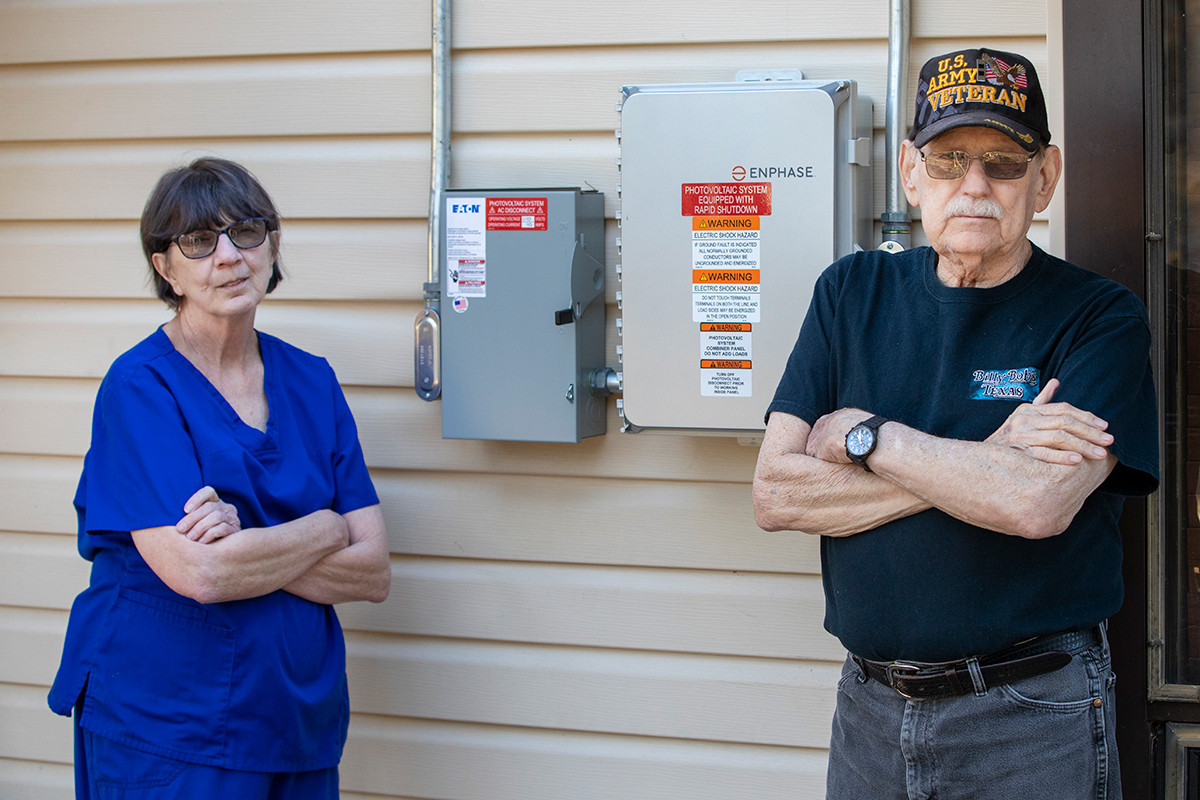 Belinda and Samuel Lister
The Listers were the human centerpiece of an Arkansas Business article in March looking at what solar contractors and the Arkansas Advanced Energy Association called unauthorized hurdles hindering solar development.
Lauren Waldrip, executive director of the AAEA, a trade group that includes solar companies, testified before the PSC that some but not all of the state's 17 distribution cooperatives were charging unauthorized application fees, requiring excessive insurance coverage of net metering facilities and imposing unreasonable inspection requirements.
The PSC, which regulates public utilities in Arkansas, opened a formal investigation July 15 into "the alleged unauthorized net-metering practices of electric distribution cooperatives in Arkansas," according to the new docket, No. 22-043U. All the cooperatives and the AAEA are parties to the docket, which asks the utilities to respond to questions by Aug. 5 in direct testimony before the three-member commission, led by Chairman Ted J. Thomas.
The questions ask each of the co-ops whether they require application fees, insurance minimums and other encumbrances on net metering. Another question asks about areas deemed as "saturated" with solar systems, a rationale that at least one cooperative has used to deny solar interconnection.
Waldrip said on Tuesday that interconnection problems have persisted and even grown. "We get calls all the time, as do our friends at the [state] Department of Energy and the PSC," Waldrip said. "We are hopeful that the new docket naming all 17 co-ops will add more pressure toward bringing a solution."
The Arkansas General Assembly made renewable energy development a state priority with the Arkansas Renewable Energy Development Act of 2001, and reinforced the state's promotion of sun power as a native fuel with the bipartisan Solar Access Act of 2019.
Several cooperatives filed a response seeking to have the latest PSC docket dismissed because of an error in its citation of a state law granting statutory authority in the case. "The commission cited No. 23-18-118 instead of 23-3-118, which is just a scrivener's error that can be corrected with an errata filing by the commission," said Randy Bynum of Wright Lindsey & Jennings of Little Rock, the AAEA's attorney. "In fact, the association just filed a reply this morning that said they [the co-ops] are basically trying to get this dismissed purely for delay tactics," Bynum said last Monday.
Arkansas Electric Cooperative Corp., which is owned by the 17 distribution cooperatives and provides their wholesale power, did not immediately respond to requests for comment on the new docket. But it has argued in the past that solar power arrays and net metering present novel challenges in interconnection. They also note that as member-owned cooperatives, they have no profit motive.
Back in March, cooperatives spokesman Rob Roedel said a flurry of net metering projects can throw off years of utility planning. "With regards to interconnect areas, the state's electric cooperatives plan infrastructure needs based on projected load and demand growth," he said. "Changes to these plans due to unplanned net metering adjustments require additional investments that are passed along to all members of the cooperative."