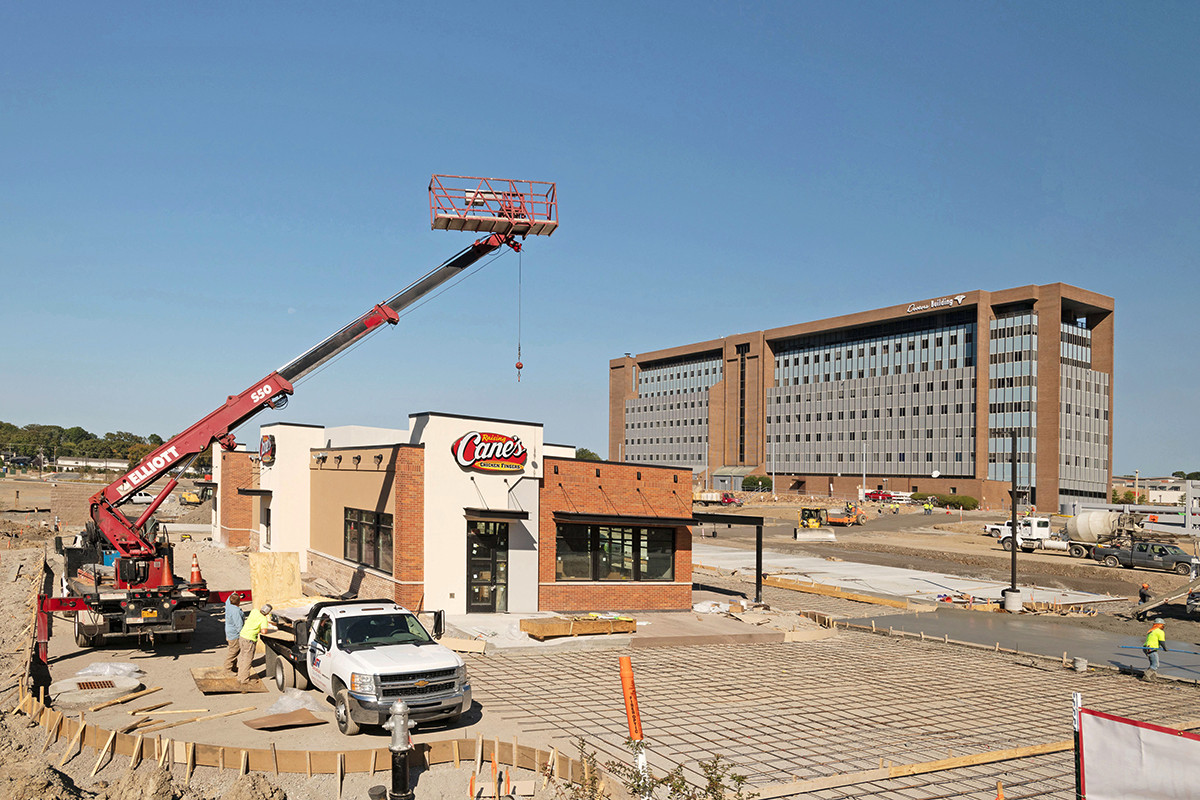 Two high-profile mixed-use developments are making their way onto the commercial scenes in central and northwest Arkansas. Ground was broken recently on the 27-acre Pinnacle Village project in Rogers as site preparation nears completion on The District at Midtown in Little Rock.
The $5 million worth of dirt work and infrastructure improvements are setting the stage for a build-out of commercial sites at one of the busiest intersections in Little Rock. Two projects at the northwest corner of Interstate 630 and University Avenue are on tap for The District while a third is weeks away from opening for business.
JPMorgan Chase Bank of Columbus, Ohio, the largest American bank, is finalizing a ground lease for a 1.2-acre parcel to develop a full-service branch. The location at the southeast corner of University Avenue and Sixth Street represents the financial giant's first in Arkansas, state No. 39 for the $2.8 trillion-asset lender.
On the western side of The District at the southeast corner of McKinley and Sixth streets, a 2.3-acre site is under contract for a hotel project: a 189-room Home2 Suites-Tru by Hilton combo.
The first venture out of the ground at The District is Raising Cane's Chicken Fingers, which is developing a restaurant on a leased 0.9-acre site on the south side of the future Chase branch location. The $1.5 million project marks the seventh Arkansas eatery for the Baton Rouge-based chain.
"Raising Cane's should be turned over to operations in November," said Chris Anderson, director of retail and mixed-use development for Provident Realty. "That will be about the time we're done with all our physical improvements."
To make way for new construction, demolition work removed the 162,082-SF Sears store, 56,060-SF Doctors Plaza tower and 14,137-SF Sears Auto & Tire Center.
"Site work has been going on for about 11 months," Anderson said. "It's dragged on longer than it should have because of the weather, rock excavation and coordinating work with the Arkansas Department of Transportation."
He said market conditions have gotten more challenging for developing commercial property as sources of equity have dried up and the ability to borrow money for big projects has grown more difficult.
"With all this COVID stuff, a lot of things are in limbo or on hold," Anderson said. "Generally, the economy is trying to recover, but restaurants and hotels are taking it on the chin. We're working things all the time with our brokers here and our brokers there."
The District at Midtown was put in motion four years ago with a $44 million purchase. The deal encompassed 30 acres of office and retail development that included the Sears and Doctors Plaza projects and adjoining 212,906-SF Doctor's Building at 500 S. University Ave. and 69,734-SF Midtown Medical Park Building at 6119 Midtown Ave.
Tandem transactions in September 2019 would recoup more than $34 million, and plans for a second hotel were scrapped.
A 2-acre site initially marked for hotel development by Provident was instead rolled into the $16.5 million sale of the Doctors Building. The would-be hotel site adjoined the west side of the 7.2-acre medical office development.
The land and building were sold to Midtown Doctors Building LLC, an investor group that included Brad Henry, Todd Simmons, Marshall Saviers and Brock Gearhart.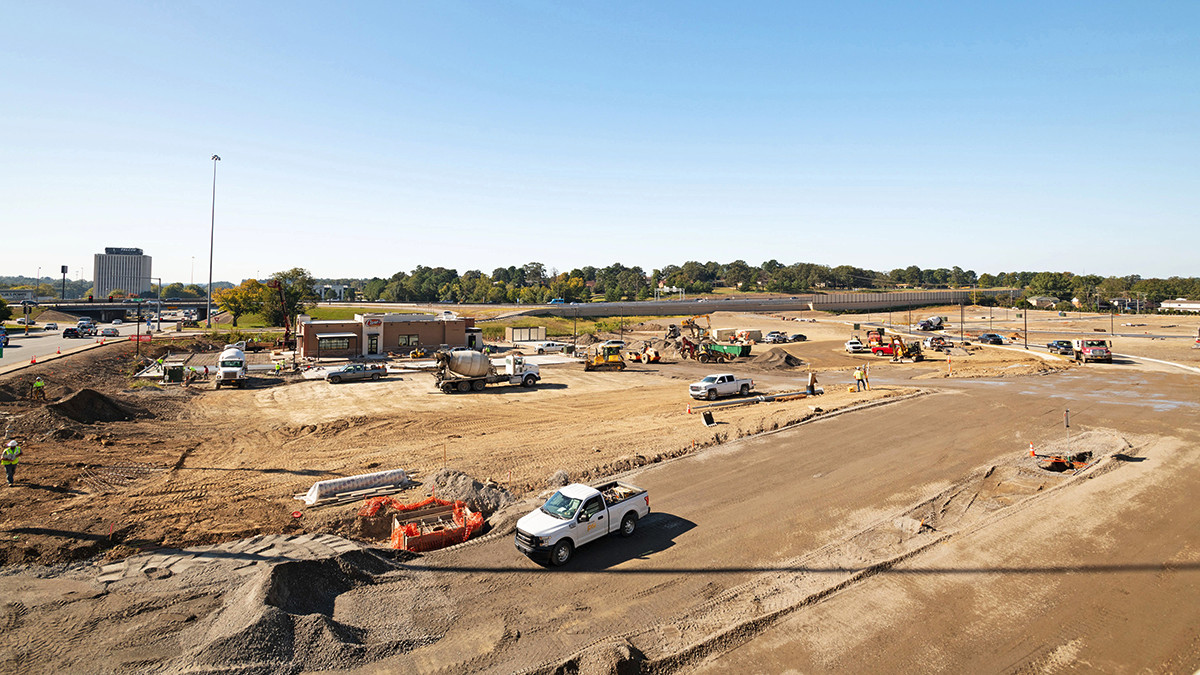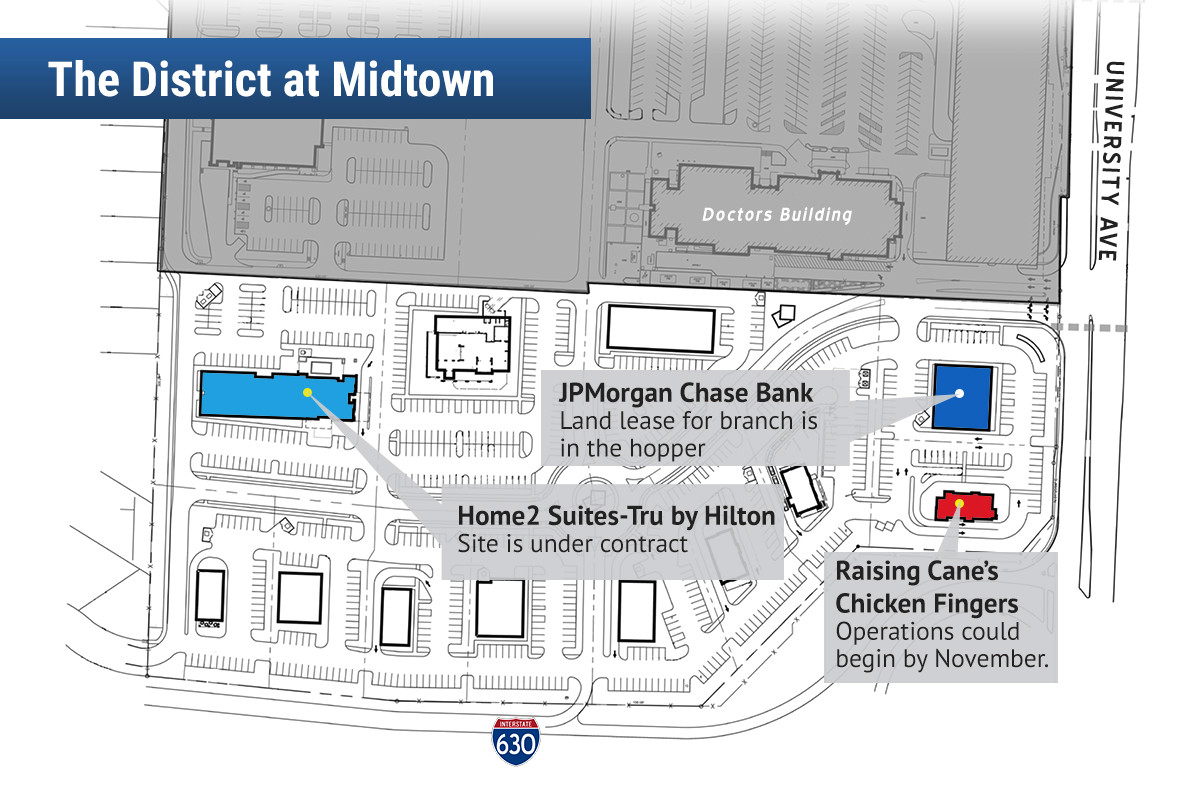 Little Rock Midtown also sold the Midtown Medical Park Building for $17.9 million. The 4.8-acre development was bought by Welltower OM Group LLC, an affiliate of its namesake publicly traded real estate investment trust devoted to health care-related properties and headquartered in Toledo, Ohio.
The envisioned development mix for The District at Midtown remains restaurant heavy. But the lease agreement with Raising Cane's does eliminate some possibilities. Competitors Abner's, Guthrie's, Zaxby's, PDQ, Slim Chickens, Layne's Chicken Fingers and Buffalo Wild Wings are specifically excluded as long as Raising Cane's is in business.
Chick-fil-A is considered fair game along with any burger-dominant eateries "including, but not limited to, McDonald's, Wendy's and Burger King."
Pinnacle Village
Ground was broken on the 27-acre Pinnacle Village development in Rogers on Sept. 25. The ceremonial turning of dirt marked the launch of $13 million worth of infrastructure work to prepare the property for apartments, shops, offices and homes.
"We are doing the mass site plan bringing water, sewer, electricity, gas, grading and roads to the entire project," said Alex Blass, a principal at Cushman & Wakefield-Sage Partners in Rogers. "We hope to have it wrapped up by the end of 2021. Our goal is to begin building construction in 2022."
A pair of 200-unit apartment towers with retail on part of the first floor and a wrap-around parking deck are planned to be developed in phases.
The Pinnacle Village site was acquired for nearly $5.9 million in July 2018 by a group led by Little Rock investors. Ownership is divvied up among Pinnacle Village Holdings LLC, led by the Sam Alley family (60.77%); Capital Properties LLC, led by Gus Blass III (33.71%); and Burlingame Investments Ltd., led by Dr. Lowry Barnes (5.52%).
Zero-lot-line homes weren't part of the original Pinnacle Village concept. The addition of 45-50 lots with an eight-foot masonry wall along the eastern and part of the southern property lines entered the picture after responses from nearby residents. The single-family homes will serve as a transitional buffer between Pinnacle Village's apartments, offices and retail and two adjoining residential neighborhoods: Highland Knolls and Manors on Blossomway Creek.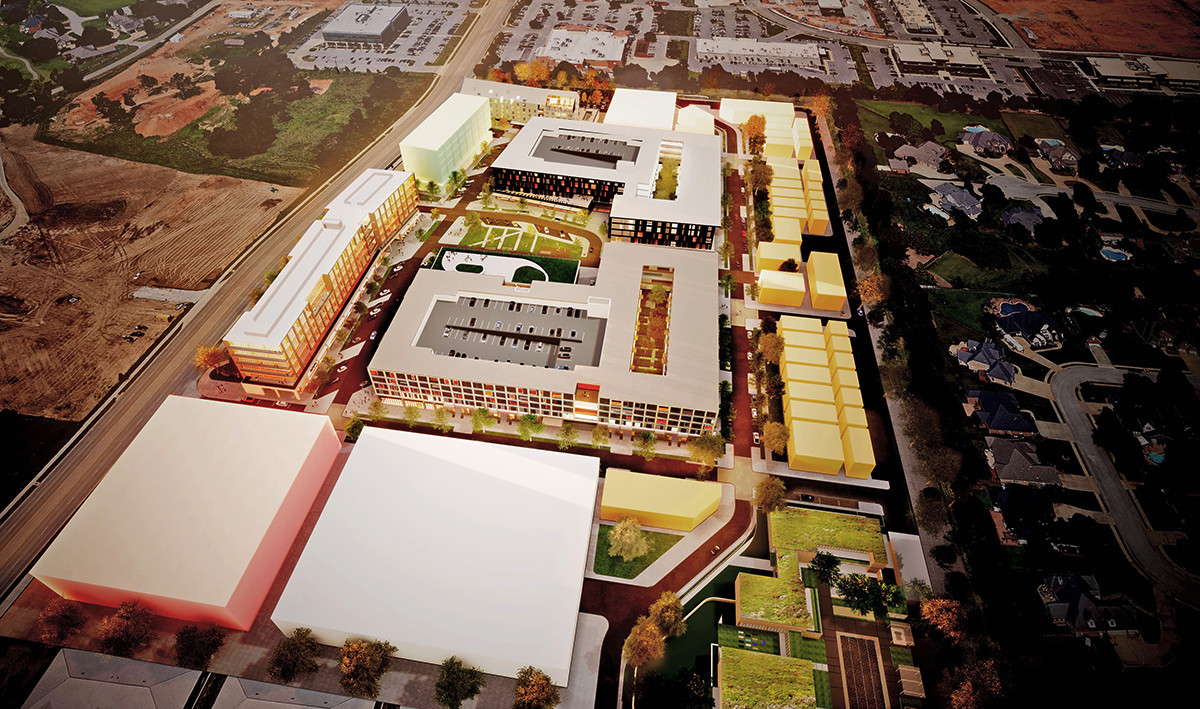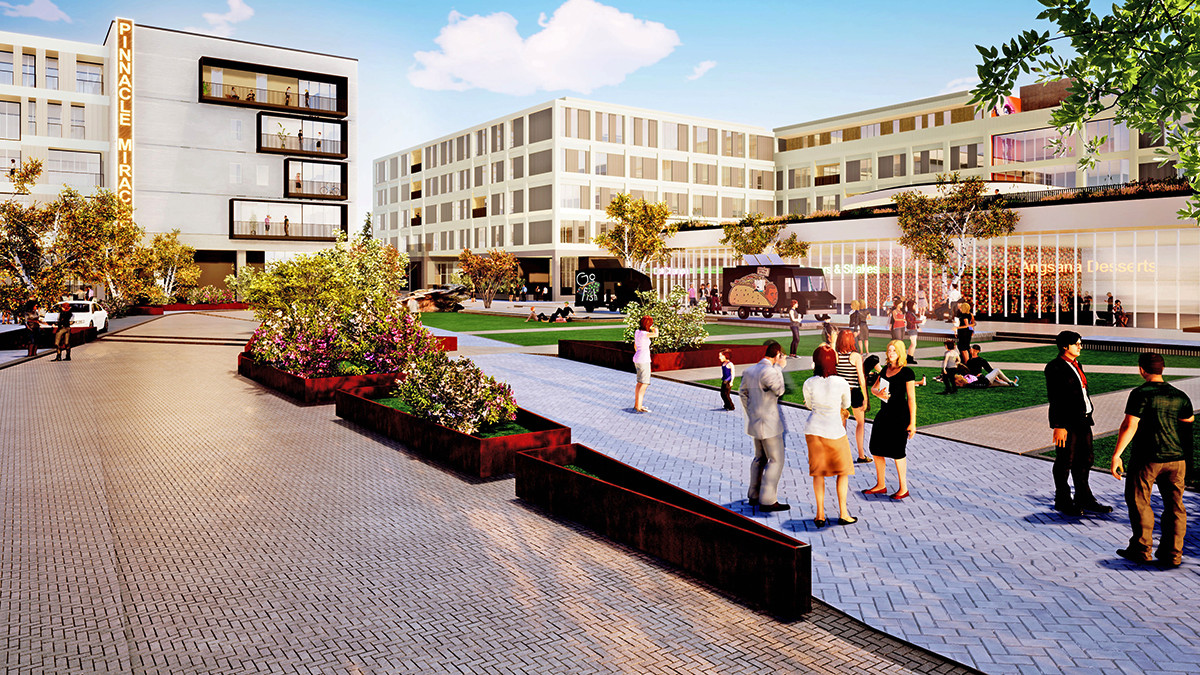 Mike Duley, CEO of The Duley Group-Keller Williams in Bentonville, is eager to get rolling on marketing and building homes.
"We really want to move dirt in the second quarter of 2021," said Duley, the force behind the single-family component of Pinnacle Village. "The demand is there to get the residential off the ground. It would be great to move up the timeline because of the low inventory and low interest rates.
"We're still working with the architect, but the size range of the homes will probably be around 1,900 to 2,400 SF."
The streets of Pinnacle Village will feature a permeable paver system that will replace the need for detention ponds or concrete vaults to deal with stormwater. The cracks between the pavers will feed rain into a giant French drain network beneath the roadway.
Blass said the system is more aesthetically pleasing and cost effective than traditional methods, and the brick pavers have a 40-year life expectancy, twice that of asphalt.
"People are excited about something positive happening in the market," he said.