The Whispers Blog
Arkansas' breaking business news blog, with news and commentary from the Arkansas Business staff.
Send us tips.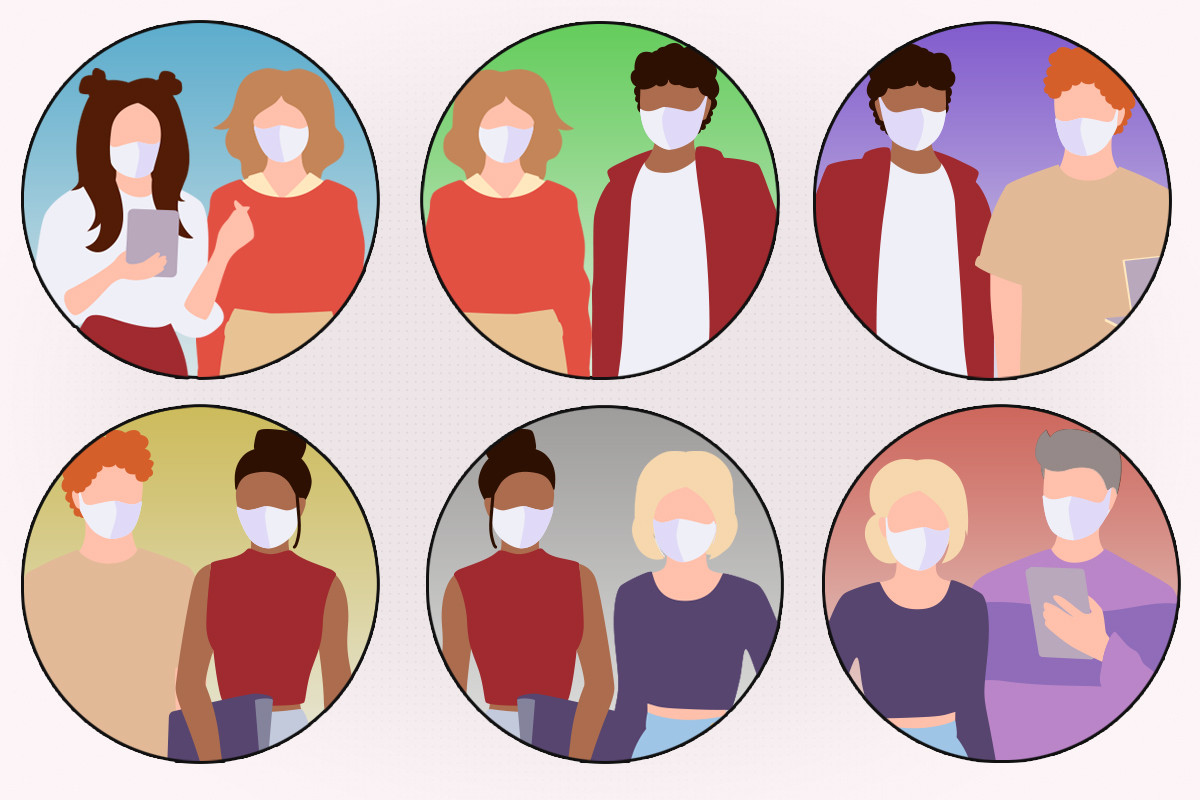 What is happening with good ol' word-of-mouth?
This question is vitally important for the growth of nearly any business. Word-of-mouth tends to drive your reputation and consumers' choices far more than do other communication channels. But because mouths have often been behind masks during the past 12 months, it makes sense to examine whether the nature of WOM itself has been altered.
A couple of years ago, when I began updating research for my book, I found multiple credible sources revealing that more than 90% of word-of-mouth happens offline. The research generally defined "offline" to include face-to-face conversations as well as phone, email, texts and video chat (in other words, communication channels other than social media posts). And within that large category, face-to-face dominated.
For an update, I turned to a 15-year review from the firm Engagement Labs. (I have no connection to the company, but its data seems reliable and it is consistent with what I see in practice.) Its review, released in January, has several important takeaways for your business:
► Face-to-face (remarkably) still dominates. A few years ago, nearly three-quarters (74%) of all offline WOM was happening face-to-face. Today — yes, through a pandemic — a strong 66% of WOM is still face-to-face. The proportion by phone is holding steady at 17%, texts and IMs have risen to 8%, with the remainder spread across video chats and real-time social media communications.
► One side often feeds the other. You might reasonably ask, "Isn't there overlap between the things people post and see in social media, and the things they talk about in real time?" You would be right. These days nearly a quarter of offline WOM includes people talking about things they see in digital media. The implications I see for business growth include 1) making sure your team knows what is being posted in social media, and 2) equipping your team to extend the conversation.
► Most industry categories are up. By industry — as Engagement Labs defines them — the top categories for WOM have more or less held steady since 2007. Those top industry categories, in order, are media/entertainment, food and dining, beverages, retail and apparel, and technology.
The fastest-growing categories are household products (up 102% in volume), home (up 53%), health and health care (up 38%, and notably up 22% before the pandemic), and personal care/beauty (up 34%). Automotive, telecommunications and travel all declined.
► Offline WOM accentuates the positive. Any good marketing or communications pro will attest: It's not just the volume of WOM that is important but also its tone. Is the conversation helping or hurting?
If you have spent any time on social media, then you can appreciate its polarity. People share (or even concoct) the best of their lives and are quick to gripe about, well, almost anything. In contrast to social media, offline WOM is generally positive (and increasingly so). In 2007, nearly two-thirds of it was "mostly positive" with less than 10% "mostly negative." Today 69% of offline WOM is mostly positive and only 7% is mostly negative.
What is the implication of all this, post-pandemic? Recognize the primacy of offline WOM, and don't leave the management of it to chance. Your potential messengers (including employees, customers, distributors, partners and friends) will indeed talk about you in their everyday conversations — if they feel comfortable in knowing what to say and if you are top-of-mind in those moments.
You can't control that outcome, of course. You can, however, make sure your marketing and sales messages are carved into interesting, bite-sized conversational nuggets. You can then share those nuggets with a wide range of potential messengers, and feed the system through thanks and acknowledgment.
The offline world retains its oversized influence. Your business can shine in the many offline conversations that are happening this very day.
---
Jim Karrh of Little Rock is a consultant and speaker, host of "The Manage Your Message Podcast" and author of "The Science of Customer Connections." Connect with him on LinkedIn.
4/5/2021 12:00 am
Updated 2 weeks ago
Comments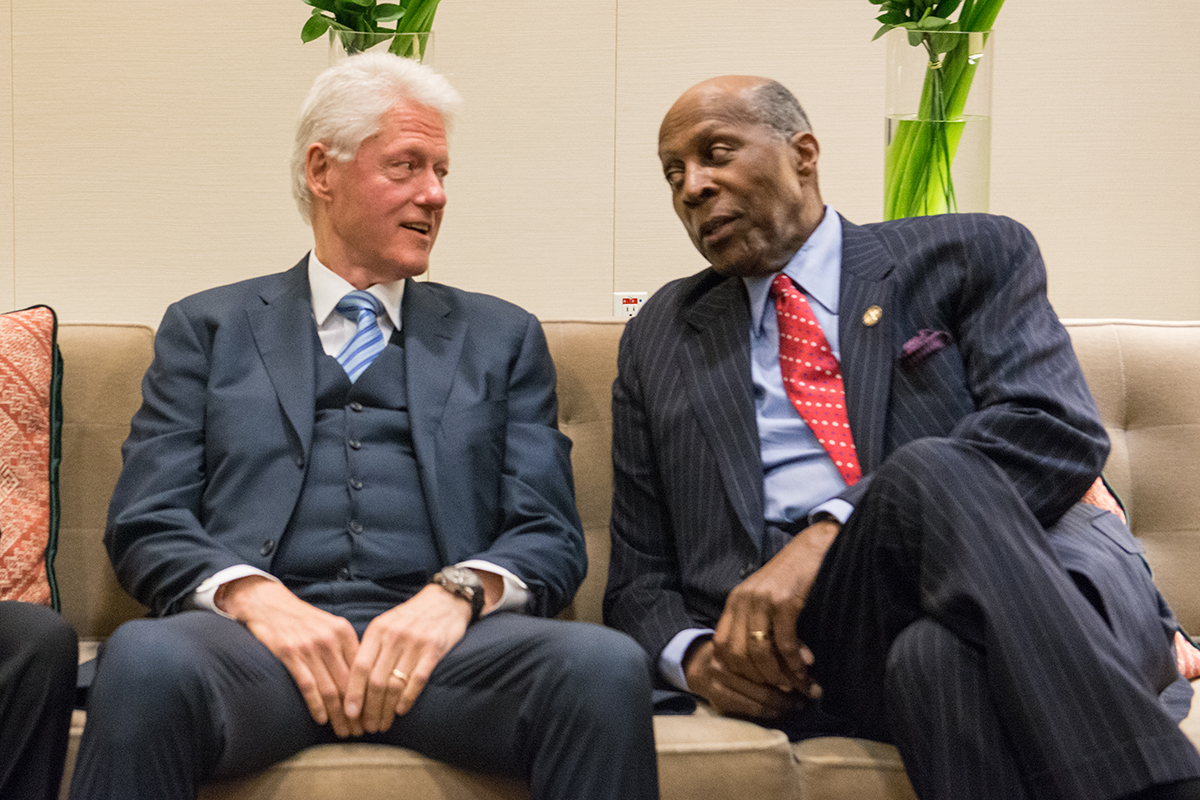 Former President Bill Clinton and Vernon Jordan, former adviser to President Clinton, appear together in 2014 at the LBJ Presidential Library.
He was known and known of. I realized recently that we met once, briefly, in Little Rock. I came to appreciate him with an in-awe-of curiosity. He was Vernon Jordan Jr. And with his faith kept and his finish of a race well run, on March 1, Mr. Jordan has received exemplary eulogies, warm remembrances and laurels for his life, respect and admiration.
Jordan had Arkansas connections. He was a confidant, adviser and true friend to both President and Secretary Clinton. But long before meeting Bill and Hillary individually, introductions separated by four years, Jordan came to Arkansas. He wrote about it in his 2001 memoir, "Vernon Can Read!"
As field director for the Georgia chapter of the NAACP, headquartered in Atlanta, Jordan was offered in 1963 the job of executive assistant to the director of the Southern Regional Council. The SRC is considered the oldest interracial organization in the South.
Part of Jordan's SRC duty was writing reports and presentations. He also wrote articles expressing his own social-justice ideas: putting things on paper, he explained in his life story, "pushes the mind toward clarity." That clarity would be used to successfully solicit funds for the continuation of the SRC's work.
While at the SRC, Jordan made another try at the bar exam. Rather than re-take the bar in Georgia, he arranged to come to Arkansas and take the bar here. It was 1964. He passed.
"One of the advantages of taking the Arkansas bar exam in those days was that the results were available within a week after the test was given, in marked contrast to the months it took in other states," he said. A week after taking the exam, Jordan was an Arkansas lawyer.
It was in that same year that Jordan met Hillary Rodham. He was at Colorado State University to speak to the League of Women Voters. Rodham introduced herself. Jordan said, "We liked each other at once." (He has shared that after then-Gov. Bill Clinton lost his first re-election bid in 1980, it was Jordan who suggested to Hillary that she take Clinton's name.)
Jordan was speaking under the auspices of the Voter Education Project, an SRC project. The VEP, which received Jordan's considerable attention, was run by Wiley Branton Sr., the Arkansas attorney who represented the "Little Rock Nine" in the 1957 Central High School integration crisis. The project funded local groups, including in Little Rock, actively registering Black voters.
In 1971, Jordan was offered the job of president of the National Urban League. After a speech to the Urban League of Arkansas in 1973, he met "an up-and-coming, young politician named Bill Clinton." Jordan said he was instantly struck by Clinton's intelligence and ambition.
The meeting occurred in Little Rock at the dawn of Clinton's campaign for Congress representing Arkansas's 3rd Congressional District. It was his first run for public office. He lost.
Bill Clinton's 1974 and 1980 losses were learning experiences, steeling his public-service ethic and ambition for higher office.
When the presidency was achieved in 1992, Jordan was there for balanced advice and welcomed friendship. His keen yet humble demeanor was never more evident than in a speech delivered in December of that year to the Little Rock Chamber of Commerce, an appearance secured by Mack McLarty, President-elect Clinton's newly announced White House Chief of Staff.
Jordan's relatedness to Arkansas had scope.
The counsel Jordan gave to the Clintons and countless others is, for the most part, unknown. It was personal; confidential.
And that advice was mostly asked for, rather than offered, but freely given only when requested. What's more, as has been prominently included in recent accounts, Jordan's friendships and service — at the highest corporate, nonprofit and government levels — were characterized with honesty, humility and trust.
Vernon Jordan Jr. was an influencer. Not in the present-day, social-network sense. But traditionally, defined as "the capacity to have an effect on the character, development or behavior of someone or something."
He influenced without pressure or coercion. But always with a sense of integrity, equanimity and love. Some of those traits were developed and nurtured in Arkansas with Arkansans.
---
Craig Douglass is a Little Rock-based marketing communications consultant and serves as the executive director of the Regional Recycling District.
3/1/2021 12:00 am
Updated 2 months ago
Comments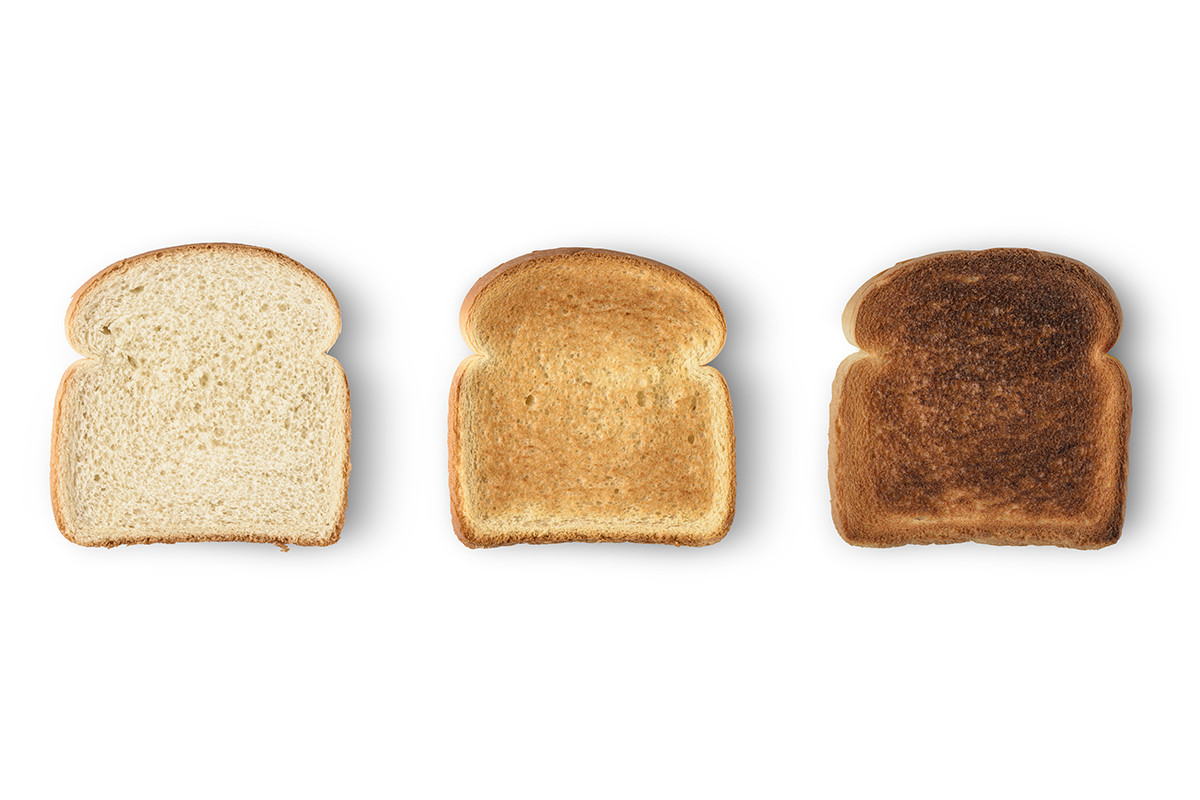 Do consumers compromise? Many do, probably without knowing it. When making a purchasing decision, consumers consciously or unconsciously weigh price, level of quality and service. And they are willing to give up one to get the other, or to settle for two out of three.
There is some associated thinking going on when consumers engage. Price is often associated with quality. That association comes into play when a product or service reflects on a consumer's self-perceived value and worth. The emotional or social motivator associated with self-esteem is a powerful core benefit of any product or service. It's known, in part, as brand equity. Consumers are willing to pay more to get what they want, or what they want others to see.
There is, however, a give-and-take at play in many purchases, particularly when it comes to a product that has broad competition in the marketplace. It's called the compromise effect.
A well-known marketing study illustrates the point. If the same basic product, with somewhat the same attributes of fulfilling a need, is offered at three different price points, the compromise effect takes over. For example, the product is priced at $215 and $142 and $95. The study revealed that more than 75% of consumers presented with these options chose the one priced in the middle at $142.
The middle. The center. Consumers' decisions seem to gravitate toward this midpoint when they're shown extremes on either side. Recent experience shows that a median position appears to include whether to support political and public policy issues, as well.
Some may say that the political center lacks conviction. To the contrary, it seems to us that finding the center, or a balance between two extremes, displays not only conviction, but foresight born of courage. While moderation may be deemed slow or plodding, it is moderation or the centrist view that holds the greatest opportunity for progress. (Of course, there are exceptions. The struggle for civil rights comes to mind.)
Remember the compromise-effect study briefly described above: An overwhelming majority of consumers took to the center, the midpoint.
How did they arrive there? A further look at the compromise effect from an organizational psychology point of view, as expressed in a recent edition of Frontiers in Psychology, suggests that "a product will have a higher chance to be chosen from a set when its attributes are not the extremes (the best with the highest price or the worst with the lowest price)."
We liken the ultimate selection to willingness, being willing to search for a safe, perhaps common-sense solution. A middle-of-the-road choice that can be easily and comfortably made. A preference for peace of mind. Willingness, after all, is defined in part as a freedom from reluctance, readiness. The next necessary step, then, is to take action.
Now, don't be confused (as I often am). Action may be associated with sheer will or willfulness. But willfulness is a single-minded, egotistic and narrow path. It lacks tolerance. Willingness is a broad highway on which multiple approaches to a common goal may travel.
Consumers of all stripes seek that broad highway in the form of competitive choices. Marketplace competition is beneficial in a number of ways not often thought of. For example, according to Marketing91, a marketing-resource blog, competition has the potential to increase awareness, quality and efficiency. The winning brand is often adopted because it meets multiple consumer needs. With a little sacrifice here and there, the product and the consumer agree to mutual concessions resulting in a transaction.
In public policy, too, the winning position time after time — with the exception of an occasional extreme, short-lived experiment — is the broad center, where mutual concessions take place. Compromises. It's that position that has the greatest opportunity to construct a willing coalition, expressing a collective majority. A majority that accepts progress rather than perfection.
---
Craig Douglass serves as executive director of the Regional Recycling & Waste Reduction District in Pulaski County.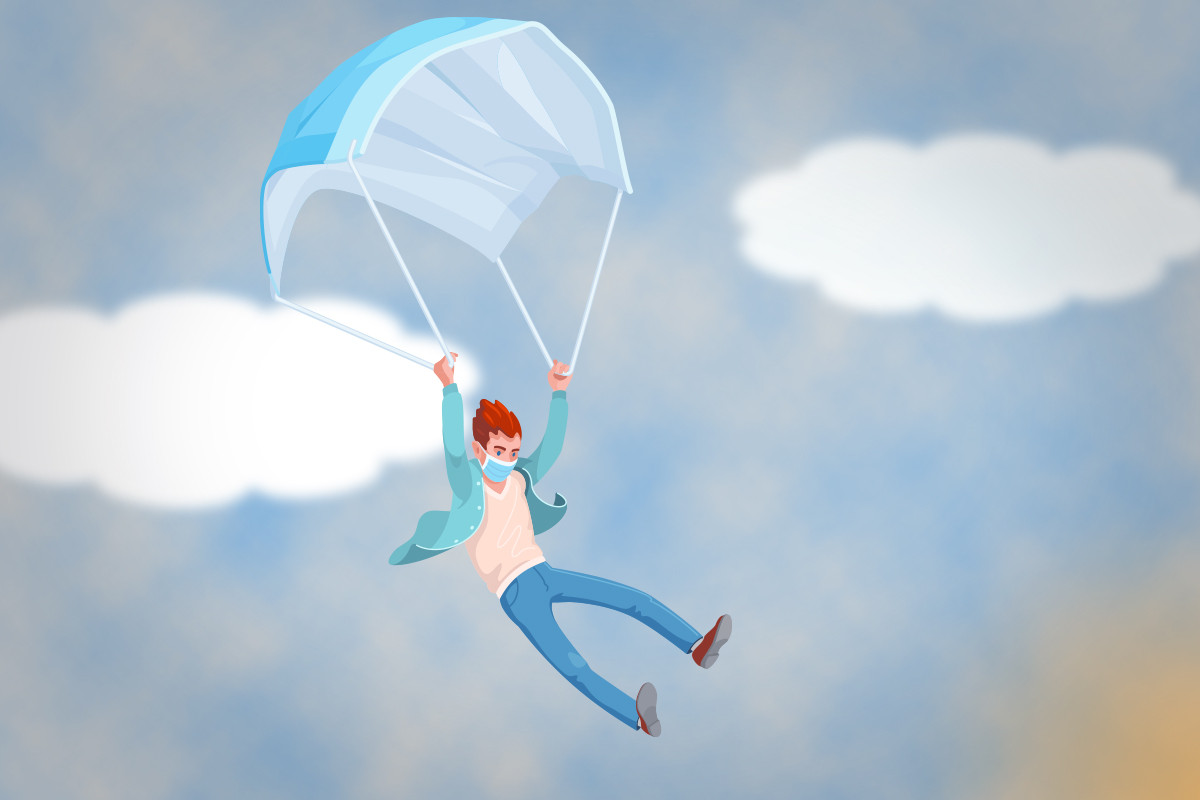 Like many businesses and entrepreneurs, I took occasion several years ago to write out a longer-term strategic plan. And like many others, I chose the year 2020 as the future "mark."
I was off just a tad.
This year will be different. When we come to the close of 2021, and you review your business successes, I suspect you will attribute that success to having done a few important things well:
► Your team maintained a practical optimism.
I find most business leaders to be natural optimists. The past 12 months strained that inclination. Still, the big picture of 2020 was far from bleak; the S&P Index was up 16% for the year, while the MSCI World Index of global stocks rose 14%. When you looked ahead at 2021, you recognized the evidence for a robust (if uneven) wave of growth opportunities. The U.S. Purchasing Managers' Index was up strongly for both manufacturing and service sectors, for example.
With confidence — even if not with certitude — you helped make sure that good news traveled just as well within your business as did the bad news.
► You consistently thought customer-first.
Nearly every business has a public commitment to its customers. Yet as businesses and customers alike were squeezed in 2020, it was easy to fall into a bunker mentality.
Some responded in new and innovative ways. They changed (literally and figuratively) the ways they delivered their offerings. They made things feel easier and safer for customers. Even when customers were unable to buy, they kept relationships strong by providing information, support and guidance.
Your business prospered in 2021 with an appropriate external focus. It wasn't just "how to repackage what we're doing," but instead "how to meet customers where they are and where they are going."
► Your business invested wisely on the inside.
Many businesses discovered new levels of resilience in 2020. They made big changes in record time — even while employees were separated like never before.
You recognized that constant pressure takes its toll. Your company supported everyone with as much gratitude, encouragement, tools and training as you could muster. In 2021 you committed to continue training and support, even as that moved from virtual to hybrid to some in-person models. Whatever the mode, you saw the results in strong customer, member, sponsor and partner relationships.
► You didn't rely on the unreliable.
Too much of 2020 was out of control. When businesses lost the means to promote and distribute their products, they went where they could to survive — and while many found new opportunities, others discovered a new control problem.
Ruth Harrigan runs Honey Gramz, a small business that sold through souvenir shops. As tourism sank, the business increasingly relied on Facebook. Social media offered new and badly needed sales opportunities but at the risk of mysterious algorithms and limited customer support. According to a Bloomberg story, when Facebook blocked her ad account Harrigan desperately Googled the names of any Facebook employees who might help. She found one, sent him a message on Twitter, and eventually her account was restored. "It was really, really scary," she said. The email remains pinned to her office whiteboard as a reminder.
This is not an indictment of any growth strategy that includes social media. But you'll have succeeded in 2021 with an emphasis on your current relationships and customer data you control.
► You got your story straight.
Has there ever been a time with more distraction, confusion and environmental noise? You recognized the dearth of trust among buyers and prospects and their need for trustworthy sellers. That led you and your business to focus on clarity and consistency in your message during 2021.
With a shared understanding internally of your ideal customers, the needs of those customers and where you're most helpful, everyone in the business — regardless of whether "sales" or "marketing" was in their job description — was equipped to play a role in your growth.
---
Jim Karrh of Little Rock is a consultant and speaker, host of "The Manage Your Message Podcast" and author of "The Science of Customer Connections." Connect with him on LinkedIn.
2/1/2021 12:00 am
Updated 2 months ago
Comments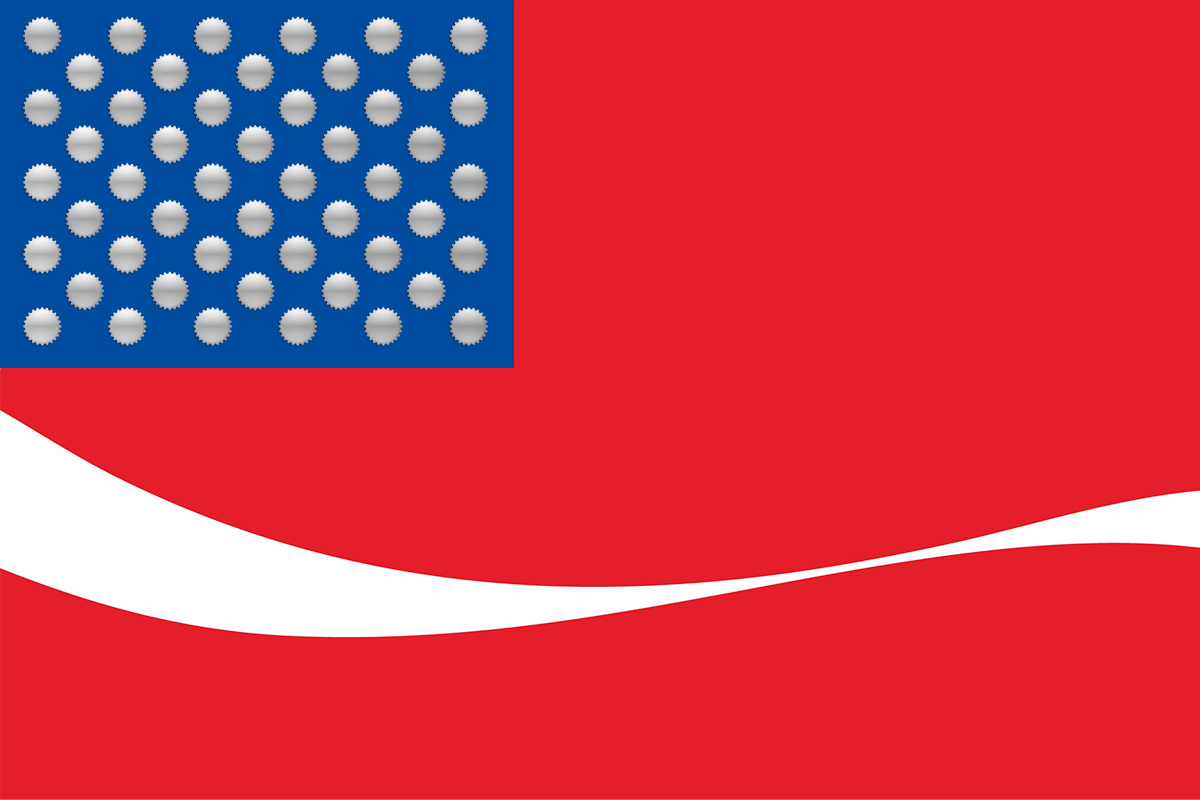 The result of subtraction is called a "difference." It's what's left when you take one quantity away from another. So, we suppose, subtraction results not only in a difference, but it also can make a difference.
Consumers are often known by, or at least identify with, the companies they keep, the brands they buy. And brands are powerful. Branding a product like Coke or Band-Aid, a service like American Airlines or Kroger or an organization like the Salvation Army or the American Heart Association influences consumer behavior. Brands have reputations. And reputations have value in the marketplace.
Political parties are brands. Association with a political party — Republican or a Democrat — brands an individual. Fairly or unfairly. Like it or not. Do Republican consumers think differently than Democrats? Do Democrats act one way and Republicans another? We don't believe one can paint with such a monolithic brush. It's not as simple as red and blue. But there is a difference. In fact, studies show product and brand preferences differ between self-identified conservatives and progressives.
For example, Harvard Business Review cited in 2018 a Journal of Consumer Research study that posited: "Our research suggests American consumers' brand preferences are shaped not only by where companies stand on politically polarizing issues, but also by consumers' own political affiliations and subtle brand associations. In a series of studies, we found that consumers' political ideology shapes how they choose to differentiate themselves from others in the marketplace." It is arguable that societal divisions fueled by ideological and political disunion have grown even more striking and salient in the past four years.
Companies with consumer brands understand this. That's why we've seen just in the past three weeks a number of high-profile marques suspend PAC contributions to members of Congress who objected to the certification of the Electoral College results in the presidential election. Companies you know well — like AT&T, Walmart, Comcast, Walgreens, Amazon, Verizon, Best Buy and even Hallmark Cards — have cut off funding to those voting to overturn the election. Most recently, the Boston Globe reported that the Blue Cross Blue Shield Association stated it would suspend political donations to any lawmaker who voted to reject the Electoral College results.
The self-described reason why corporations and individuals contribute is to ensure "access" rather than purchase "influence." Money opens doors. Money gets an ear. And we fully understand the information-sharing aspect of effective lobbying. Nothing wrong with that. We'll let readers decide if money buys anything else.
However, when political parties support certain policies, or politicians themselves espouse positions and cast votes that undermine the fabric of our federal democracy, financial contributors to the very system in which they thrive take note. You see their problem. Corporations feel the First Amendment free speech to which they are entitled under the Constitution — speech that includes independent contributions, according to the controversial Citizens United Supreme Court case — has itself been attacked. Add to that the insurrection encouraged by those politicians, and support becomes untenable and outright damaging, not only to the country but to their corporate brand.
Will this be a fundamental change in how political parties and campaigns are financed? We'll see. What we could experience is the accelerated growth of "527" contributions. The IRS' Section 527 allows groups registered under this code to raise unlimited funds from corporations and individuals for the purpose of influencing issues, policies, appointments and the like. It could be that we will see increased support from corporations for government policies, which could then encourage consumer alignment, while influencing individual politicians and their parties to get on board.
The scope of a corporate brand is much broader than a consumer product or service. That's why corporations support their brands across many platforms targeting multiple audiences: charitable, social, political. When it comes to politics and politicians, adding money to the political-influence equation is powerful brand management. Subtracting that money could be just as powerful.
---
Craig Douglass serves as executive director of the Regional Recycling & Waste Reduction District in Pulaski County.