The Whispers Blog
Arkansas' breaking business news blog, with news and commentary from the Arkansas Business staff.
Send us tips.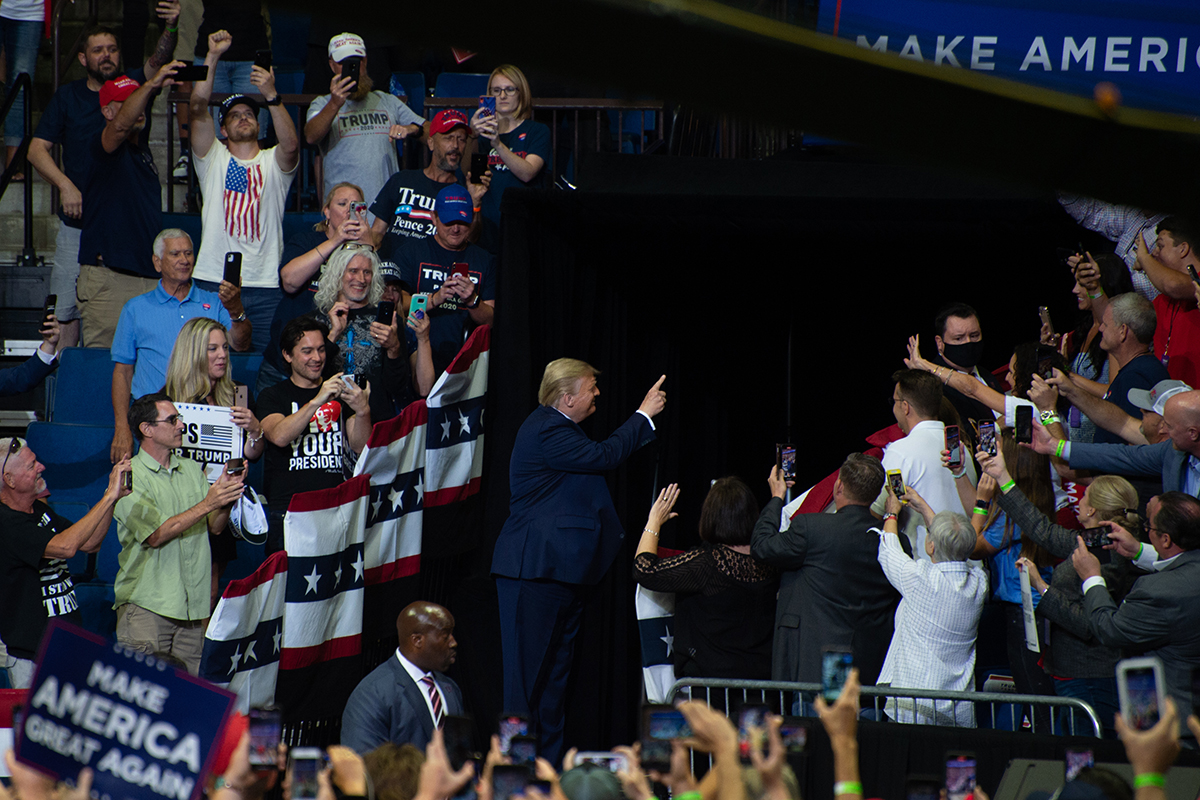 President Donald Trump acknowledges a supporter at a campaign rally held June 20 at the Bank of Oklahoma Center in Tulsa.
Since I remain horrified by President Trump, I was mildly amused by the recent fiasco in Tulsa.
The anemic crowd — 6,200 tickets scanned at an arena that seats 19,000 after more than a million tickets were requested — was good news for Tulsa and society as a whole, since it meant that fewer people might be exposed to the coronavirus that had infected six members of Trump's campaign "advance team" setting up the event. But it was objectively bad news for the headliner, who nonetheless performed his greatest hits of victimhood and self-congratulation.
The humiliation of a crowd that really could have observed social distancing in the cavernous BOK Center was compounded by the fact that the puny turnout was a complete surprise to the campaign, which had bragged about the overwhelming response to the online offer of free tickets. The president and Vice President Pence were scheduled to make separate speeches to a massive overflow crowd, but that outdoors stage was quickly dismantled as reality dawned on the organizers.
There's no reason you or I should have realized that teenaged users of the TikTok social media platform and "stans" — I had to Google that word for obsessed fans — of Korean pop music had been spreading the word of a glorious prank: Register for the free tickets but don't show up. But there's every reason a sophisticated presidential campaign should have known and even anticipated just that kind of trickery.
After all, Brad Parscale, the president's campaign manager, got that job on the strength of his success as digital media director for Trump's 2016 campaign. What's more, experienced event organizers say this phony registration prank wasn't the least bit original. It merely took advantage of the registration system that the Trump campaign had encouraged 1.8 million Twitter followers to use. The registration form was primarily a data-gathering tool, not unlike the emails and social media posts that invite us to "sign" nebulous petitions objecting to the most recent target of political outrage.
How many of the registrations came from sincere Trump fans who registered to show their support even though they didn't plan to attend? How many came from TikTok kids who may not even be old enough to vote? It doesn't matter. Regardless of how many people registered, attendees were seated on a first-come basis. Bottom line: Too few people came, and the campaign didn't know that was about to happen.
No one doubts that there are hundreds of thousands of voters within easy driving distance of Tulsa who are eager for four more years of Trump, so what went wrong? At first I thought it was a breakdown in Parscale's fearsome data-collection operation, but the more I read, the more persuaded I am that this was a failure of marketing. Specifically, this was a failure to recognize and respond to a change in the market for the product, which, in this case, is Trump rallies. The cheese has moved, just as it has for restaurants and movie theaters.
Even free tickets cost the customer time and effort. From 2015 to 2019, Trump's showmanship was enough of a payoff to motivate supporters to fill venues (although overstating crowd size has been routine). Now the prospect of seeing Trump Live! is not enough, because the cost of the free ticket includes potential exposure to the virus that causes COVID-19. Bragging about the expected crowd size — the number of potential virus carriers — undoubtedly discouraged fans who were on the bubble.
Even Americans who excuse Trump's belated and muddled response to the coronavirus were not eager to be in close contact with strangers when they could — and record numbers did — experience the president's rhetorical stylings from the comfort and safety of home. They want take-out and Netflix. But instead of enjoying vicariously the massive event that was promised, they were treated to a massive marketing miscalculation.
---
Oklahoma's Electoral College votes aren't in question, so an embarrassment there was an unforced error that will certainly be canonized as one of the classic blunders in modern political history. (The most famous? "Never get involved in a land war in Asia," for you stans of "The Princess Bride.")
Some commentators say the registration prank did more harm than merely humiliate a politician who truly believed tens of thousands of people would risk illness to hear him complain about his political enemies. All those phony registrations may have devalued what should have been a goldmine of contact information for Republican-inclined voters so motivated that they would risk infection.
---
Did you know there's an English word for schadenfreude? It's epicaricacy.
---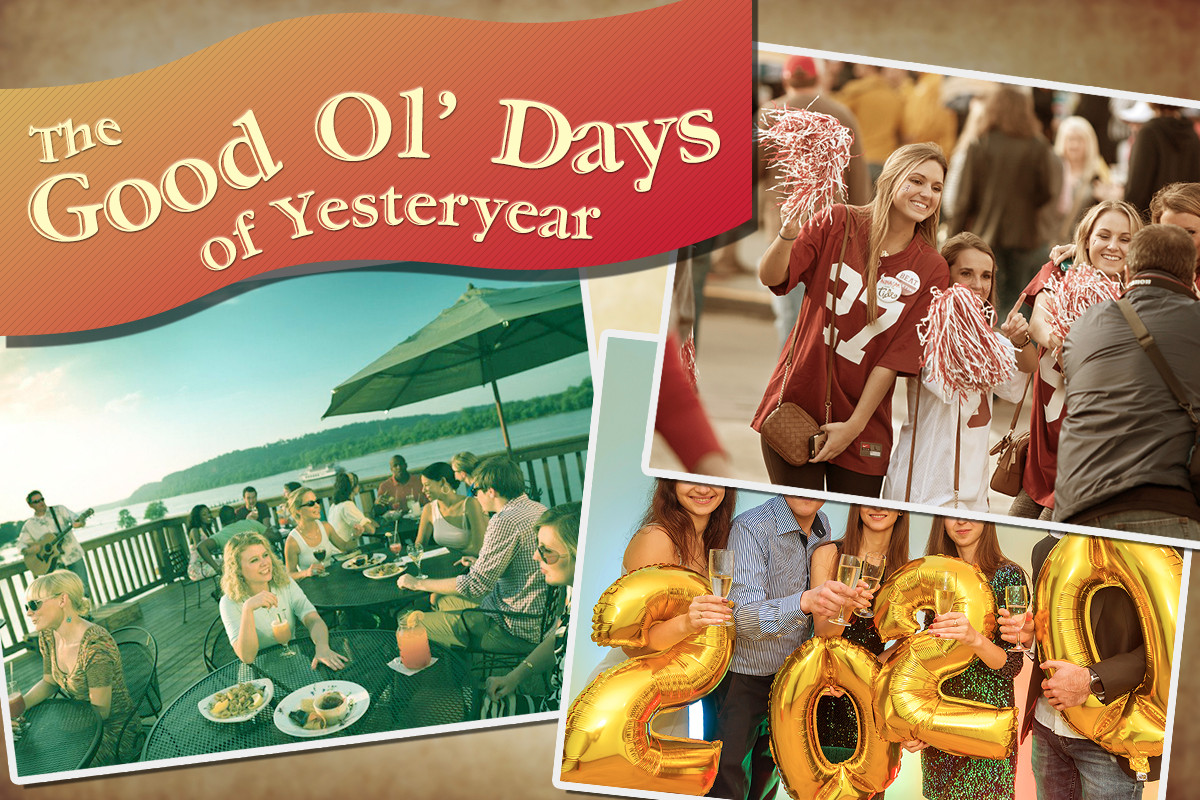 Every spring for the past 20 years, I have had to finally turn loose of our annual list of the state's 75 largest private companies. Arkansas Business produces one or more business-related lists almost every week, year in and year out, and while they all represent a measure of work and care, some are much harder than others. The list of private companies is always one of the hardest because we attempt to coax private information out of scores of companies from all over the state and a variety of industries, but it has always been important to me as a historic record of Arkansas' business environment.
Most of the 75 companies that make the cutoff do share their top-line revenue numbers — the field by which we rank the list — and their employee counts.
But, alas, some do not. It turns out that my deadline is not necessarily a top priority for some of the executives running these large companies, and others simply treasure their perfect right to keep their private company financials private.
We could, of course, limit the list to those companies that choose to participate, and that's the way we treat some industry-specific lists. But I can't bring myself to publish a list of the state's largest private companies that doesn't include Stephens Inc. or the Lindsey Co., so every year we end up having to do some estimating. And I end up having to let the best we can do be good enough when press day rolls around.
All of this is normal. But this year has not been normal. In a way that is almost palpable, business executives seem to consider their 2019 results to be ancient artifacts. 2020 versus 2019 is less year-over-year and more era-over-era: the pre-COVID age versus everything after. And since I'm not at all sure any of us have a good grasp on how much our worlds will have been changed by the pandemic, I came to think of this week's list as a final snapshot of the old normal that will be valuable when it comes time to document the new normal.
---
While the economy as a whole has taken a licking from the pandemic, some businesses are unambiguously benefiting from it. As you can see in my story, Harps Food Stores of Springdale saw its sales increase by more than 40% in March and April, when staying at home — and cooking there — suddenly became a necessity.
Kim Eskew, Harps' CEO, thinks it will take a while for restaurants to fully recover. Whether that's from the direct effect of the coronavirus on restaurant operations (mask requirements, social distancing, etc.) or from the frugality that comes with widespread unemployment, he thinks his company will continue to enjoy higher sales.
While entirely too many people have decided that they can ignore the existence of the coronavirus, businesses have not had that luxury. Watching companies — even my own — rethink and adjust and (in the immortal words of Tim Gunn) make it work has been an encouraging reminder that adaptability is the human superpower.
I've been thinking about "The Happiness Lab," that podcast I keep recommending. In the second episode ("The Unhappy Millionaire"), host Laurie Santos, a psychology professor at Yale, explains that this adaptability means that we adapt to both good fortune and misfortune.
"We are a remarkably adaptive animal," said Dan Gilbert, a Harvard psychology professor Santos interviewed in that episode. "We have been born and bred to pick ourselves up by the bootstraps and soldier on. When the going gets tough, we get going."
Gilbert calls this ability to adapt and overcome the "psychological immune system," which seems especially apt in 2020.
---
One of our company's adaptations will come to fruition on July 22: a virtual celebration of this year's 40 Under 40 honorees. While the honorees can be present for the social distance-compliant event, their friends and co-workers will be able to participate online through the Zoom meeting technology.
Will it replace the in-person luncheon forever? I hope not. But I'm super impressed with the creativity of Events Manager Tiffany Mattzela and her staff in conceiving and creating a new kind of event to fill the void.
---
If you can help me improve the list of private companies, or any of our lists, shoot me an email at the address below.
---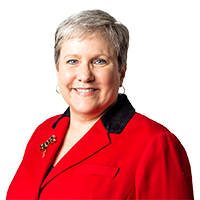 Gwen Moritz is the editor of Arkansas Business.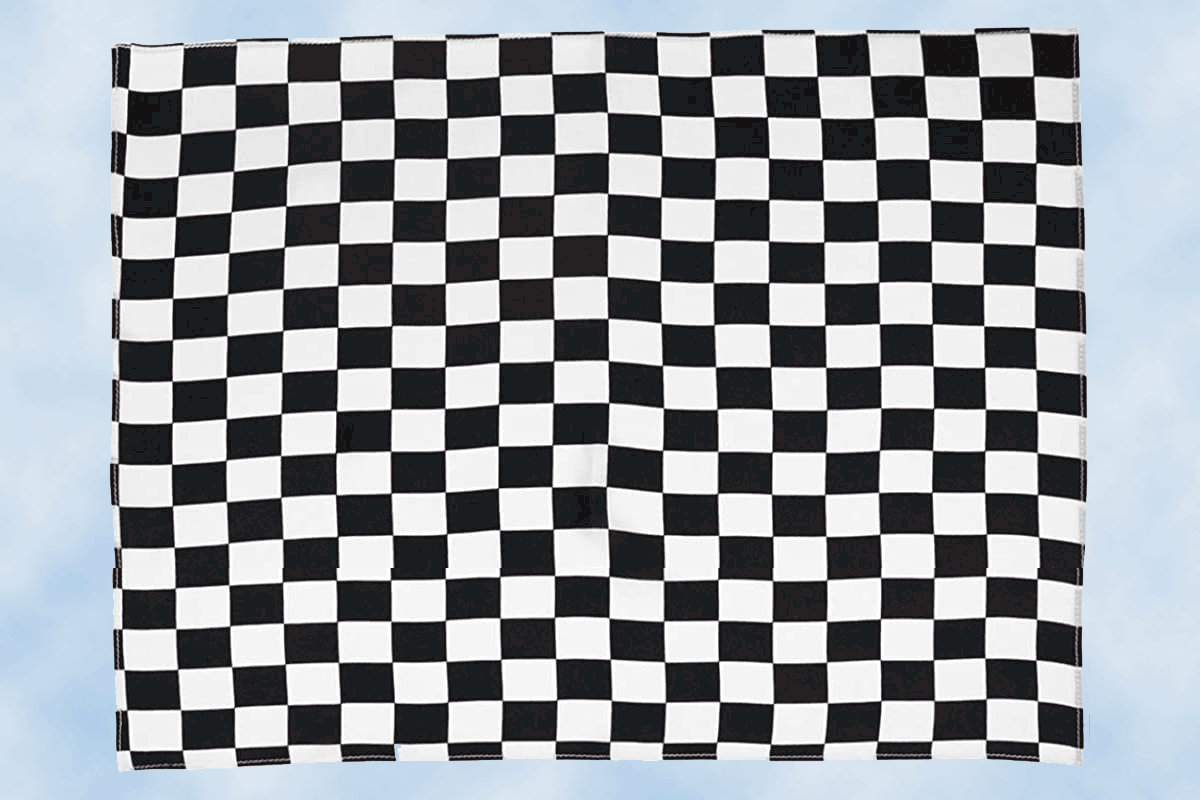 I'm pretty old and more cynical than I ever thought possible, but I was surprised by three things last week:
Walmart announced that it would no longer lock up hair and beauty products designed for people of color, as had been its practice in a few stores;
Nascar announced that Confederate flags would no longer be welcome at its racetracks; and
The president of the United States tweeted out a conspiracy theory about an elderly peace activist shoved to the ground by a Buffalo, New York, police officer, causing a head injury that kept him in the hospital for at least a week.
It's been almost a year since I used this space to discuss both the moral case for diversity and the business case. (I quoted Darrin Williams, CEO of Southern Bancorp, who said, "The business case for diversity will do more than the moral case.") The business case is this: In another generation, according to the U.S. Census Bureau, there will be more nonwhite Americans than white Americans, and failing to embrace that fact is a great way to go out of business.
With disparate treatment of minorities, particularly African Americans, being the impetus for massive protests from coast to coast, many companies have issued statements affirming a commitment to fairness and inclusivity. Some seem cynical; NFL Commissioner Roger Goodell, for instance, suddenly recognized his league's "platform" and committed to "address these systemic issues," but couldn't bring himself to mention the treatment Colin Kaepernick received when he used that same platform to address the very same systemic issues.
Others, however, are accompanied by concrete action that will come at some cost. One is Walmart's change in policy on personal care products for nonwhite customers, which surprised me mainly because I didn't know it existed. In a few stores, it turns out, Walmart kept "multicultural" hair and beauty products locked up. I had obviously never been inconvenienced by this, but I also had never noticed it. (But one of my coworkers, a young woman of color, certainly had.)
As a PR move, the announcement seemed risky. Only about a dozen of Walmart's thousands of stores required buyers of these products to find an associate to unlock the display case. Most Walmart customers, I thought, would have been unaware that the company had this humiliating policy in place anywhere, and it could be quietly changed.
But as I read further, I learned that there have actually been complaints about this for years and even a lawsuit. Last week's announcement came only after a Denver TV news reporter asked Walmart for a comment for a story.
In other words, the cost of a practice that offended a growing segment of potential customers had become too high — just like Nascar's acceptance of Confederate flags at its races and events.
Nascar has a demographics problem in the first place. Its fans tend to be older and whiter and more rural than the general population. Its audience having peaked in 2005, Nascar hasn't even announced crowd estimates since 2013, and TV ratings just keep sinking.
On Monday, Bubba Wallace said in an interview that Nascar should ban Confederate flags from its events, and on Wednesday it was a fait accompli. (Another surprise: Google tells me this is not the first time Nascar and "fait accompli" have appeared in the same sentence.)
Who is Bubba Wallace? CNN described him as "the first full-time African American driver in the Cup Series since 1971," which explains a whole lot. If Nascar wants a future in an ever-browner America, it needs more Bubba Wallaces and fans who look like him, and they are not going to feel welcome in a crowd sprinkled with the symbol of slavery preservation co-opted by modern white supremacists.
While corporations and sports organizations were trying to get on the right side of historic protests for social justice, President Trump found a way to surprise me once again. In a tweet on Tuesday, he regurgitated a bizarre report from One America Network suggesting — without a scrap of evidence — that Martin Gugino, the 75-year-old white man who was shoved to the ground by a Buffalo policeman, "could be an ANTIFA provocateur" who "appear[ed] to scan police communications in order to black out the equipment."
Trump has a long history of baseless smears — Barack Obama's birth certificate, Ted Cruz's father's association with Lee Harvey Oswald, the death of Joe Scarborough's staff member, etc. — but slandering a private citizen seems even more deplorable, and panicky, than usual. The GOP probably needs to keep in mind that it has the same demographic problem as Nascar. Alienating old white men is not a smart move.
---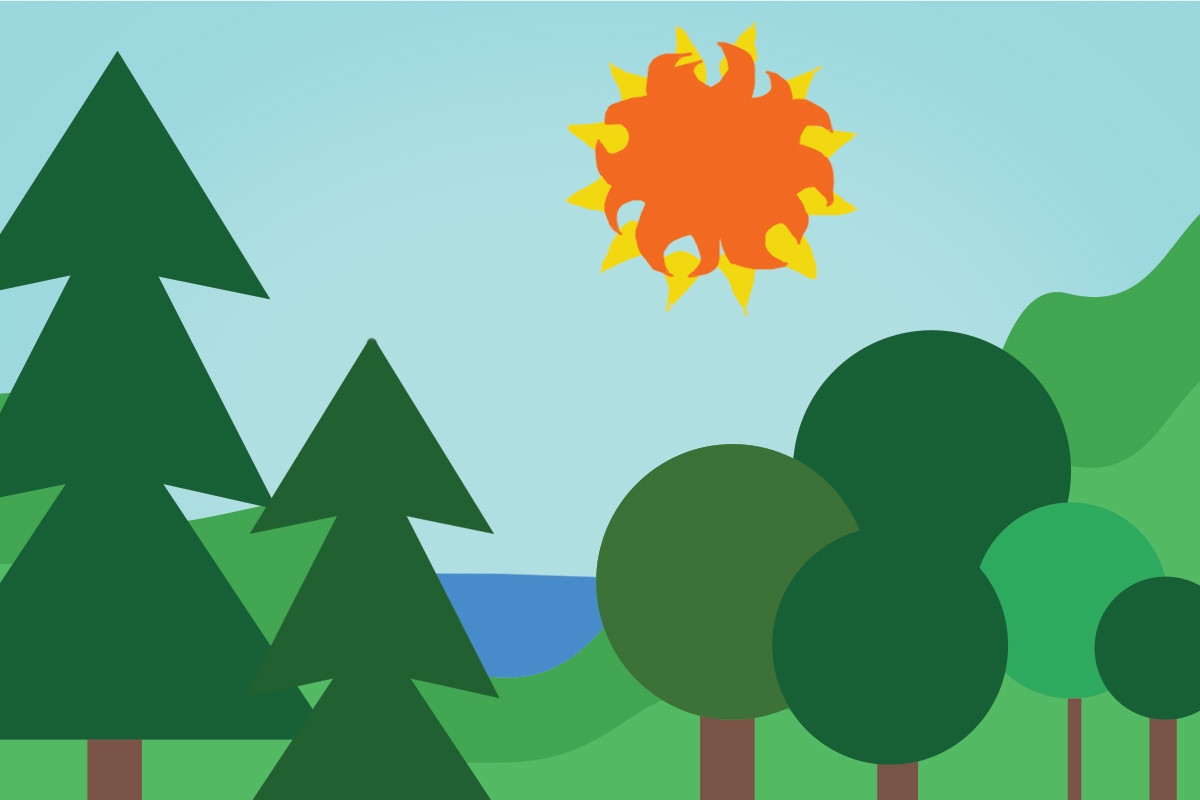 FAIRFIELD BAY – In early 2006, a few months after my father died, I used my quarter of his modest estate to buy a small house in the middle of this retirement and resort town on the north side of Greers Ferry Lake. My inheritance was entirely too modest to afford anything on the water, but we keep a small boat in the small carport (when it's not in the shop, that is) and can be on the lake in a few minutes.
For a couple of journalists to own a second home, especially when we still had a couple of teenaged dependents, seemed like a miracle. Still does. And I'm absolutely certain that it would delight my dad for us to be taxpayers in Van Buren County, where he was born and raised.
Mainly we use this little house as a weekend getaway, but we've enjoyed full weeks here when we've had more pressing financial priorities than elaborate vacations. As we proved to our boys, a vacation that includes boating, hiking, caving and a drive-in movie (a slow, winding 30 miles away at Mountain View) would seem exotic if we crossed a state line to do it. In fact, a cousin from Michigan has brought his family down several times because for them it is an exotic out-of-state vacation, and being able to offer friends and family a place to relax has been incredibly satisfying. My dad would approve of that too. (Plus, they invariably leave the place cleaner and better stocked than they found it. Score!)
---
I wax rhapsodic about Fairfield Bay because I'm here with my husband at this writing rather than in New York City, where we had originally planned to vacation. That plan crumbled months ago in the face of the coronavirus, and it's just as well since disease has now been compounded by social unrest.
Instead, we are monitoring the protests in Little Rock and elsewhere from the preternatural quiet of a little town on the edge of the Ozarks. And from my small but comfortable second home in a town that is just about as white as it is possible to be, I recognize that what seems surreal and unimaginable to me was actually totally predictable.
(Recommended reading: "What Did They Think Would Happen?" by Sarah Longwell, publisher of The Bulwark, an online publication by "Never Trump" conservatives.)
The proximate cause of the current demonstrations (constitutionally protected behavior) and riots (criminal behavior) was the horrific homicide committed by a white Minneapolis police officer who kept his knee on the neck of an unarmed black man for nearly nine minutes. What makes the death of George Floyd different from the many other cases in which unarmed black men die at the hands of police is the chilling nonchalance with which Derek Chauvin killed a man suspected of a $20 crime. We all understand that police officers must protect themselves, but Chauvin felt safe enough to keep a hand in his pocket and comfortable enough to do it on camera.
I didn't even know that a knee to the neck was a police maneuver — being ignorant of such things is a privilege, I suppose. But it clearly is. NBC News reported last week that Minneapolis police officers used their arms or legs as neck restraints 237 times since 2015, and rendered the subject unconscious in 44 of those cases. Did no one consider that such deadly force would eventually be deadly?
I have no reason to believe that Chauvin deliberately targeted Floyd because of his race. But I do wonder — don't you? — whether Chauvin would have kept his knee on the neck of a 46-year-old white man suspected of a nonviolent crime for three minutes after the suspect stopped breathing and as a crowd of bystanders begged him to stop. Anything's possible, I suppose, but as long as we have to wonder about equal justice, none of us can expect lasting peace.
---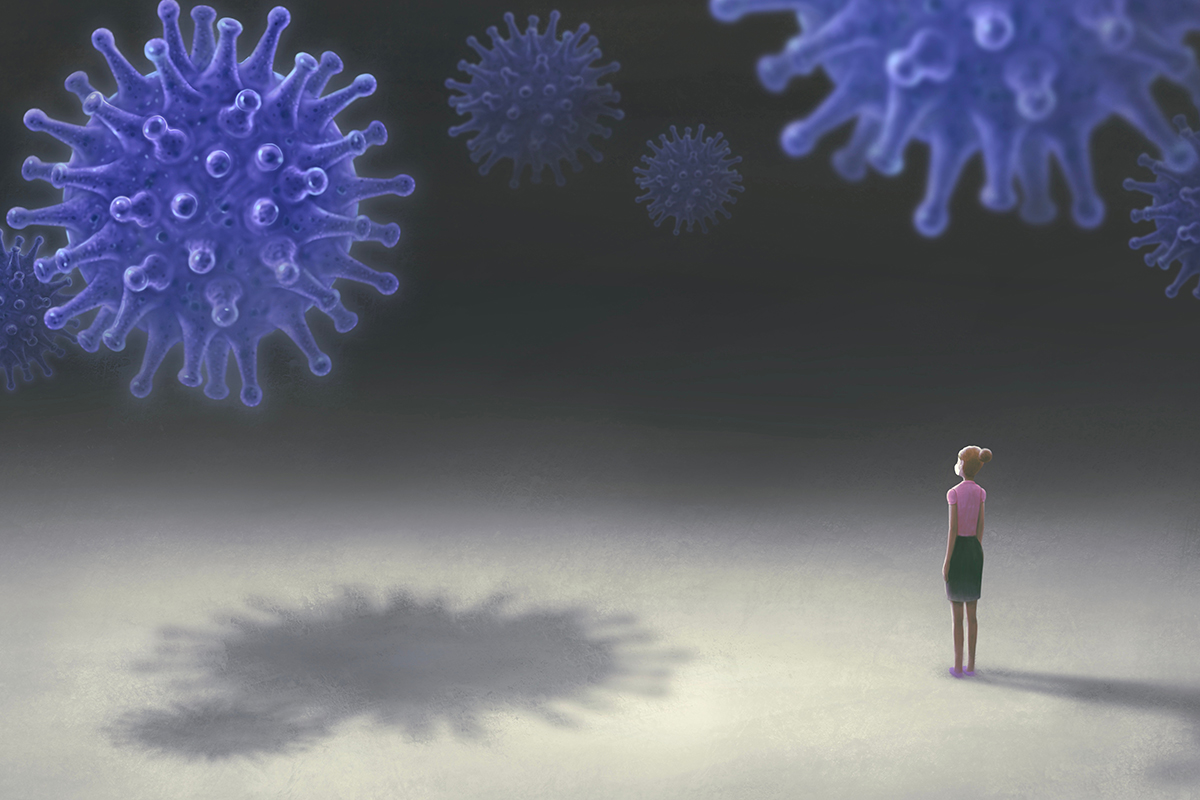 The viral photos of holiday weekend revelry — from Houston to Lake of the Ozarks to Daytona Beach — underscored one thing for me: A lot of Americans are spoiled and selfish.
Not all of us, of course. Not even most of us. Most of us have watched in mourning as the death toll attributed to COVID-19 approached and then surpassed 100,000. We are the ones who listened to the experts and grasped just how contagious this new coronavirus is, especially for the older folks most likely to have existing health issues. We are the ones who understood that "flattening the curve" is the result of good personal habits, not proof that the threat is over — or overblown.
At my office, we have tried to maintain enough "social distance" and planted enough hand sanitizer dispensers around the office that we don't have to wear masks at our desks, even now that more employees are gradually returning from weeks of WFH (an acronym I never heard before March 2020). And in my personal life, my husband and I are taking precautions to minimize risk to ourselves and those around us, including wearing masks when we are in public places and giving others a wide berth.
As of this writing, COVID-19 has already left 100,000 Americans dead. Two close relatives in Ohio have survived it, as have a distant relative here in Arkansas and two friends in Florida. One Florida friend spent two weeks in the hospital while his wife struggled through it at home, and both were still feeling the effects a month later. Since I'm utterly useless in the search for a vaccine, keeping my hands clean and sanitized, covering my mouth and nose and being aware of my proximity to others seem to be literally the least that I can do to be part of the solution rather than part of the problem.
How important are masks and social distancing? Important enough that the Centers for Disease Control & Prevention continues to recommend cloth face covers and a 6-foot radius of personal space.
The gradual reopening of commerce, in Arkansas and elsewhere, was not supposed to signal a return to normal, pre-pandemic life. We were supposed to have internalized the risks and been prepared to take responsibility for protecting ourselves and others, and yet too many people seem unwilling to endure minimal inconvenience for the greater good.
It has not always been thus. Americans willingly endured much greater hardships — including rationing and higher taxes! — when the enemies were Germany and Japan. But it has been a very long time since we were asked to make any real sacrifices, and we, as a society, are clearly out of practice — as evidenced by those crowded pool and beach scenes.
Unlike a shooting war, in which the young are the most likely to be killed, COVID-19 is an enemy that the young and bulletproof are most likely to survive. And we don't seem to be doing a good job of communicating to them that taking personal precautions is important to the more vulnerable around them, even if they are willing to risk infection themselves. Because they may be shedding the virus without even knowing that they have been infected.
I was delighted, then, to see Del Boyette, the Arkansas economic development legend, cut to the chase on Twitter last week: "Wearing a mask in public is simply practicing the Golden Rule." That's it exactly. If you love your neighbor as you love yourself, a foundational Judeo-Christian principle, then you will make the effort to protect those you love. In response to Boyette's tweet, I changed the photo on my Twitter account to the one you see below — me wearing one of the many masks my sister-in-law has made for loved ones and strangers alike.
For the duration of this particular threat and until the expert recommendations change, I will endeavor to wear a mask in public settings and to observe proper distancing. If you see this as some sort of "virtue signaling," you are right: I'm signaling my desire to protect you from disease or death, which I hope we can agree is a virtuous goal. And when I see you wearing a mask, I will feel the love you have for those around you and your desire to protect your community.
---
"Flattening the curve" is one of those terms that invade public consciousness at a precise point in time. So is "social distancing." I was a kid during the Vietnam War, so "sortie" was a new vocabulary word for me during the First Gulf War in 1991. I learned what "rebar" was when the opening of what was originally called Alltel Arena was delayed in 1999.
---
Email Gwen Moritz, editor of Arkansas Business, at GMoritz@ABPG.com and follow her on Twitter at @gwenmoritz.