The Whispers Blog
Arkansas' breaking business news blog, with news and commentary from the Arkansas Business staff.
Send us tips.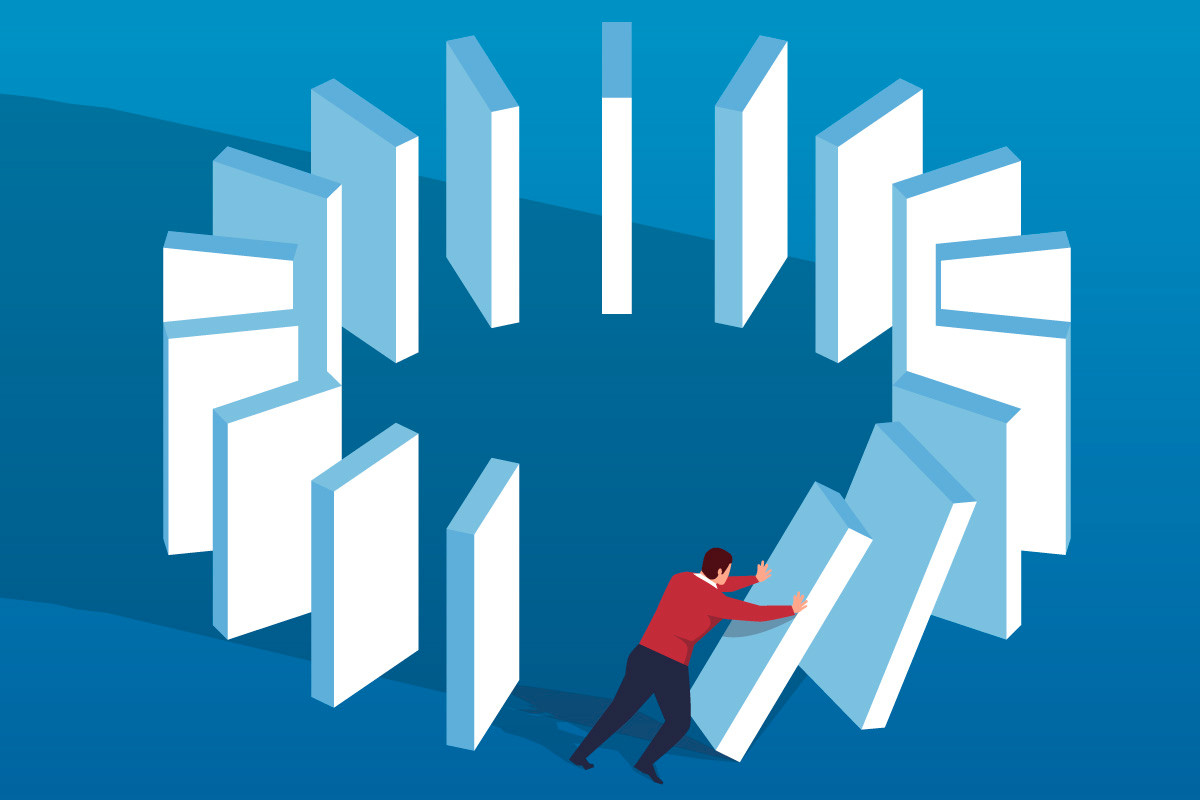 I finally got around to reading Michael Lewis' "The Fifth Risk." I found it a less compelling read than Lewis' "The Big Short" and "Moneyball," perhaps because federal bureaucracy just isn't as exciting as money and sports. And, 10 months after its publication, maybe I'm just resigned to the fact that our current president was never really interested in governing.
The fifth risk of the title refers to what Lewis identified as the scariest prospect facing our federal government: incompetent management. Or, in Lewis' words, "What are the consequences if the people given control over our government have no idea how it works?"
He talked to bureaucrats and former bureaucrats about what the U.S. Departments of Commerce, Energy and Agriculture actually do, and that part is truly educational. He asked everyone to identify the biggest risks in their agencies. It was a variation on a question that corporate executives are often asked, "What keeps you up at night?"
Lewis got answers that fell generally into a couple of familiar categories: the unlikely worst-case scenario (like a nuclear weapons accident that the Department of Energy would have to deal with); and the inevitable problem that develops so gradually that procrastination is easy (like climate change for the Department of Agriculture).
In every case, the risk itself is compounded by incompetent, uninterested management.
Another slow-moving risk: the pending insolvency of Social Security. Lewis didn't address this, perhaps because it is a legislative rather than bureaucratic failure. The Social Security Administration is wildly efficient at cutting checks, but actuarial tables predict that SS will take in less than it spends next year and its reserve fund will be depleted in 2036. The solution is mathematically simple — bigger premiums, skimpier benefits or some combination of the two — and Congress can be counted on to fix it only when the political risk of not doing it exceeds the political risk of doing it.
The risk of incompetent management is enormous in the federal government, and not just because the government itself is enormous. Career bureaucrats are derided as the "Deep State," but we really do want competent people looking after nuclear waste and running the Federal Emergency Management Agency and spotting terrorist cells. I, for one — and I may be the only one — still want the Federal Reserve to be independent of the political process.
The National Oceanic & Atmospheric Administration, the biggest part of the Department of Commerce, operates the National Weather Service, which in turn provides all the data used for ever-more-accurate weather forecasts — even those packaged and sold under private-sector labels like AccuWeather and The Weather Channel.
President Trump's nominee to head NOAA, Barry Myers, still hasn't been confirmed. He was CEO of AccuWeather until earlier this year, and he has divested his personal ownership — but it's still his family's company. What happens if something like the weather is seen as a political asset rather than a public mission? That's risky.
---
So what's the biggest risk in your professional world? Surely you don't have incompetent or uninterested managers in your organization — or do you?
Dave Maxwell, the former director of the Arkansas Department of Emergency Management, keeps trying to warn us about the risk of widespread power outages. (He's my cousin, so I've seen his stash of bottled water. He thinks you should have a stash too.)
On the front page of this issue in Walmart, Guns and Money, you can read about a risk Walmart Inc. is facing. The rest of us don't have to worry that our ubiquitous stores could become magnets for armed extremists, but any of us could be at risk of an active shooter. Do you have a plan?
Terisa Riley, the new chancellor of the University of Arkansas at Fort Smith — meet her in this week's Executive Q&A — actually has a law enforcement background. I talked last week to the president of an Arkansas private college who said safety is often the unspoken concern of parents, even as colleges and universities persist in promoting academics.
Maybe your biggest risk is not being willing to take a risk. Last week in Will Fortune Favor the Future of News?, our Outtakes columnist Kyle Massey revisited the bold risk that Walter Hussman, owner of the Arkansas Democrat-Gazette, is taking in trying to convert readers to iPads rather than print.
An inevitability we're all vulnerable to is a recession, and the current economic expansion is the longest since the Great Depression. Yield curve inversion or not, that's sort of like being the oldest living person, isn't it?
Gosh, I hope reading this won't cause you to lose even more sleep.
---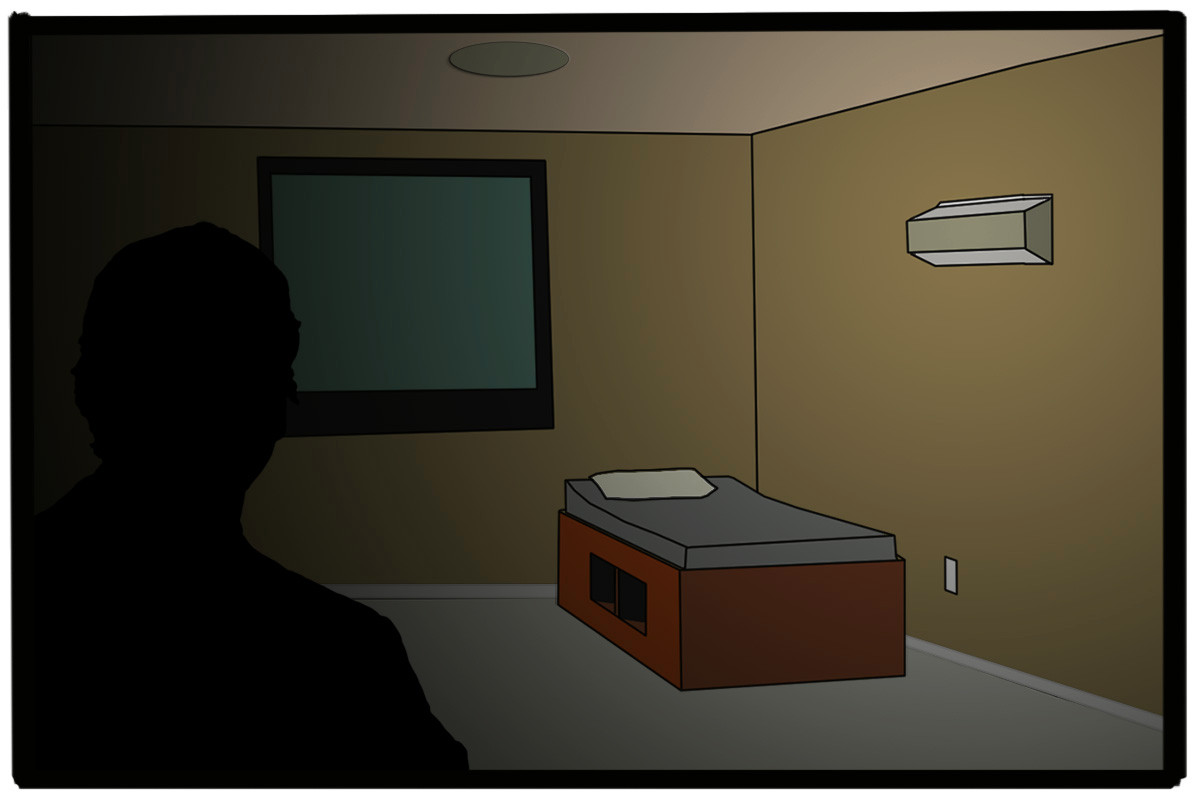 Mark Friedman, who covers the legal beat for Arkansas Business, has a preternatural ability to spot a good story buried in reams of legal documents. Last month he had a story that is still preying on my mind.
A 20-year-old woman named Joely Clements checked into Rivendell Behavioral Health Services in Benton on March 30, 2018, for treatment of drug addiction. One of the registered nurses who took care of her there was 30-year-old Justin Lusby.
She checked out five days later, and later that day Lusby was trying to strike up a personal relationship by text message: "It's [expletive] insane how attracted I am to you." He invited her to his apartment, and she arrived the next day.
So this seems bad, right? It gets so much worse, according to a civil lawsuit filed in Pulaski County Circuit Court.
At Lusby's apartment, Clements expressed a craving for narcotics. Lusby says he warned her that using heroin would kill her. He told her, "I just want you to feel safe." He was so concerned about her safety that, on the morning after she arrived at his apartment, he left a young woman he knew to be an addict at risk of a relapse alone in his apartment while he went on a fishing trip. When he returned two days later, Clements was dead from an overdose of fentanyl.
Clements' father, Andy Clements, promptly hired a lawyer, who instructed Rivendell to preserve all documentation about the case, including Lusby's employment records. Only then did Rivendell fire Lusby.
Why it took almost two weeks to fire a nurse who seduced a vulnerable patient and then left her alone for days is no harder to fathom than why Lusby was hired in the first place. It turns out that he, too, had a history of drug abuse, which led him to steal prescription narcotics when he worked at Ouachita County Medical Center in Camden. He confessed rather than take a random drug test, and the Arkansas State Board of Nursing put him on probation for five years.
With that on his record, it was naturally hard to get work. He applied for scores of nursing jobs, but only Rivendell even offered him an interview. He was hired in March 2015, and it turned out to be the perfect place for Lusby. He struck up a sexual relationship with the director of patient advocacy, according to the lawsuit filed by Clements' estate, so that any patient who complained about his performance would be complaining to his lover.
And while he was written up internally for poor performance and unprofessional conduct, the official report that Rivendell sent to the nursing board said Lusby's work was "exceptional."
There's nothing the ASBN could do about Rivendell covering up for a nurse who was already on probation because, according to Executive Director Sue Tedford, the board has no authority over any institution. The ASBN did take additional action against Lusby — by extending his probation until 2023. It seems the nursing board found him guilty only of "a boundary crossing" in his relationship with a drug addict who had been his patient only hours earlier.
I get angry every time I think of what the Clements family has gone through, and there's still one more outrage to come. Rivendell's management company, UHS of Delaware Inc., destroyed evidence despite being put on notice by the Clements family's lawyer, including the email accounts of Lusby and the former human resources director. Rivendell also couldn't find notes from a 2017 investigation into a sexual relationship Lusby allegedly had with another patient.
Pulaski County Circuit Judge Mackie Pierce found that UHS had intentionally destroyed evidence and ruled in favor of Clements' estate. Unless an appeal is successful, the only thing left to determine is the amount of the damages.
Any business can make a bad hire. The hospital in Camden hired Lusby, but it had policies in place that identified his impairment, got rid of him and reported him to the board of nursing. Contrast that with Rivendell's hiring of a nurse still on professional probation for a drug problem to work with drug addicts, and then protecting him to the point of destroying evidence. This feels like a systemic problem.
The fact that there is no law preventing nurses from dating patients also feels like a systemic problem. Perhaps a legislator will take an interest.
---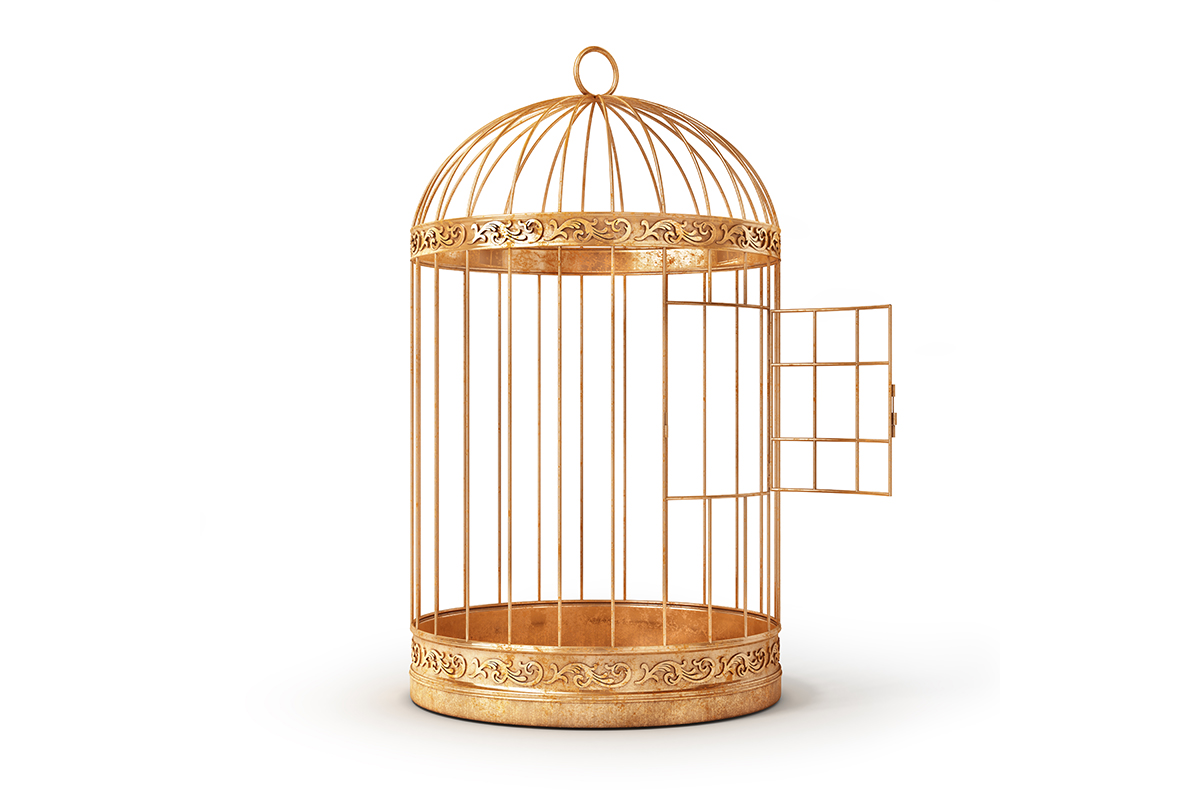 What's the matter with me? President Trump commuted the sentence of a man who used religion and bribes for personal gain, and my outrage meter barely registered. The president has the constitutional authority to override the decisions of federal criminal juries and federal judges, and my only surprise last week was that he merely let Ted Suhl out of prison early rather than giving him a full pardon.
Suhl, whose "faith-based" behavioral treatment centers depended on Medicaid revenue, remains a felon, convicted by a jury of his peers of two counts of honest services fraud and one count each of federal funds bribery and interstate travel in aid of bribery. And he served two and a half years in federal prison, which is a huge break from the seven years he was sentenced to serve but equal to the sentence served by his bribee, former Department of Human Services Deputy Director Steven Jones.
As with so much that comes out of Trump and his administration, the official explanation for the mercy shown Suhl is factually inaccurate.
"Investigators alleged that Mr. Suhl participated in a bribery scheme to increase Medicaid payments to his company. Federal prosecutors in Arkansas declined to pursue the case, but prosecutors in Washington decided to move forward with the prosecution," according to the statement from the White House.
In fact, prosecutors in the Eastern District of Arkansas did not decline to pursue the case. As is common in cases of official corruption, the U.S. Attorney's Office in Little Rock — then led by Chris Thyer — handed off the case to prosecutors from the Department of Justice's Public Integrity Section. That section had already assisted in eliciting guilty pleas from Jones and a couple of middlemen.
The same DOJ division is currently involved in the cases against former state Sen. Jeremy Hutchinson, who is awaiting sentencing for crimes in three federal districts, and was also involved in the successful prosecution of former state Sen. Jon Woods, former state Rep. Micah Neal and the men who admitted bribing them.
The White House also stated that Suhl was "acquitted on half of the charges filed against him." That's mathematically incorrect. He was charged with six counts and convicted of four. While convicted of two counts of honest services fraud, he was acquitted of a third. And while convicted of bribery, he was acquitted of conspiracy.
I don't know how President Trump came to misunderstand the local prosecutors' decision and the jury's findings, but I hope he wasn't misled into an act of clemency that he wouldn't have offered had he been better informed.
The White House statement described Suhl as "a pillar of his community before his prosecution," which is only curious in that the federal criminal justice system tends to punish more harshly felons who abuse positions of trust. It's not usually a mitigating factor, in federal law or life in general. ("For unto whomsoever much is given, of him shall be much required." It's there in red letters, Luke 12:48.)
I rather doubt Suhl would have been considered a pillar if his community been aware that he had, as prosecutors noted at the time, paid bribes to Jones "more than a dozen times over a four-year period, and he did so under the pretense of charitable giving and religious activism."
Suhl had some heavy hitters on his side. His request for clemency was "strongly encouraged by leaders in Mr. Suhl's home State of Arkansas," the statement said, but the only names attached were former U.S. Attorney Bud Cummins and former Gov. Mike Huckabee. Are they leaders in Arkansas?
Cummins was pushed out as U.S. attorney by the Bush administration 12 years ago in order to install Tim Griffin, now our lieutenant governor. With the exception of a stint on the Trump transition team, his activities since have been in the private sector — defending accused criminals and absolutely everything President Trump says or does. (The Arkansas Democrat-Gazette reported that Suhl's family had hired Cummins "to review the case," but Cummins said he wasn't paid to seek clemency for Suhl.)
Huckabee was certainly a leader in Arkansas for many years, but he has been a resident of Florida for almost a decade. I'm surprised the White House — where his daughter worked until just a few weeks ago — didn't know that.
Huckabee told the Democrat-Gazette that he had received only "the satisfaction of seeing a President have the courage to bring justice to several persons targeted for take-down by the government." Questioning the work of federal prosecutors is always fashionable — I do that myself sometimes — but if Huckabee felt that Suhl had been wrongly targeted, I wonder why he feels that just a shorter sentence brought justice.
---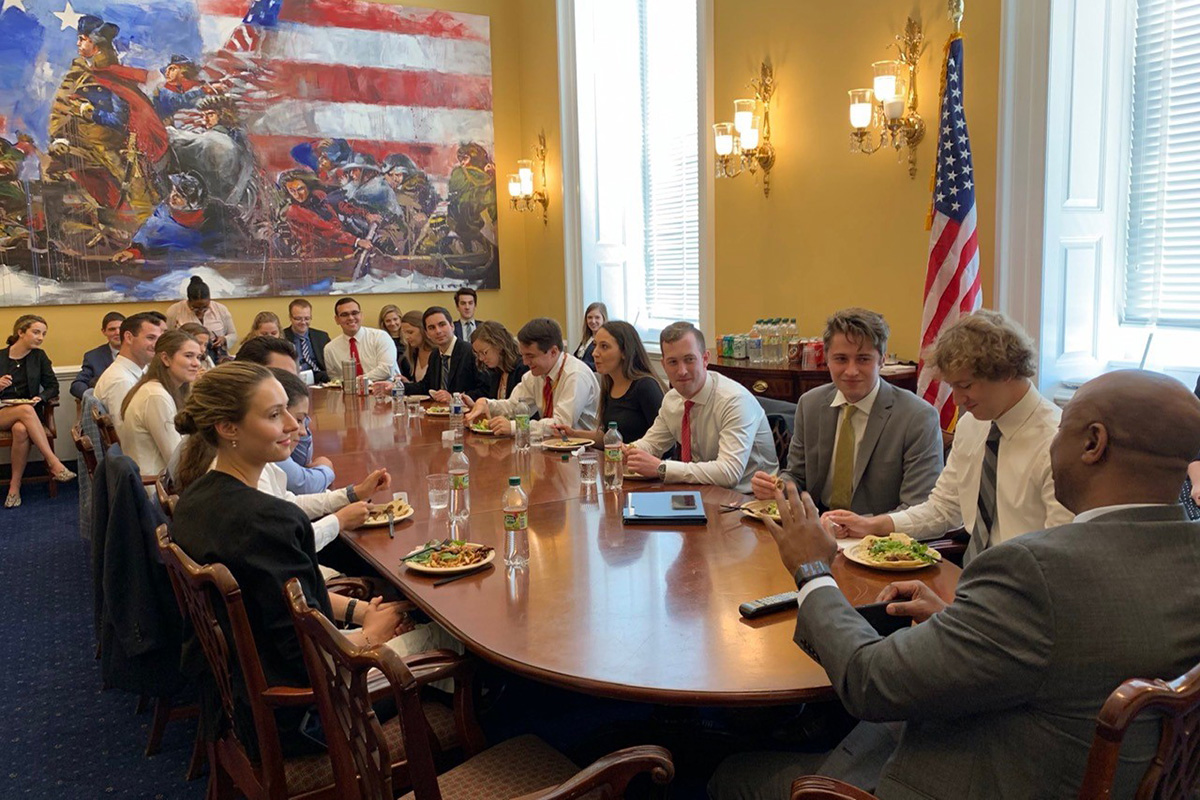 Sen. Tim Scott (back to camera), R-S.C., lunches with congressional interns at the U.S. Capitol July 17.
I had a call earlier this month from an Arkansas business owner whose company name would be instantly familiar to readers of this publication. I hadn't talked to him in a while, and never about the subject of this particular call: This white businessman was looking for ways to market his wares to African Americans.
It's a good idea. In just 26 years, if the U.S. Census Bureau's projection holds, marketing specifically to white consumers will be marketing to a minority of Americans.
I'm obviously not a marketing consultant, but I was able to give my caller the names of a couple of local agencies that offer exactly the kind of service he needs. I hope I was helpful and that a couple of local companies can do mutually beneficial business.
That short conversation, coming when race seems to be much in the news, reminded me of something Darrin Williams, CEO of Southern Bancorp and one of Arkansas' most prominent black businessmen, said recently that I was compelled to write down: "The business case for diversity will do more than the moral case."
I don't doubt that he's right, but I'd like to be engaged in the moral case as well. Through a combination of happenstance, like that recent call, and deliberate outreach, I have done more talking and listening and a whole lot more thinking about the issue of race lately. And I find myself wanting to do more of it, because I am clearly not as observant or as sensitive as I want to be.
A few years back, The Gap quickly withdrew an ad for girls' clothing that featured three white girls and a black girl, and the tallest white girl had her arm propped on the head of the shorter black girl. Being vertically challenged myself, I've been propped on many times in my life. I would not have given any thought to the photo if it had not become controversial, but a black co-worker said she noticed immediately that the only black girl did not look like she was enjoying being a prop.
Similarly, I was surprised by reactions to former Vice President Joe Biden's statement that he had, as a young senator, been able to work with segregationists in Congress. Beyond his tacit acknowledgement that he is really old to be running for president, I thought finding civil ways to work with people whose opinions you don't share was a desirable trait in a politician. While some black Democrats in Congress defended Biden, I can't discount the opinions of Sen. Kamala Harris and Sen. Cory Booker just because they are rivals for the nomination; they have experiences and viewpoints I don't have.
I also think it's a mistake for Republicans to dismiss the warnings of their party's only two remaining black members of Congress — Sen. Tim Scott of South Carolina and Rep. Will Hurd of Texas — who confirmed that President Donald Trump's suggestion that four women of color in Congress "go back" to their countries of origin was racially offensive.
Even before the president's inflammatory tweets, Hurd appeared on "Meet the Press" and said, "I've been telling people, if we want to keep the Republican Party in Texas, the Republican Party in Texas needs to start looking like Texas. And I think that this is — that goes for the rest of the country as well."
In other words, he was making the GOP's business case for diversity.
---
Talking about race is hard and uncomfortable, and I do not hold myself out as any kind of expert. I interviewed a couple of historians for my feature in this issue about the 1919 Elaine massacre, and listening to my nervous laughter on the recording was painful. Of course, I don't find any of it funny; the abject racism and inhumanity, compounded by systemic injustice, are almost beyond comprehension.
My husband's grandfather witnessed a much less deadly race riot in Omaha, Nebraska, a few days before the Elaine massacre, and it was an indelible memory 65 years later. I was 40 before I ever heard about Elaine, but not talking about it changes nothing. As Kyle Miller, a member of the Elaine Massacre Memorial Committee, told me, "You can't keep thinking it's going to go away."
---
One thing that I have learned is this: Pretending to be "colorblind," the ideal that white Americans of good will embraced a half-century ago, is not cutting it. To be blind to color is to be blind to the reason for so much injustice. We have got to talk and we have got to listen.
---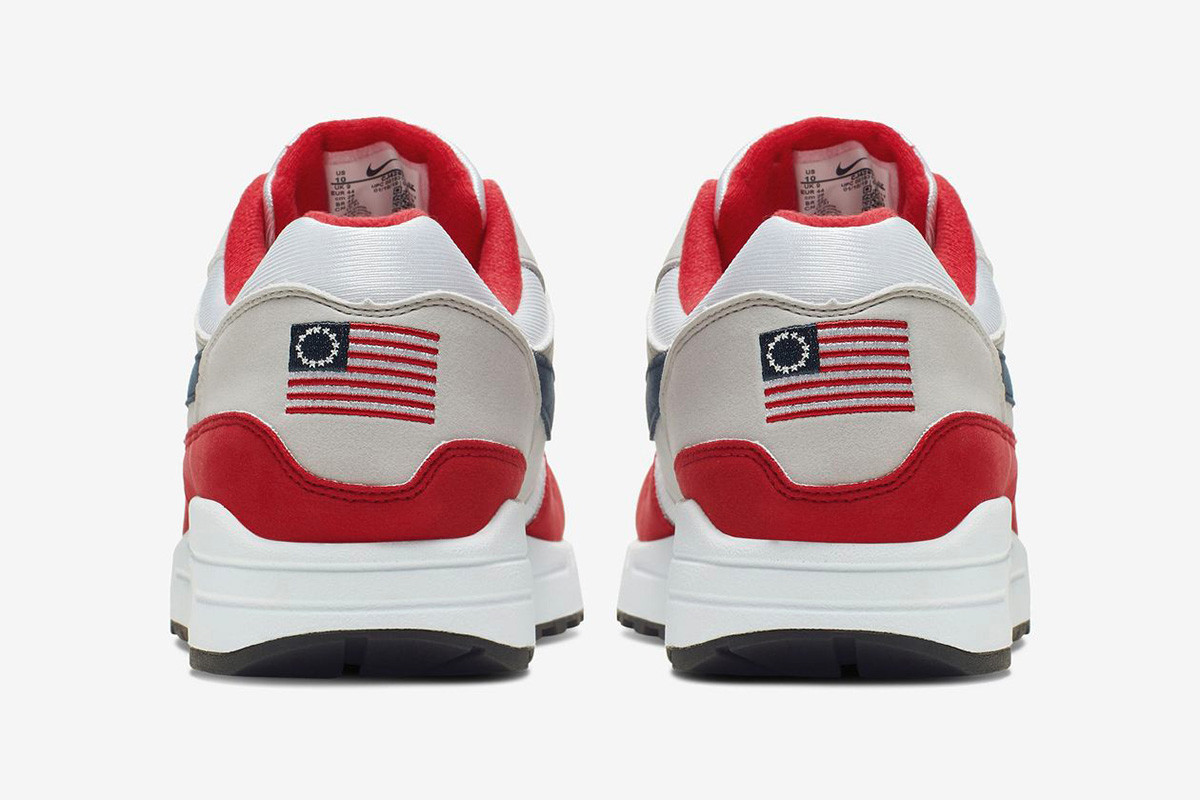 I believe in the economic boycott as a perfectly legitimate, free-market tool for encouraging different corporate behavior. It sometimes even works, although there seem to be a lot more calls for boycotts than subsequent victory celebrations.
A few weeks back, Sen. Ted Cruz, R-Texas, reacted to a business decision by Nike by announcing that he was giving up his lifelong patronage of the sportswear company. The hashtag #boycottnike trended on Twitter for a few days. Most astonishing to me, Arizona Gov. Doug Ducey ordered his state's economic development agency to withdraw financial incentives that had been offered as an inducement for Nike to locate a $185 million plant in a Phoenix suburb. The plant was expected to employ 505 people and pay average wages of nearly $50,000 a year.
What was the business decision that was worth potentially alienating a development worth almost $25 million in payroll every year? You know what it was. Nike had begun shipping a shoe with the original 13-star U.S. flag embroidered on the heel but was talked out of the idea by Colin Kaepernick, the football player Nike hired as a spokesman last summer after his kneeling protest during the national anthem made him a political lightning rod — and unemployed.
Kaepernick, who is African American, persuaded Nike that the "Betsy Ross" flag had been co-opted by some white supremacists as a nostalgic symbol of the good ol' days when black people were slaves. (This was news to me, but I don't seek out white supremacist progaganda.)
Because this is 2019, outrage was immediate and widespread. It seems there are quite a few Americans who were deeply offended that Nike had decided not to profit from what they consider a patriotic symbol, even if it offended others. The calls to boycott Nike surprised me; if I had given it much thought, I would have figured that Ted Cruz and the like-minded had written off Nike as soon Kaepernick signed on.
Apparently not. Gov. Ducey was photographed wearing Nike sneakers on the Fourth of July — two days after announcing that Arizonans "don't need to suck up to companies that consciously denigrate our nation's history." And Sen. Cruz identified himself as a Nike customer until July 2, months after Kaepernik was hired.
I've never been as drawn to symbols as I am to ideas, but I understand that symbols can be very powerful. So it surprised me less that Nike withdrew the flag sneakers than that the idea was ever greenlighted in the first place. I remember that my sons had some T-shirts decorated with flag motifs when they were small, but their involvement in the Boy Scouts exposed me to the U.S. Flag Code and made me much more sensitive to proper flag protocol. For instance, the code says, "The flag should never be used as wearing apparel, bedding, or drapery," and "No part of the flag should ever be used as a costume or athletic uniform."
The entire protest seemed entirely emotion-driven. Do we demand that all companies commercialize patriotic symbols or face boycott? Or do we reserve that for companies that change their minds after consulting with a trusted (and wildly successful) endorser who has his finger on the pulse of the customer base? And should government officials inject their opinions into legal marketing decisions by private companies when any harm would be limited to shareholders? Nike's decision not to sell the Air Max 1 USA hardly compares with Boeing's decision to make safety equipment an added-price option on the 737 Max.
Nike seems to know its business. After its stock price dropped by a few cents on the day that the recall of the Betsy Ross shoes was announced, it was up by more than 4% as of Wednesday's close.
---
When Nike confirmed that it was still going to build in Arizona, Gov. Ducey tweeted out a message of welcome. The city of Goodyear is making good on the tax incentives it offered Nike, but Ducey has not reinstated the $1 million the state planned to hand out.
I find that to be the best part of the resolution: The taxpayers of Arizona aren't having to give money to a company that is clearly willing to come without it.
---
Someday maybe Americans will be as outraged by the marketing strategies of the opioid manufacturers as they are about sneakers.
---