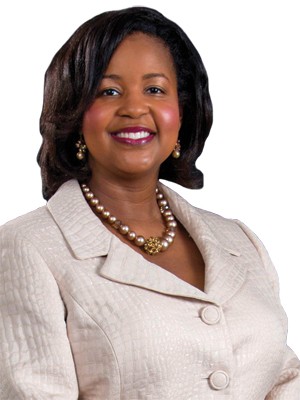 Carla Martin
Interim Vice Chancellor for Finance & Administration
University of Arkansas at Pine Bluff
Pine Bluff
Age: 35
Carla Martin
Carla Martin, born and raised in Pine Bluff, knew that her hometown was where she was meant to be when she returned in 2009. Since then, she has achieved records for the University of Arkansas at Pine Bluff business program.
Martin became dean of the UAPB School of Business in 2009, a job she held until this year. In May, she was chosen as interim vice chancellor for finance and administration at UAPB.
During her time as dean, Martin secured first-time accreditation from the Accreditation Council for Business Schools & Programs as well as a grant for UAPB's business program.
"I wanted to see a change and to be the change we wanted to see," she said.
Martin has planted roots in her hometown after working for Wal-Mart Stores Inc. in Bentonville as one of four real estate transactions managers and later senior manager of supplier diversity. She practiced law at Brown & McKissic (now McKissic & Associates) in Pine Bluff.
Martin graduated from UAPB in 2001 with a bachelor's degree in business administration, concentrating in marketing. She then attended the University of Arkansas at Fayetteville School of Law and received a Juris Doctor in 2004.
Martin was appointed to the UAPB Board of Visitors by Gov. Mike Huckabee and reappointed by Gov. Mike Beebe.